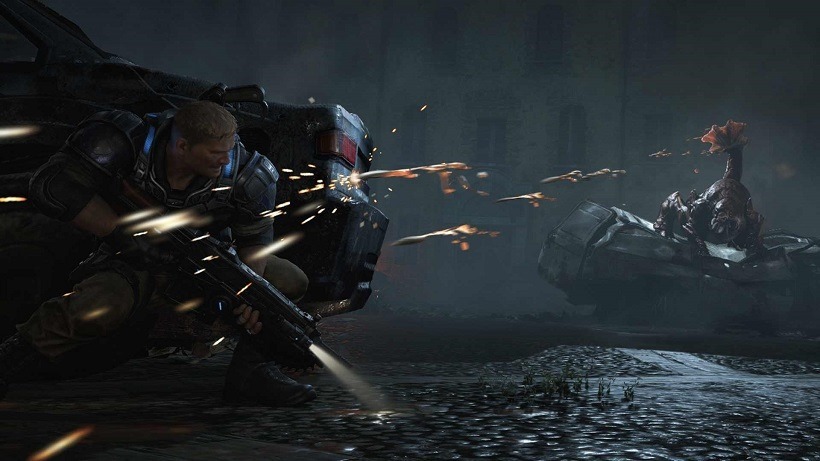 Gears of War 4 is making history for the franchise. Not only is it the first Gears of war game to make it to PC since the very first one,, it's the first to launch simultaneously across Xbox and PC. It's part of Microsoft's Play Anywhere program, letting a whole new market of players get in on the chainsaw revving fun that is Gears of War.
And that means checking if your PC is up to scratch, which can sometimes be a pain.If you're not quite making the cut, then you might be in the market for a new GPU. And if you're looking specifically because of Gears of War 4, you might want to hold back a little bit. Nvidia have announced that digital codes for the cover-based shooter will be included in all new purchases of their top of the range cards. That means any GTX 1080 or 1070 purchase will nab you Gears of War 4 for free – at least it's supposed to in the near future.
Nvidia claims either card will be suitable to really enhance your Gears of War 4 experience, including 21:9 support and possibilities for native 4K play. The one thing it fails to mention is the necessity for either. If you're looking to just play Gears of War 4, its recommended specifications ask for nothing more than a GTX 1060. Coincidentally, the one card part of the Pascal range that doesn't include a code on purchase. What a shame.
Still, if you're looking to seriously upgrade your system it's still a good deal. Especially so if you're aiming to hit the sort of visual fidelity offered up in the 4K footage of Gears of War 4 below. It sure does look seriously lovely at times. Gears of War 4 is out on October 11th.
Last Updated: September 21, 2016