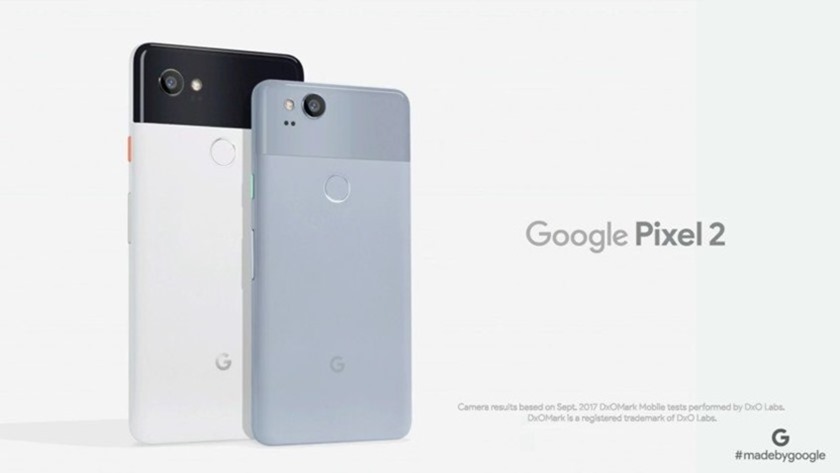 Yesterday, Google held an event to show off a lot of its impending hardware, with a large focus on the second generation of its own Pixel phones. The Google Pixel 2 and Pixel 2 XL are a refinement of the existing Pixel, sporting better internal hardware, and improved cameras.
Though there's a difference in size, they're the same under the hood. Both new Pixels feature an octa-core 2.35 GHz Qualcomm Snapdragon 835 chip (the same that's in some variants of the Samsung Galaxy S8, and the LG V30), an Adreno 430 GPU, and 4 GB of RAM. While there's no sd slot, the devices will come in 64GB and 128GB variants.
The biggest and most marketable feature is the camera, which according to image-quality authority DXoMark, is the best camera you'll find on any phone.
"We're in danger of running out of superlatives when describing the major image quality attributes of the Google Pixel 2. That makes sense for a device that tops our scoring charts —up from the 94 of the Apple iPhone 8 Plus and Samsung Galaxy Note 8 to a record-setting 98. So for just about any Photo or Video use case, it recommends itself as the phone camera with the best image quality. A notable exception to that assessment centers around the added performance in Zoom and Bokeh (including Depth and Portrait) that dual-camera smartphones such as the Apple iPhone 8 Plus and Galaxy Note 8 can provide. This said, the Pixel 2 is especially well-suited to videographers, as it achieves the highest Video score for any device we've tested — a 96."
The phone is also waterproof, with an IP67 rating. Like LG's phones, it'll have an always on screen that displays vital information, but the difference here is that the Pixel 2 will always be listening, waiting for your voice commands, or to let you know what song is playing. The Pixel 2 has a 5.0-inch OLED 1,920 x 1,080 display with a traditional 16:9 aspect ratio, while the larger Pixel 2 XL has a 6.0-inch 2,880 x 1,440 P-OLED display with an 18:9 aspect ratio, like the LG G6 and V30 do. It's a really nice phone then.
| | | |
| --- | --- | --- |
| | Google Pixel 2 | Google Pixel 2 XL |
| Display size, resolution | 5-inch; 1,920×1,080 pixels | 6-inch; 2,880x1x440 pixels |
| Pixel density | 441 ppi | 538 ppi |
| Aspect ratio | 16:9 | 18:9 |
| Dimensions (Inches) | 5.7×2.7×0.3 in | 6.2×3.0x0.3 in |
| Dimensions (Millimeters) | 145.7×69.7×7.8 mm | 157.9×76.7×7.9 mm |
| Weight (Ounces, Grams) | 5.04 oz; 143g | 6.17 oz; 175g |
| Colors | Just Black, Clearly White, Kinda Blue | Just Black, Black and White |
What's interesting though is that the Pixel 2 is ditching the headphone jack. It seems Apple may have been courageous after all in dropping the standard. Motorola, HTC and Essential have all eschewed the port, favouring USB-C headphones or expensive wireless buds. Yes, Google announced its own set of wireless earbuds too.
Here's the thing though. I still have no idea why not having a headphone jack makes a device any better. Sure, removing it opens up a little more space inside the device, allowing for a slimmer frame – but I'd happily sacrifice a few millimetres of thinness for the compatibility. Sure, wireless headphones and earbuds are nice, but you don't need to remove a port to have Bluetooth working, so I'm a little lost as to why it's gone. It sure as hell isn't courage.
Last Updated: October 5, 2017