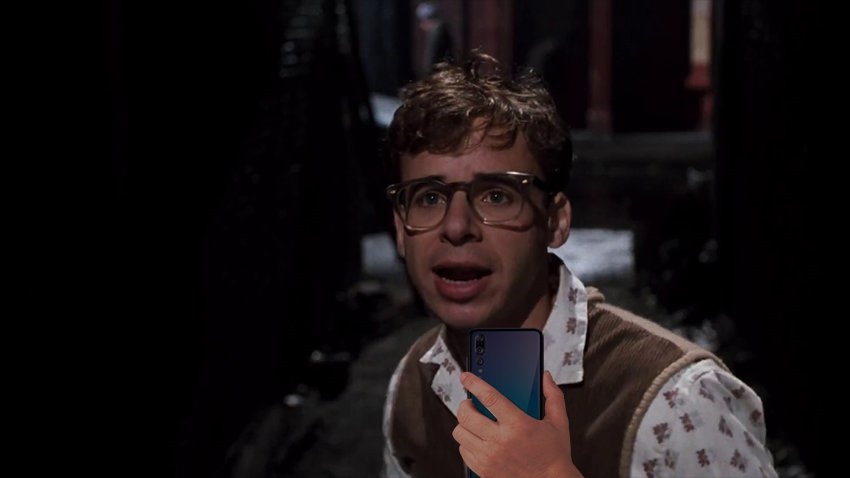 It's not often that I become excited about flagship phones. I'm general more excited by the trickle-down of technology that results in those top-end features coming to affordable devices that can effect mass-market penetration. It's because flagships are all becoming the same. They offer the same features, each coming with iterative improvements over previous models.
That all said, I'm quite damned keen on the Huawei P20 Pro. Yes, its most significant draw is that it's very iterative, taking the Pimp my ride/Razor blade approach to making things better. It's got not one, or two but three cameras at its rear. There's the duo that's become de rigueur of late, accompanied by a third, monochromatic camera. There's the combination of a 1 x 40MP RGB sensor, 1 x 20MP monochrome sensor, and 1 x 8MP sensor with telephoto lens – all of which help let in more light for frankly astounding low-light photography.
It's coupled with AI technowizardry that does real-time scene and object recognition, allowing even idiots like me to take stunning shots. Aided by machine learning, it'll help users take better and better shots over time.
"Huawei's flagship Huawei P Series devices are known for their best-in-class camera, cutting-edge technology and sophisticated design. Continuing this illustrious tradition, the new Huawei P20 and Huawei P20 Pro fuse art with advanced mobile technology to offer a revolutionary, professional photography experience," says Likun Zhao, Vice President of Huawei Consumer Business Group South Africa in a press release that I've unashamedly copied and pasted from.
Revealed just over a week ago in Paris, the P20 series of phones – that's the P20 Pro, the P20 and the P20 lite – are all available in South Africa today. Here's what the things will cost:
P20 Lite – R5 999
P20 – R12 999
P20 Pro –R 15 499
The phone will also be available on contract, but the pricing there is really up to service providers. The P20 and P20 Pro come with a nifty one-year VIP service offering that guarantees a one-hour screen repair time within the first year of warranty, which will be free of charge.
I played with the device a little last night, and though I'd need much, much more time with one to deliver any sort of verdict, I'm impressed thus far. I'm particularly excited by the image stabilisation in both photo and video modes. Of course, it's about more than just the camera, so here's a handy-dandy bullet-point list of the P20's features. Don't you judge me.
The Huawei P20 Pro sports a revolutionary and highly-sensitive image sensor of 1/1.7 inches, 170 percent larger than its closest competitor, with a pixel size of 2 μm micrometers. The Huawei P20 has a pixel size of 1.55 μm. Its larger image sensor allows for bigger pixels, which in turn enables the device to capture more light and produce cleaner, higher-quality shots.
The Huawei P20 Pro is equipped with f/1.8, f/1.6 and f/2.4 wide aperture Leica lenses, while the Huawei P20 features f/1.8 and f/1.6 wide aperture Leica lenses.
The Huawei P20 Pro includes a brand new Leica telephoto (VARIO-SUMMILUX-H 1:1.6-2.4/27-80ASPH) lens for long-range photography of up to 3x optical, 10x digital zoom and 5x Hybrid Zoom. The Huawei P20 delivers 2x Hybrid Zoom.
The HUAWEI P20 Series uses Huawei AIS (AI Image Stabilisation) technology to recognise objects with an AI algorithm, then filters and corrects images as a result of shifts and blurs caused by an unsteady hand holding the device. Huawei AIS steadies handheld night shots for incredible long exposure images without a tripod.
The new devices also support six-axis stabilisation and 960fps super slow motion, which is 4x higher than the standard 240fps and captures details that cannot be seen with the naked eye.
The P20 Series features Ultra Snapshot mode, where the devices can capture an image in as little as 0.3 seconds, even from an off screen.
Both smartphones boast 4D predictive focus, where the camera predicts moving objects and focuses on them with extreme efficiency to capture minute details of these objects in motion.
The Huawei P20 and Huawei P20 Pro pack a 24MP selfie camera with AI beautification, which captures the smallest details and brings selfies to life through natural skin tone enhancements, delicately outlined face shapes, and 3D facial feature adjustments.
The Huawei P20 Pro has an IP67 rating – six for dust resistance and seven for water resistance – which means it can withstand being submerged in one metre of water for up to 30 minutes. The Huawei P20 is rated IP53 for splash resistance.
The Huawei P20 and Huawei P20 Pro can be connected to a monitor in PC mode, which provides a desktop environment for users. With PC mode, users can enjoy the productivity benefits of a desktop, complete with keyboard and mouse functionalities on the phone, without having to carry a laptop around.
Last Updated: April 6, 2018