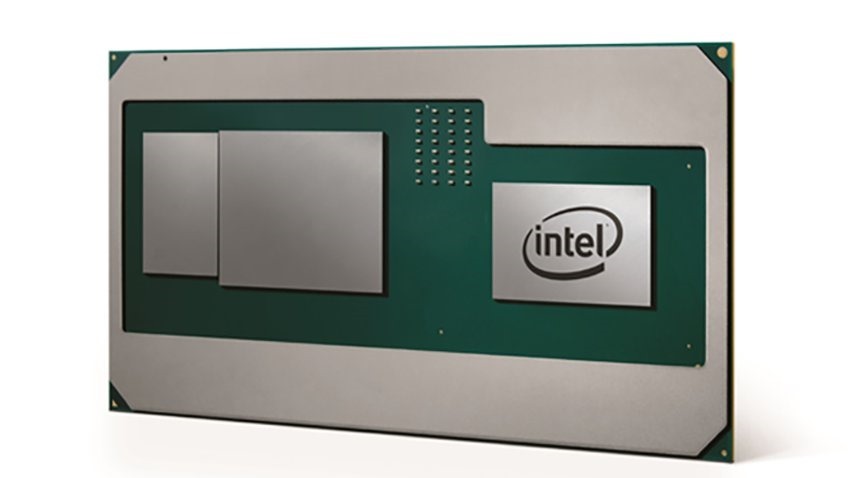 I've checked outside, and it doesn't seem like the apocalypse is has started. I haven't seen human sacrifice, dogs and cats living together or mass hysteria. It does, however, seem like hell has indeed frozen over, as perpetual Intel and AMD are working together on a new chip.
The new silicon is engineered to make ultra-thin, portable notebooks that have the best Intel CPU to scale, along with some actual graphical clout, provided by AMD. This new chip will form part of Intel's 8th Gen Core lineup and unifies the company's Core H series of CPU's with a custom, discrete graphics chip from AMD Radeon – all in a single package. It'll also feature support for second generation High Bandwidth Memory, making for better laptops that are great for work, but also not too shabby at gaming – without being one of those over-engineered, usually gaudy and frightfully expensive gamer-grade machines.
"Our collaboration with Intel expands the installed base for AMD Radeon GPUs and brings to market a differentiated solution for high-performance graphics," said Scott Herkelman, vice president and general manager, AMD Radeon Technologies Group. "Together we are offering gamers and content creators the opportunity to have a thinner-and-lighter PC capable of delivering discrete performance-tier graphics experiences in AAA games and content creation applications. This new semi-custom GPU puts the performance and capabilities of Radeon graphics into the hands of an expanded set of enthusiasts who want the best visual experience possible."
The chips will also feature a shiny new "intelligent" bridge called EMIB which Intel says "allows heterogeneous silicon to quickly pass information in extremely close proximity."
You can expect new laptops containing these chips to surface in the coming months.
Last Updated: November 7, 2017