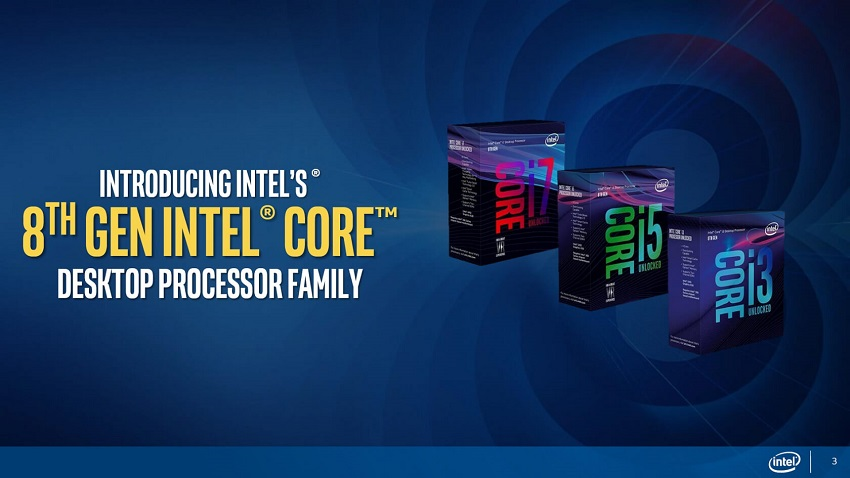 Intel has, in the past, really made a big deal about announcing a new processor line. The storiedtick-tockk cycle is long broken, but the company was still determined to squeeze as much from the current batch of chip sizes as they could before moving on. But AMD have been busy this year, pushing out their own Ryzen architecture and promising more frequent additions to their line-up. A pace that Intel hasn't been behind for a long time, but one that might have just changed with Coffee Lake.
Whether due to pressure from AMD or just a mistake, Intel decided to prematurely announce its 8th generation of CPU chips this weekend with little fanfare. Which is curious, because the chips are actually something to get excited about, and especially so if you're thinking of one to upgrade to for your many gaming needs. The big news here is the increased core counts. Previously 4 cores were the standard for high performance, but Intel has shifted the minimums across the range. The i7 will ship with six cores now, along with the i5. The i3 range has been bumped up to 4 cores too, with a variety of options in each of the three.
The TDP has also slightly increased from 91W to 95W, but Intel is promising some big performance gains to make up for it. The company is promising increases of up to 35% with FPS (probably taking their own embedded graphics chip into account here), and 50% better "mega-tasking" performance. This metric is specifically important to heavy PC users who like to game, stream and record their gameplay at the same time. A growing market for sure, and one that Coffee Lake seems geared to cater for with its increased core counts and output.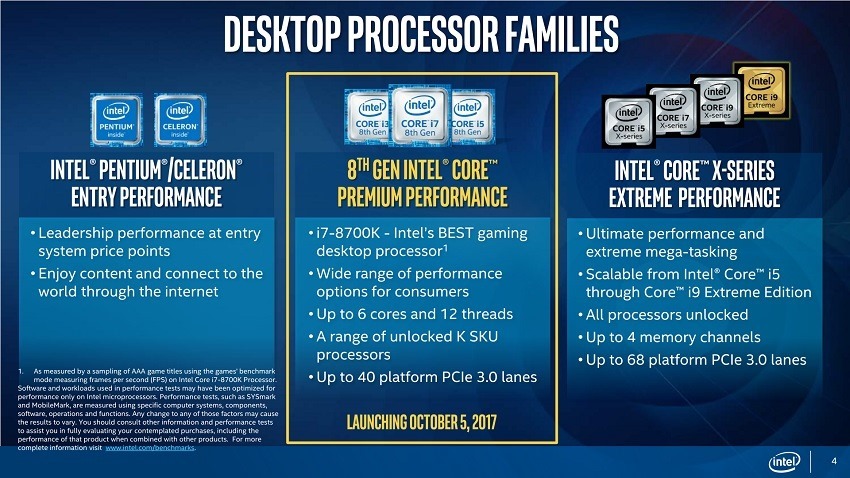 Aandtech has each of the processors broken down:
i3-8100, with four cores / four threads and clocked at 3.6GHz for approximately $117
i3-8350K, with four cores / four threads and clocked at 4.0GHz for approximately $168
i5-8400, with six cores / six threads and clocked at 2.8GHz (with a boost of up to 4.0GHz) for approximately $182
i5-8600K, with six cores / six threads and clocked at 3.6GHz (with a boost of up to 4.4GHz) for approximately $257
i7-8700, with six cores / 12 threads and clocked at 3.2GHz (with a boost of up to 4.6GHz) for approximately $303
i7-8700K with six cores / 12 threads and clocked at 3.8GHz (with a boost of up to 4.7GHz) for approximately $359
The gains come with a little bump in price though. Intel has already prepared everyone to expect at the very least a $20 increase in their unlock K-range (the CPUs that allow for per core overclocking), which might even increase as the chips trickle down to retail. You'll also need a new motherboard to support the new Z370 chipset, which comes with new DDR4-2666 and improved overclocking features. Intel is pushing some of its Optane Memory with the chipset too, but that's probably still a little rich for most users blood.
Still, it's evident that Intel wants to make it clear that they're pushing out new generations at a faster pace. Yes, Coffee Lake is still on the 14mm standard (which is now being called 14++ in this new iteration), and the days of shrinking die sizes and massive performance leaps might be gone. But if these promises bear fruit, Coffee Lake could be one of the most substantial upgrades Intel have released in some time. And that's nothing to scoff at.
Last Updated: September 26, 2017