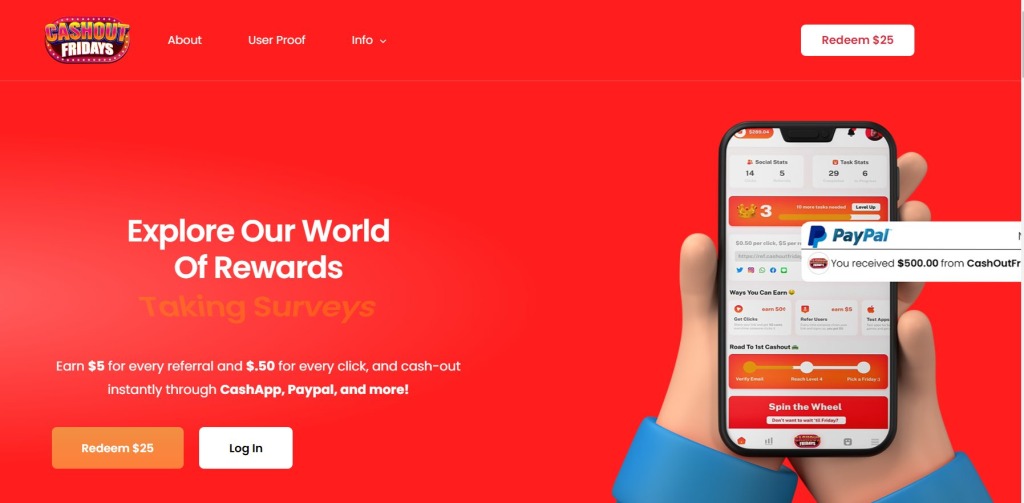 If you are looking for an easy way to make money, you might find yourself checking out some websites that promise to pay you for filling out surveys, or signing up your friends to be part of a network. These moneymaking sites don't always pan out, with some of them not even paying like they promised. Is Cashout Fridays any different?
How It Works
The site is designed to give you small tasks to carry out and then pay you when you finish them. So, if you complete some surveys, refer your friends at the site, and download some apps onto your phone, you can earn money. That is the simple premise of the site, and it is actually true to the hype. People are really getting paid from Cashout Fridays.
You also get what is known as a commission bonus for when your referred friends earn money on the site. As they earn money, you earn some additional cash, which is really cool.
How You Get Paid
Not all referral sites will pay you in a way you can use, but Cashout Fridays is designed with user convenience in mind. If you earn money on the site, you can choose how you want to receive your earnings. Pick from payments sent by check in the mail to receiving your money online through major payment services like PayPal, Zelle, CashApp, and Venmo. There is no hassle, and you do get paid for what you accomplish, so there's no need to worry that you might be getting scammed. In fact, the easy payout and the user-friendly site design make this the referral site of choice for people hoping to earn some easy money online.
Using the Site
Is it easy to make money on Cashout Fridays? Sure, it is. You just need to do the different activities that the site asks you to do once you sign up for an account there. These activities can range from doing surveys to adding apps onto your device to inviting other people to sign up with you. The more of these activities you manage to do, the more money you get. You can keep doing this for as long as you like, conceivably making as much money as you like.
Doing these activities is simple enough, but if you get lost on the site and you aren't sure what to do, then you can use the tutorial videos to get help.
So, check out CashoutFridays today now!
Last Updated: March 28, 2023