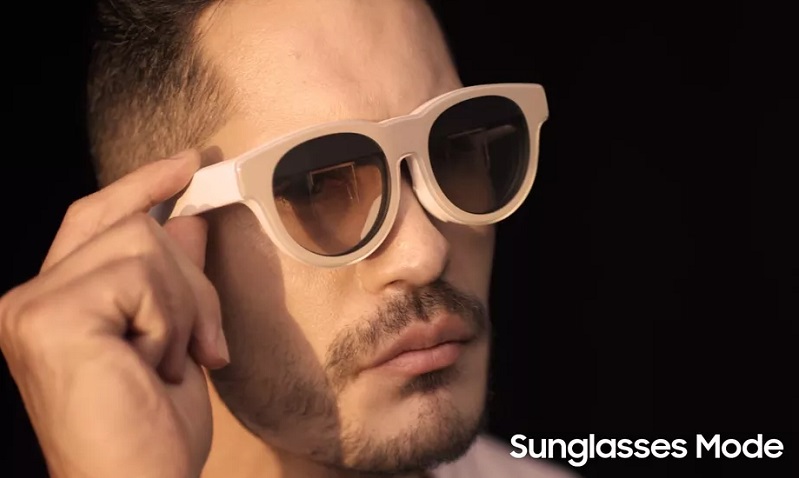 Pretty much all tech companies are exploring virtual and augmented reality in some form or another, and Samsung has been no different. The company has been toying with the idea of AR glasses for a few years now but has never unveiled anything that could be considered potentially game-changing in this space. A leak from reliable source Walking Cat featuring two new concept videos (via The Verge) reveals that Samsung could be onto something big with its latest concept.
The new Samsung Glasses shown off in these videos appear to have the ability to perform some practical features. It appears that Samsung is working on two versions of its glasses, one called the Glasses Lite which will focus on projection and another, simply titled Glasses, which appears to offer a full AR experience for the user.
The "Glasses Lite" has the ability to project images like a giant virtual screen where you can play your games, watch movies or simply enhance the size of your current computer monitor. This technology can also then be used to fire up an auto-dimming "sunglasses mode," or act as an instant first-person-view screen for your DJI drone, complete with telemetry. As for the "AR Glasses" the video showcases how the user can see 3D digital objects appear in the real world, like Microsoft's HoloLens.
There is nothing too revolutionary about these ideas, though what is impressive is firstly how these glasses look more like traditional glasses than Microsoft's HoloLens and secondly how Samsung is using a smartwatch to navigate between the different interfaces which tease some deep integration into their other smart devices. Something which could be a game-changer in the space should Samsung really be able to make this work.
And it's that last sentence that I guess is key because these are obviously just concept videos for now and it's likely that Samsung is still working on a lot of these features and has a long way to go before these glasses will work as well as they suggest. They will probably be very expensive if Samsung's current pricing is anything to go by.
Last Updated: February 24, 2021