I've never quite got on-board with gaming laptops. They're expensive, often bulky and loud, and most importantly, a great deal slower than their desktop counterparts. However, NVIDIA's Pascal line-up has somewhat rejuvenated the interest in gming laptops, if only from a desktop performance parity perspective, and obliterating past performance levels on Gaming Laptops.
One company that's hit the field running is MSI, who've launched one of the most impressively comprehensive top-down gaming laptop ranges we've seen in a long while. From devilishly thin ultrabook gaming laptops, to behemoths sporting mechanical keyboards, there is something for everyone in their line-up. Their key selling point across the board offering desktop grade and VR performance in a gaming laptop form factor, as we've seen in our previous reviews on their GT lineup.
MSI Gaming The System
The GE series from MSI is tasked as being the more "affordable"(or less expensive) version of MSI's top tier GT laptop line-up, coming in a lighter and smaller footprint for extra mobility. To do that it sacrifices some performance options, so the MSI GE72VR 6RF Apache Pro Gaming laptop is limited to only GTX 1060 graphics cards and lacks Tobii. That being said, it's no benchwarmer; the GTX 1060 has enough to drive 1080P gaming with ease on its beautiful 17.3" monitor.
That being said, the GE72VR 6RF Apache Pro is a monstrously expensive laptop, starting at around R29 000 (with Windows), with price increasing based on extra RAM, NVME SSD or swopping the default 60Hz 1080P IPS-level screen for an optional 120Hz 5ms screen or 4K screen. When you start to add up the costs of a gaming desktop along the same variety, you are paying around a R12 000 premium to have all that gaming performance at your mobile fingertips.
So, what do you get with a R12 000 premium over a desktop system? Besides the mobility afforded by laptops in general,the GE72VR 6RF Apache Pro sports respectable specifications: full quad core i7 6700HQ processor (with hyperthreading) a 17.3" 1080P IPS-level Screen, 8GB DDR4 2133MHz memory and a GeForce GTX 1060 6GB. This particular review sample has a 256GB NVME Drive, 16GB of RAM as well as the standard 1TB 7200RPM mechanical hard drive. It comes with the regular assortment of laptop based goodies, like DVD-R drive, Intel Dual Band Wireless- AC 3165, 6-Cell 51W/h battery, and 4 X 2- watt  speakers as well as a 3-watt Subwoofer—part of their new Dynaudio  system in their laptops. To keep all this humming along, MSI are using their Cooler Boost 4 technology to keep temperatures and noise in check.
MSI: Puffing Up
Gaming laptops often try hard to be intimidating and overly aggressive looking. I think it's like smaller animals puffing themselves up to appear bigger and more dangerous to prey, or in this case, their overcompensating Desktop counterparts. Analogies aside, MSI have struck a good balance between looking moderately aggressive and sleek, with vents and barely visible heatsinks through grills only noticeable on the rear.
The entire chassis, although appearing massive in width, is deceptively lighter and easier to handle at a manageable 2.7KG. Although light, the laptop never felt of inferior quality. The sides of keyboard top plate also curve inwards slightly, adding some curvature to a notoriously bland area in laptops. The all black chassis with red highlights strikes the "gaming colours" checklist, while the indented and brushed Aluminium lid (with white LED lit MSI logo) rounds off a professionally looking laptop.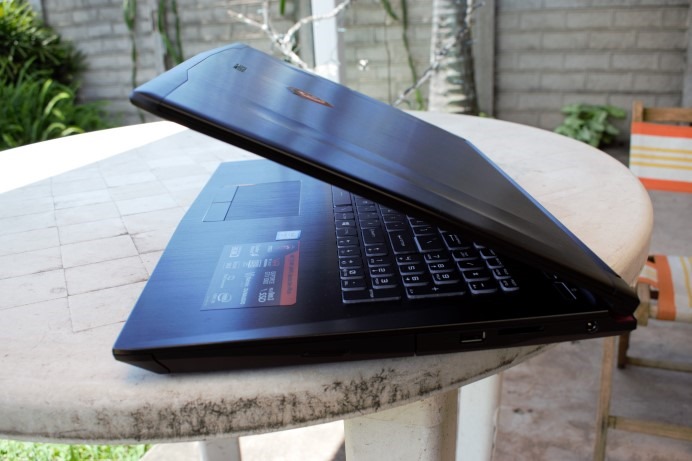 You get the regular assortment of extra ports like USB 3.0 ports and SD card reader, although new kid on the block USB 3.1 C is available as well. For those wanting to take this beauty to a LAN and not have to spoon it to keep it safe, you've got a Kensington lock to secure it to your Prince Albert. If you'd like to connect another screen for work purposes or VR headset, you have Mini-DisplayPort 1.2 and an HDMI v1.4.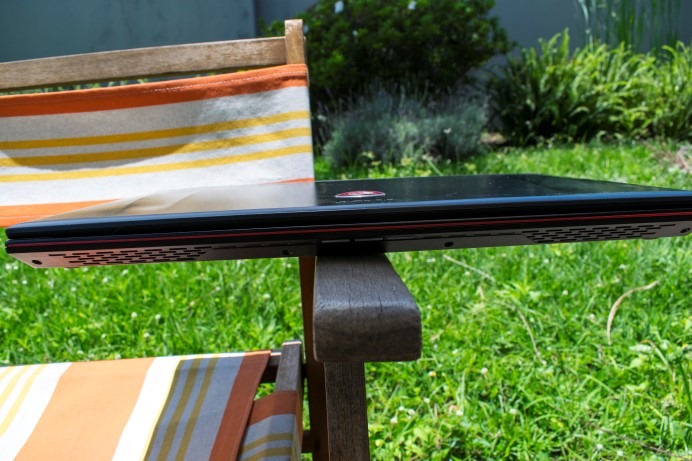 On the front and underside you get two vents, which are for the 2 sets of 2W speakers at the front. Sound quality is quite superb, and the included 3W subwoofer makes a world of difference. I find most laptops lack punchy audio and have an overall "tinny" tinge to their sound profile. However, the GE72VR 6RF produces a punchy and strong audio, so good that I never felt the need to use my headphones while gaming or listening to music. There is the usual distortion and tininess as you crank up the decibels, although it's only at uncomfortable sound levels.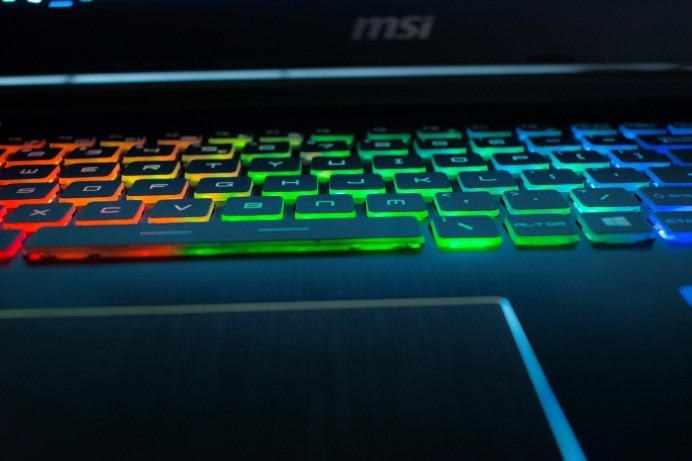 The low-profile chiclet keyboard continues to be provided by SteelSeries, sporting a full RGB backlighting package. The LED lighting is bright enough, although there are definitely some issues with cross-colouration evident when trying out different colours than the standard Red/Blue/Green. When you're not distracted by the lightshow, typing is a treat, with strong response and actuation. They keyboard does not flex while typing, so you wont feel any unnerving mushiness while typing.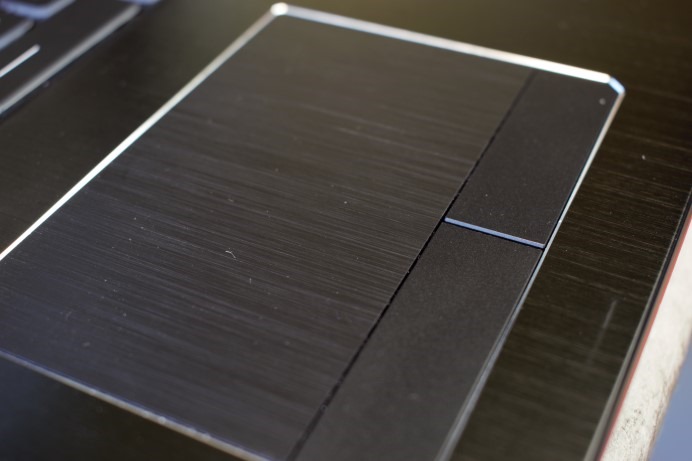 The multi-touch track pad is sufficiently sized while its brushed aluminium finish adds a nice touch to the otherwise fully blackened keyboard area. As far as track pads go, it's quite smooth (maybe too smooth) but the most uncomfortable thing about the track pad is that it becomes uncomfortably hot while under load, and you'll see why when we take a look into the laptop.
Turning towards the massive 17.3" screen, its matte finish means light reflections will be minimal, which is a good thing considering laptops can be used outside! MSI states that it's an IPS-Level display, and although not "IPS", it's most likely using an IPS-type monitor, like AHVA or PLS (similar technology, just different manufacturers).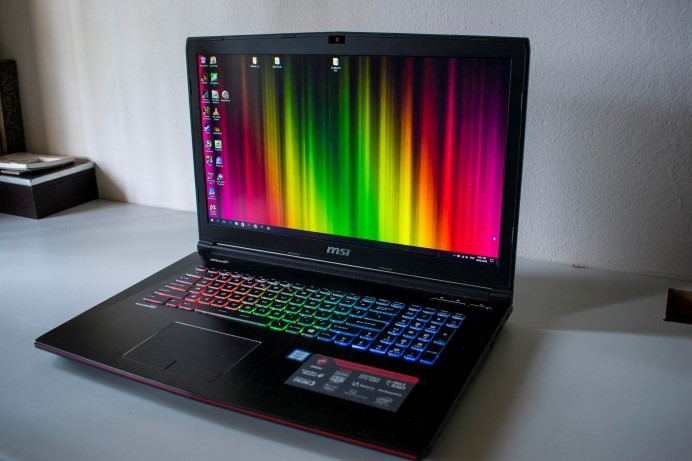 In either respects, the colour reproduction and viewing angles are excellent, for both editing work, gaming and media. Perhaps the only let-down is that MSI continually remind you that they have optional 120Hz screens—being so in-your face about it that they even put the sticker on this non 120Hz model—way to rub it in MSI.
Performance
Getting To The Guts
A recent trend in gaming laptops is the provision that you can upgrade components like RAM, HDD/SSD and even a GPU or two. However, MSI seems to have not been exceptionally forthright in this, and upon turning over the GE72VR 6RF notebook I was greeted with a very dubious Warranty Seal over one of the screws. Usually gaming notebooks have some sort of hatch or alternate method for getting to the upgradeable areas of a notebook, such as a small non warranty breaking access port to the RAM, HDD/SSD or even M.2  port.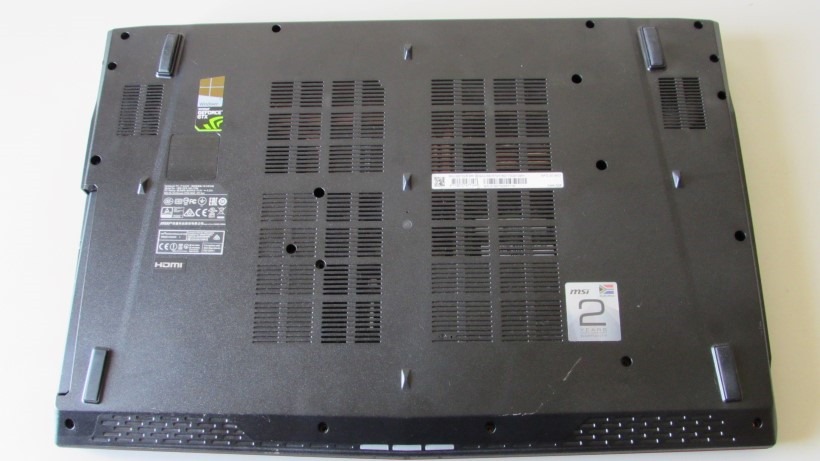 If you choose the version of the laptop with 8GB of RAM and a 1TB HDD, you might void the 2 year warranty if you want upgrade your storage or RAM. After some research, it seems to be a warranty "warning" sticker, for if you hypothetically damage something while accessing the internals.  It's a backward step, considering many gaming laptops from other vendors like Alienware and ASUS have provided ways around voiding warranty and upgrading certain components.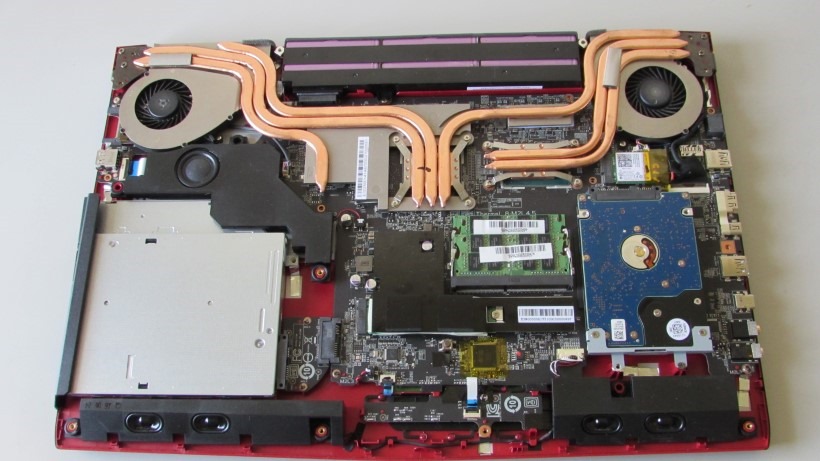 This lack of upgradable hatches means that you have to remove the entire underplate, which proved quite difficult, but not impossible. Once removed, you can experience the marvel of modern mobile computing; all that power in such a diminutive little package of PCBs, wires and solder. From the bottom you see your two 2W speakers, with the 256GB NVME above, as well as the welcomed 3W subwoofer to the upper left. Sadly, you can see the battery is not removable.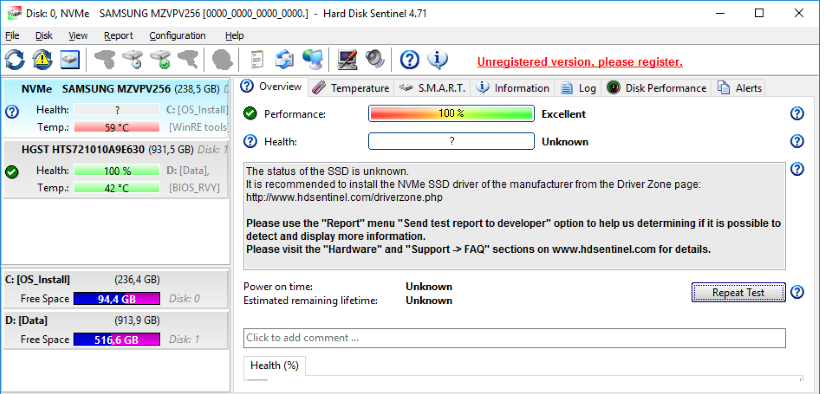 The NVME SSD was the reason there was that uncomfortable level of heat on the track pad; and you can see why in temperature tests. 59 degrees (at load), which although is perfectly within range for operating at full speed, makes your palm quite balmy. Perhaps if MSI diverted one of the cooling pipes on their Cooler Boost 4 to the NVME to keep things running cool?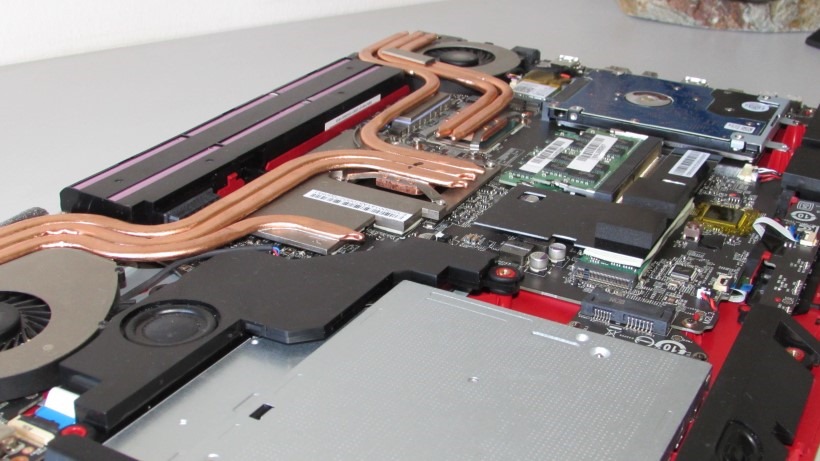 Speaking of which, you can see the Cooler Boost 4 at work, with the desktop grade GTX 1060 getting the bulk of the cooling pipes, while both GPU and CPU each has their own dedicated fan from which to draw away heat.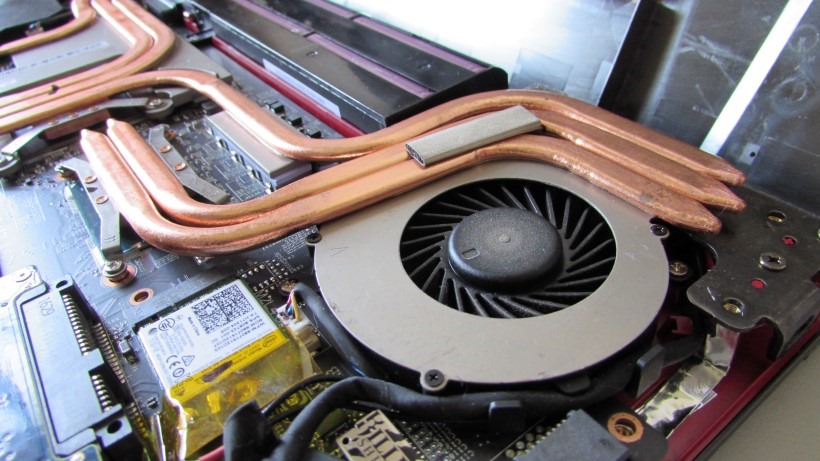 Apart from the hot NVME device making itself felt on the track pad, the majority of keyboard itself never got unduly warm, so the Cooler Boost 4 system worked well to shift away heat, keeping the GPU around the 83 Degree mark at maximum in synthetic and gaming tests and the CPU at around 84 degrees. To keep things from melting, the laptop's fans do go into overdrive and are quite noisy. The thing is, you can set the fan profile you want in the Dragon Center software, and sacrifice performance to simply have a quieter machine while gaming.
Gaming, Software, and Battery life
Gaming on the laptop proved to be highly enjoyable, most notably for MSI's partnership with Steelseries Engine 3 and their use of Gamesense. My spare Steelseries Rival 100 was picked up by the SteelSeries Engine 3 software, which allowed me to immediately customise macros and settings on my mouse—a very cool addition if you happen to have any Steelseries peripherals. More so, a nifty, if unabashedly gimmicky, was Gamesense's gaming profiles, which you can set up your RGB lighting to react to different in-game events, like your mana running low or hit registers in CS:GO. Overall the software bloat on the MSI GE72VR is very light, however the bundled Norton Anti-Virus is as irritating as the worst virus, constantly popping up to "Activate now!"
Dragon Center is MSI's central control hub, from which you can attach program shortcuts, create RGB profiles, monitor temperatures and cooling profiles or simply adjust your monitors colour profile.  It's a decent enough suite, although I do find it somewhat lacking in features like OSD settings or a user-friendly lighting profile creation. I also have to laugh at the obvious spelling errors in the software.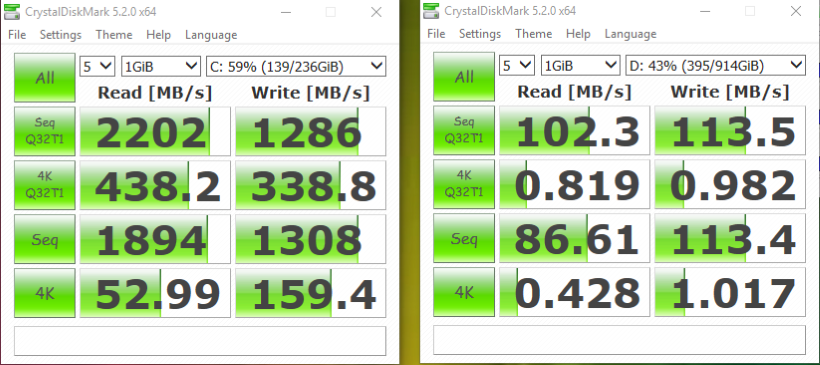 Performance on the storage side of things were impressive, with the Samsung based NVME drive basically providing enough throughput to get into Windows in under 8 seconds.
Initial testing of the laptop during gaming revealed some very troubling results, one I pinned down to wild fluctuations in the GTX 1060 clockspeed while under load, as you can see in this heaven benchmark. Just goes to show what an unstable driver or Windows can do to a system.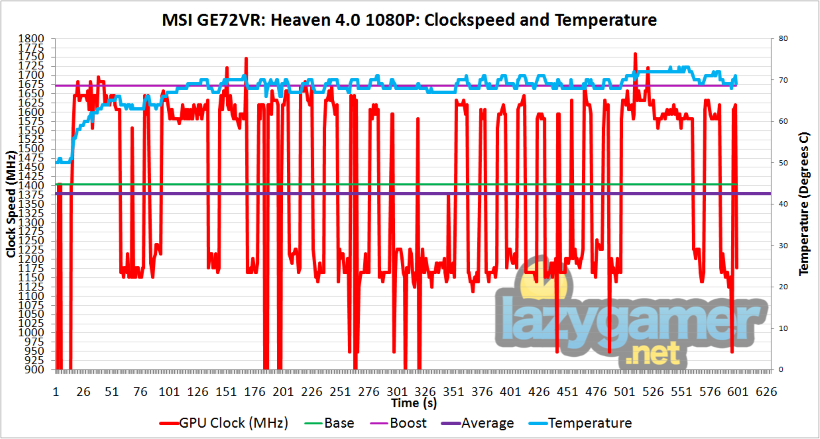 Since I had inherited the laptop from another reviewer I rolled back drivers and did all manner of diagnostics and to iron out the issue, eventually factory-resetting and performing all the god awful Windows Updates all over again—after that; bliss.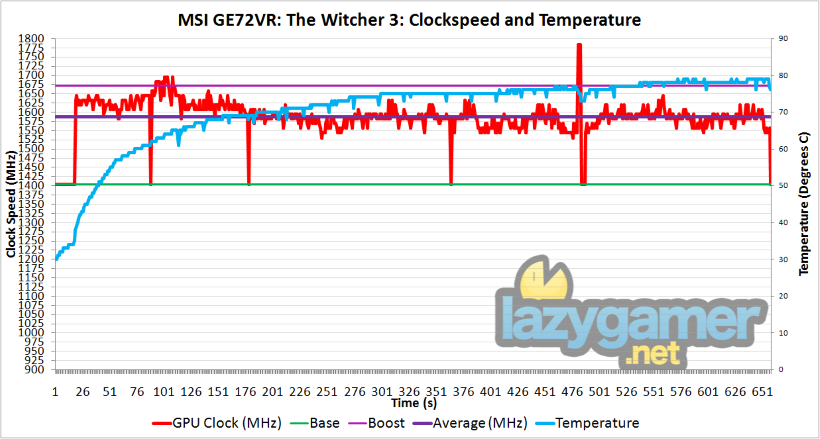 Clock consistency improved and performance followed suit, with clockspeed exceeding its base clock effortlessly.
Gaming proved to be exceptional once the unknown malady was dealt with, and the mobile GTX 1060 proved to be one capable beast of a card, even able to overclock a non-trivial amount, with a max core off set of 200MHz and memory overclock of 200MHz, easily giving over 40FPS across most titles at Ultra details at 1080P, so with a little coaxing and detail massaging, 60FPS is attainable. The Cooler Boost 4 also managed to allow the 6700Q CPU to maintain 3.5GHz across the board while gaming.
Although I don't have a VR headset to test with (as we've previously done), 3DMark VR does benchmark the system based on what's the minimum requirement for VR gaming on a headset (109 FPS)—the GTX 1060 is capable of less demanding VR gaming, but falls well short on the higher end BlueRoom VR benchmark—as would any single GPU out today.
Although a laptop, this is not a device you can play on without having it connected to a power source. With screen brightness at 50% and audio at 50%, under regular browsing, Youtube watching and downloading I managed to get around 2H33minutes. Once you go full battery, gaming time drops substantially depending on the game; with Witcher 3 lasting 41 minutes, while a graphically lighter game like Dota 2 got me just under an hour of game time. Not the best mobile gaming solution, and but gaming laptops never are.
Making Laptop Gaming Great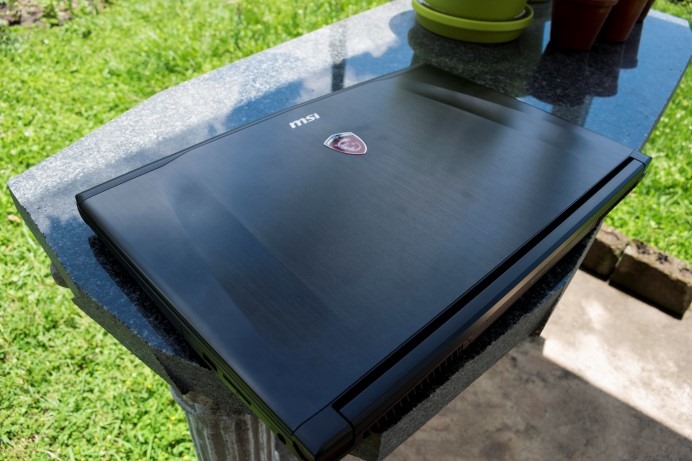 There's no beating around the bush—the GE72VR 6RF Apache Pro is an astoundingly fast laptop compared to the similar GE72 6QF earlier this year sporting a GTX 970M, which it will handily beat, at around the same price (Dollar wise at least). The laptop is light for its size and follows the familiar MSI aesthetic of blackened body with tasty aluminium touches to give it a flair of professionalism. Internally things look great, with the only gripe being the inability to deal with the heat of the NVME drive and lacking easier upgrade features. Pricing is always going to be a contentious issue with a gaming laptop, but the performance that's usually lacking in past "gaming laptops" is most definitely present with this one.
Last Updated: December 8, 2016
MSI GE72VR 6RF Apache Pro Review

At a R29 000 it's not chump change, but that's the cost for cramming all that desktop power into a laptop form factor, without the sacrifice of too much performance.