It's becoming both trite and clichéd to start off gaming laptop reviews with some sort of yarn about how gaming laptops were never quite as good as their desktop counterparts. It usually discusses how Nvidia's Pascal architecture changed everything, and that laptops now reach parity with proper gaming machines – obliterating the middling performance that gaming laptops have traditionally offered.
I am, unfortunately, not really going to break from what's now tradition. There's nothing especially new here, except an attempt by MSI to provide a relatively affordable gaming laptop that has the punch to drive FHD gaming.
The GV72 7RD that I've been using for the last few weeks has been a pleasure to use. Like the company's GE series, the GV is a slightly more affordable take on the top-of-the line, bleeding-edge you'll find in the GT line. They're a little lighter, a little easier on the specs and as a result, slightly easier on the wallet. This particular model stuffs in an entry-level 1050, which proves capable of playing many games at 1080p on the beautiful, 17.3" LED screen. It's available in both 2GB and 4GB DDR 5 VRAM variants.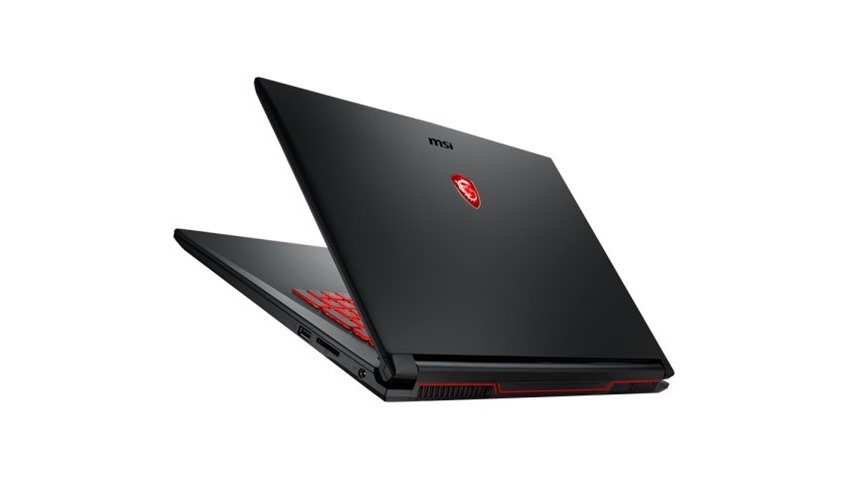 It comes with a seventh generation Intel i7 7700HQ, which is a full quad core processor with hyper-threading. Certainly no computational slouch, the CPU ensures that the GV72 is a fantastic workhorse. This review unit came with 8GB of DDR4 memory, but there's a free slot open to upgrade that to 16GB. It also comes with a 128GB Kingston SSD, and a standard 5400RPM 1TB mechanical drive. What it doesn't have is an optical disc drive, which allows the machine to be lighter and more heat efficient. It naturally also has MSI's fabled Cooler Boost 4 technology to keep its temperatures and, importantly, its noise levels in check.
Look and Feel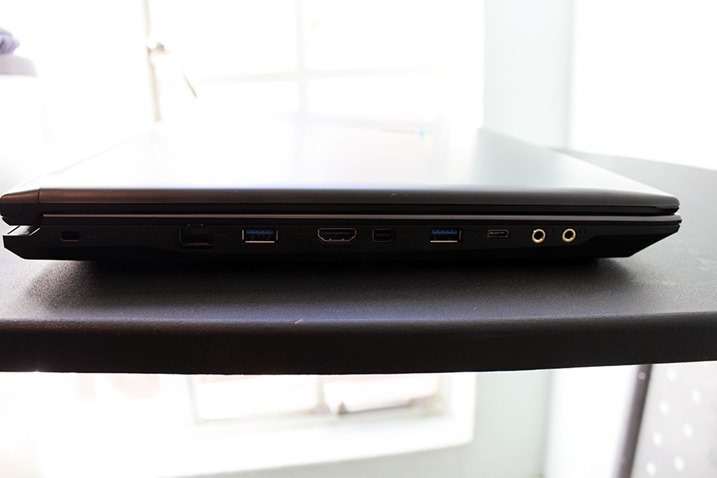 It's not an aggressive, intimidating looking machine as gaming laptops tend to be. Instead, it has a sleeker and daresay classier chassis. It does still have a pair of grilled vents that hide barely visible heat sinks at the back, but that's a case of necessity.
Although it appears to be a massive machine, it weighs a reasonably 2.7kg. Slight curves on the bottom panel add a bit of flair, and keep the machine from looking too square. The entire chassis made of plastic, but avoids feeling or looking cheap. It does, however, pick up fingerprints better than a crime scene investigator.
The right side of the machine is home to the regular assortment of ports you'd expect. It's got a an HDMI 1.4a port (so 4K output is capped at 30hz), a Mini-DisplayPort 1.2 if you want the 60Hz experience, and two USB 3.1 A-type ports. It also has one USB c-type, 3.5mm jacks for audio out and microphone in, and an RJ-45 Ethernet port that supports Killer networking. The right side is barren by comparison, with just a single USB 2.0 port and a card reader.
Keyboard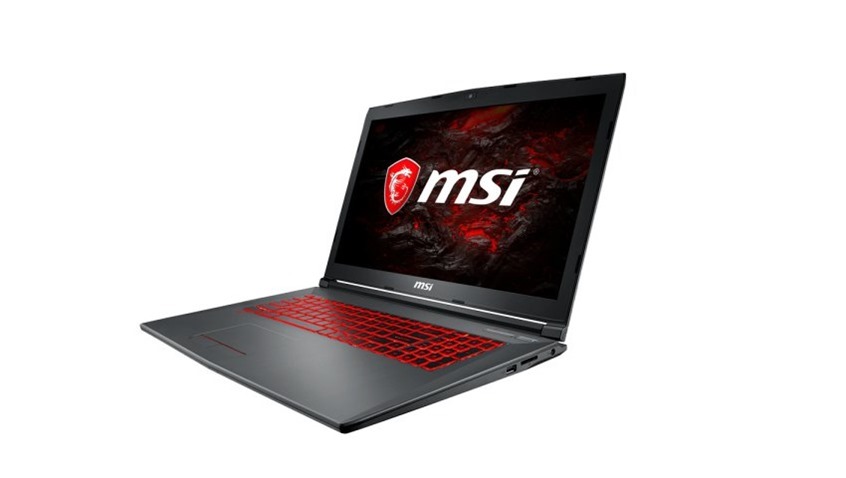 As has become standard with MSI gaming laptops, the low-profile chiclet keyboard has been provided by SteelSeries, though this one doesn't have full RGB lighting. Instead, everything shines a fierce – though not distracting – bright red. It's a nice keyboard to use in practice, with strong tactile response and good actuation.
Trackpad
The multi-touch trackpad has the same, brushed-aluminium aesthetic as the machine. I've never really liked using trackpads and will usually plug in a mouse, but it's smooth, responsive, and accurate.
Screen
The huge, matte 17.3" screen – though a standard TN panel and not an IPS – is one of the machine's best features. It has excellent viewing angles and great, if muted colour reproduction. While the sample I've been using features a regular FHD panel, there is an optional 120hz upgrade.
Inside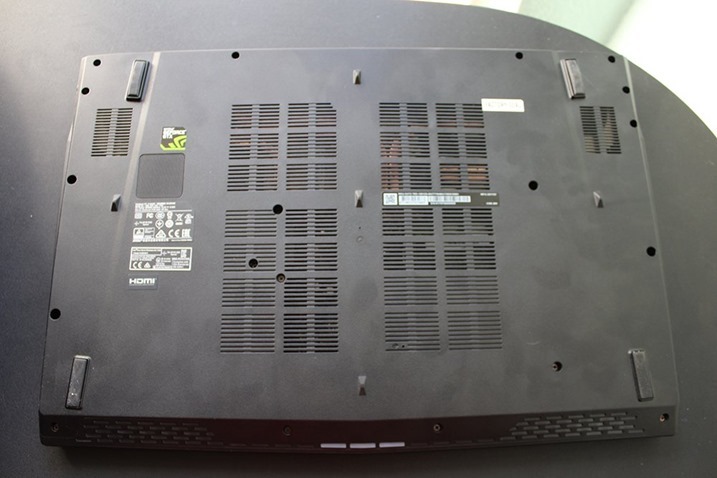 It's a lovely machine to use, but there is a bit of a problem, and it's something that's becoming common to MSI's laptops. As portable computers have approached parity with their desktop counterparts, they've also started providing easy access to upgrades – at least for easy user-serviceable parts like RAM, SSD and even MXM GPUs.
As we've seen with previous MSI notebooks, there's no simple, accessible hatch to upgrade components like this. Worse is that there's a "Factory Seal" warranty sticker over one of the screws. It means that getting to the inside necessitates removing the entire back panel, which could be a headache for some.
Performance
Before we go any further, it's worth discussing the SSD. It's a Gen 2 M2 from Kingston that's light on power consumption, which means that it avoids the heat that starts spreading over the trackpad under high load. However, while it's exactly within spec for an M2, it's also not especially fast for modern drives, paling in comparison to Intel and Samsung's NVMe drives. Still, it's fast enough to boot into Windows in under 10 seconds.
That said the machine is still a fantastic performer, and should play just about any modern game at 1080p, at frame rates of 30p or higher, depending on the game. I played perennial favourite The Witcher 3, which on medium settings approaches (but just doesn't quite reach) 60fps. On High, you can expect the game to hover around 40fps. GTA V runs over 60fps for the most part on high, delivering an exceptional, smooth gameplay experience. Doom also runs over 60fps on High, so the machine is a pretty capable gaming machine.
This slideshow requires JavaScript.
Battery life is entirely…sufficient. With communications turned off and brightness on low, you can eke out over five and a half hours of work. In more practical applications, expect the battery to give you about 3 and half hours of browsing and general office work. If you plan on doing any real gaming, then plan to be tethered to an electrical outlet, as you'll barely make it to the hour mark on a full charge.
At R16,999 it's a solid machine that puts in a respectable gaming performance – at a decent price that's far removed from the R30 000 behemoths we're usually treated to.
Specs at a glance:
Up to 7th Gen. Intel® Core™ i7 processor
Windows 10 Home
Windows 10 Pro
17.3″ FHD (1920×1080)
17.3″ FHD (1920×1080), 120Hz, 5ms, Wide-View
Intel® HM175
GeForce® GTX 1050 with 2GB GDDR5
GeForce® GTX 1050 with 4GB GDDR5
DDR4-2400, 2 Slots, Max 32GB,
SSD
1x M.2 SSD Combo (NVMe PCIe Gen3 x4 / SATA )
HDD
1x 2.5″ SATA HDD
HD type (30fps@720p)
Backlight Keyboard (Single-Color, Red)
Gb LAN
802.11 ac Wi-Fi + Bluetooth v4.2
4x 2W Speaker
1x Mic-in
1x Headphone-out (SPDIF)
1x Type-C USB3.0
2x Type-A USB3.0
1x Type-A USB2.0
1x RJ45
1x SD (XC/HC)
1x (4K @ 30Hz) HDMI
1x Mini-DisplayPort
6-Cell , 41 Whr
419 x 287 x 29~32 mm
2.7 kg
Last Updated: August 29, 2017
MSI GV72 7RD

The lack of easy-to-access upgrades aside, MSI's Laptops are exceptionally well engineered, and this one's no different. The removal of the optical drive allows the award-winning Cooler Boost design do its job more efficiently, resulting in a cool and quiet machine that's as at home with work as it is with gaming.