To keep their laptops cool and quiet MSI have redesigned and refined their cooling solution to keep the GPU, CPU and in some cases, M.2 SSD storage as cool as possible for optimal performance. Their updated Cooler Boost technology is MSI's ace in the hole for giving desktop-like cooling performance to their gaming laptops with fan control and noise profiles. When you have near desktop level graphics in an ultra small laptop enclosure, you bet your bottom Taiwan Dollar that you need an upgraded and beefier cooling system to manage it all.
Their Cooler Boost technology comes in a few flavours depending on the size, series and configuration of the unit needing it. They are separated into "Cooler Boost Titan" and "Cooler Boost trinity" options for the performance range (GT83/73 VR and GS73/GS 63 VR-range), while Cooler Boost 3 and Cooler Boost 4 service the remaining laptops (GT62 VR, GS43VR and the GE/GP range).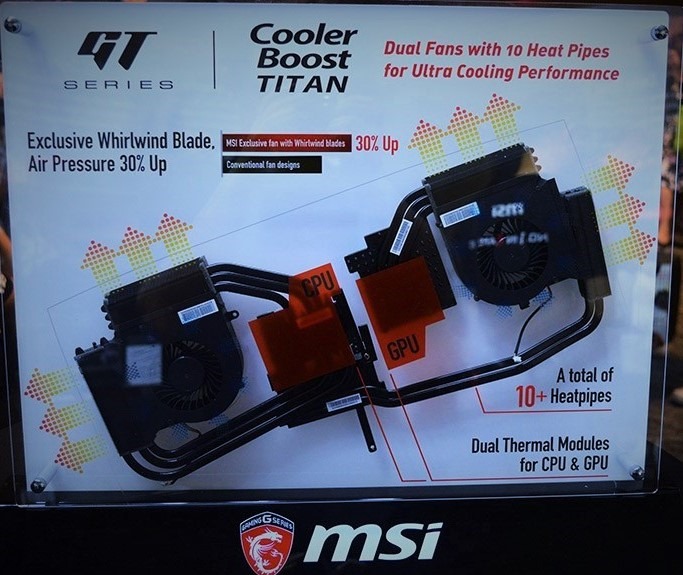 The Cooler Boost Titan is tasked with keeping their dual GPU laptops cooled and have 10-15 heatpipes with with triple (GT83 Titan VR) or dual fans (GT73 Titan VR) containing 29 whirlwind blades per fan for increased air-pressure and cooling performance.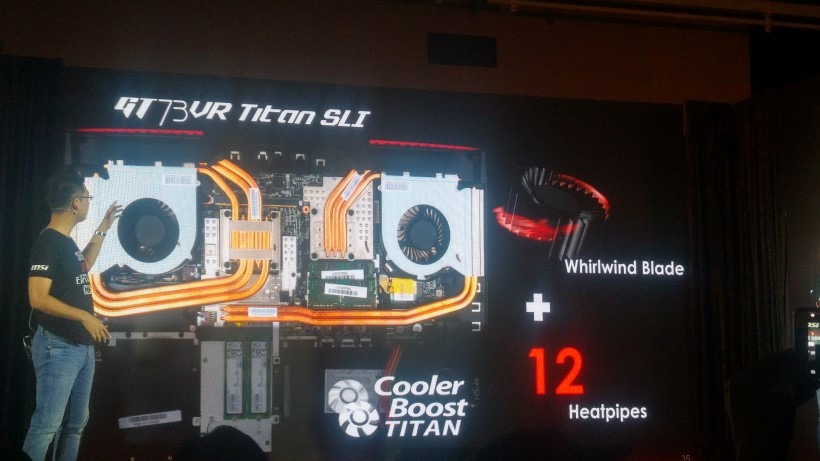 The Cooler Boost Trinity is used to cool their GS range of laptops and balance the need for a smaller space footprint by using less heat pipes (up to 5), but having 3 smaller fans containing 41- Whirlwind blades each in order to increase air-pressure in the GS range of laptops. Importantly, each cooling boost configuration has been updated to cool new M.2 SSDs, which require some cooling to not experience performance issues.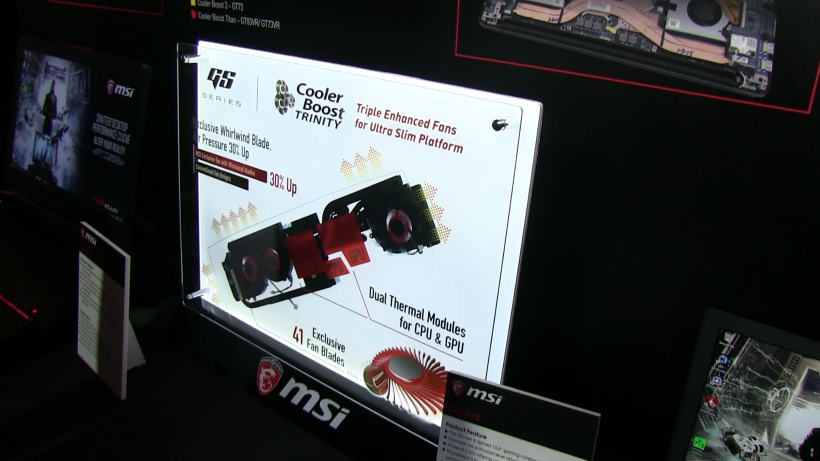 During their presentation we got a taste of their capabilities as MSI showed an on-stage demo of their Cooler Boost Titan cooling performance in comparison to another laptop running the same stress test with a lower range CPU and GPU. In the MSI laptop the CPU and GPU are able to maintain their speed consistently and keep temperatures in check, even allowing a bit of overclocking, while the non-MSI laptop was unable to keep their CPU at the same speed.
After the presentation I briefly mucked around with a few of the laptops that were running Heaven benchmark 4.0 and their keyboards' and palm rests were nowhere near hot. The stand out here was the GT73 VR Titan, as those 12 copper heat pipes and dual fans really managed to keep that particular notebook humming along just fine. Noise levels (as much as I could make out from the crowd) were library friendly as well, so no need to bring headphones with you to keep the drone of your laptop fans at bay.
One aspect that was confusing (more so since they are all gaming laptops) was the complete lack of any actual "gaming" benchmark scores; or of laptops running through a game or any modern VR game for users to test out.
Also puzzling, considering the year and context, was the use of an older DX11 3DMark 11 benchmark to compare scores of their current laptops with older mobile Maxwell GPUs, as well as newer desktops with Pascal. I'm not sure if it was because Galax secured advertising space in Futuremark's Time Spy DX 12 Demo, but I would have at least liked more up to date benchmark score since there were no actual games on hand at the event to compare. Regardless, one this is for certain; the cooling and noise performance on these laptops is without doubt impressive.
Last Updated: August 22, 2016