With Intel slowly turning their cogs and rolling out the unlocked desktop versions of their Skylake CPUs, its yet another time to start considering if that Sandy Bridge motherboard just needs to have its last day. With Skylake comes the not so discrete push towards DDR4 exclusive memory too, with many LGA 1151 motherboards not supporting the slower standard that has been as such for so many years now. And while the MSI Z170A Gaming M5 motherboard makes a compelling argument to upgrade, it's somewhat held back by technology boasting well above its weight.
Gaming motherboards in general are slated heavily for their use of a marketing suffix to drive the price sky high while offer little to no benefit over traditional motherboards. While that idea has stagnated a bit in recent times, the prejudice still exists – but that doesn't seem to phase MSI. The Z170A M5 is a gaming motherboard through and through, looking the part with the familiar, yet striking, red and black coating that dominates the board. An elevated heat sink near the CPU slot stands out, while the MSI Dragon Logo is emblazoned on the board to make sure no one mistakes where it comes from. The board looks lovely in a case bearing a similar colour scheme, even if it's not a departure from previous boards.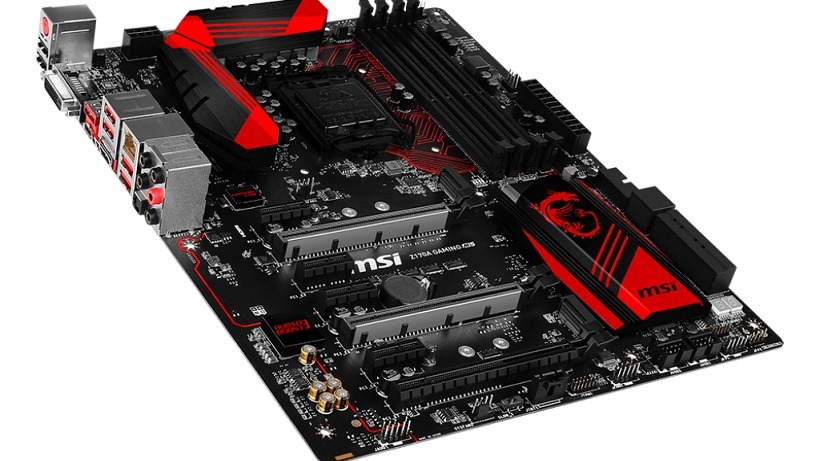 Looks aren't everything, and the Z170A M5 understand that. Along with the eye catching design, the board features three PCIe x16 slots, with an additional four slots for your DDR4 memory up, supporting speeds of up to 3600MHz. Storage is also given a good look, with some next-generation offerings. There's dual M.2 slots with four lanes of PCIe Gen3 each, along with two SATA Express ports and another two USB 3.1 ports – both Type A and C. Those PCIe slots are put to good use too, with the Z170A offering enough space and functionality for a single Nvidia SLI setup, and more then enough for a Tri-CrossFire AMD setup should you be so inclined.
Look at the back of the board, and you'll see a pleasant host of ports for you to use to your hearts content. If you're forgoing a dedicated graphics cards and want to just make use of Intel's integrated power, you've got an on-board HDMI and DisplayPort slot to pick from depending on your preference. That's on top of four USB 3.0 ports, two USB 3.1 ports and another two USB 2.0 ports nestled neatly but confusingly altogether.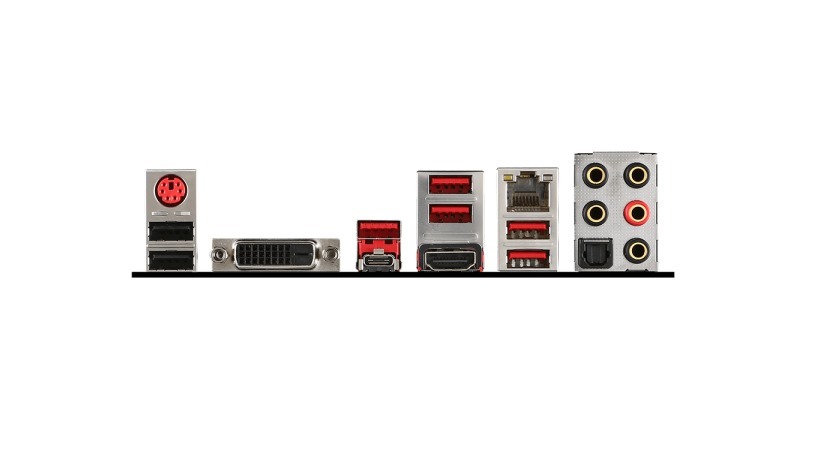 Two notable inclusions accompany the standard Ethernet Port and Auxiliary Outputs. Going for a less conventional Ethernet chip, MSI has chosen the Killer E2400, which comes with some integrated traffic prioritisation software that is meant to decrease in-game pings. Although I never saw a noticeable difference, the card itself was fast and reliable – with some good software to boot. Audio options are supported by the Audio Boost 3 chip, which has a regular Realtek Codec hidden beneath. It's still a far cry from a dedicated sound card, but for a change the auxiliary output wasn't riddled with a mess of static and noise. That, and there's an optical output too which is fairly useful for surround sound setups that don't utilise HDMI.
But the real star of the Z170A M5 only shows itself when you boot it for the first time. Once a confusing mess of options, a good BIOS menu can now set apart terrible boards from really good ones – especially when it comes down to performing complex overclocks at the push of a button. The BIOS here is quick and easy to navigate, allowing you to set clock multipliers, boot priorities and easy overclocking setups from the homescreen alone. It offers options to get down to the nitty gritty of CPU voltages, RAM speeds and more, or stay simple enough for the casual PC player to get extra juice out of their parts in a stable environment.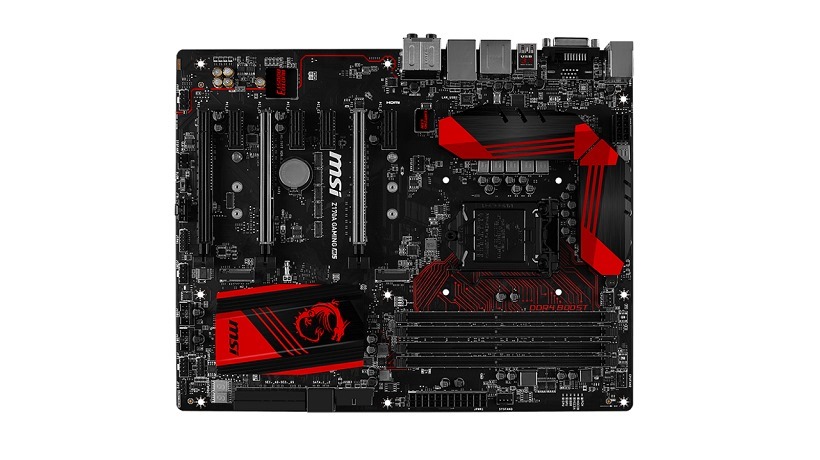 Setting up the Z170A M5 with a Core i7-6700K and 8GB of DDR4 2400 memory, as well as swapping between preset settings and Game Boost modes in the BIOS, we set out to test just how much of a difference the gaming label actually made. Considering it's a faster processor (and has faster memory) than our stock testing bench, the scores have a massive gap between them, but still reveal an interesting story.
CinebenchR15 CPU Test (higher is better)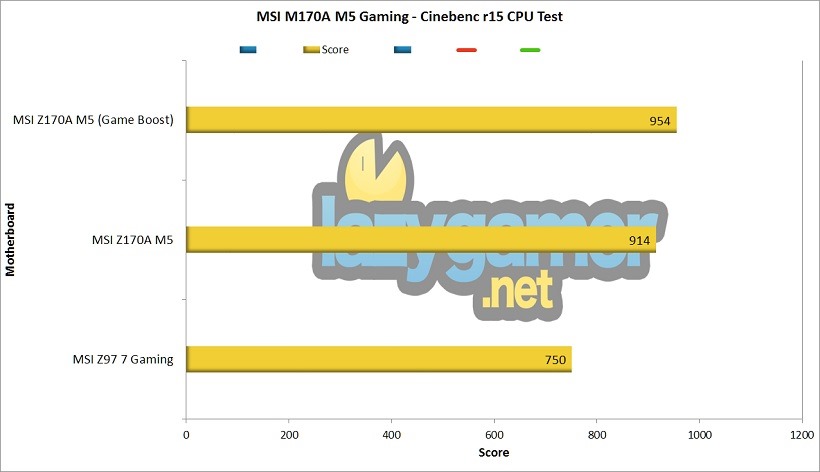 CinebenchR15 renders pieces of an image at different times and records a CPU score based on how quickly it completes. It's easy to see how the new Skylake processor excels past last-gen Haswell, but the 0.4GHz overclock that the Game Boost provides on the CPU (stable, but only the CPU clock is changed) shows a small performance gain. The Z107A manages to stabilise at this frequency, but the Skylake gains are minimal.
wPrime 1024MB CPU Test (Lower is better)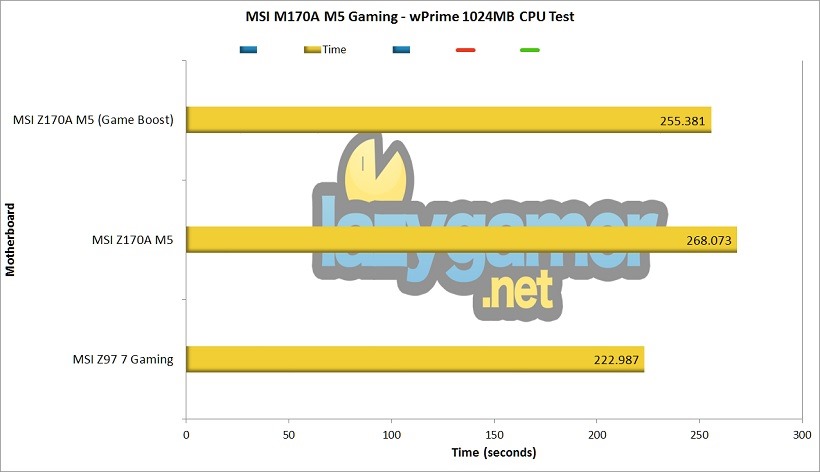 More confusing is the wPrime 1024MB test, which again stresses the CPU. Here, a lower times means faster processing, and surprisingly it's the old Haswell chip that is miles ahead of the Skylake. Whether down to the CPU or the way the motherboard is utilising it, the MSI Z170A can't even get close – even when overclocked by Game Boost.
AIDA64 Extreme Memory Test (Higher is better)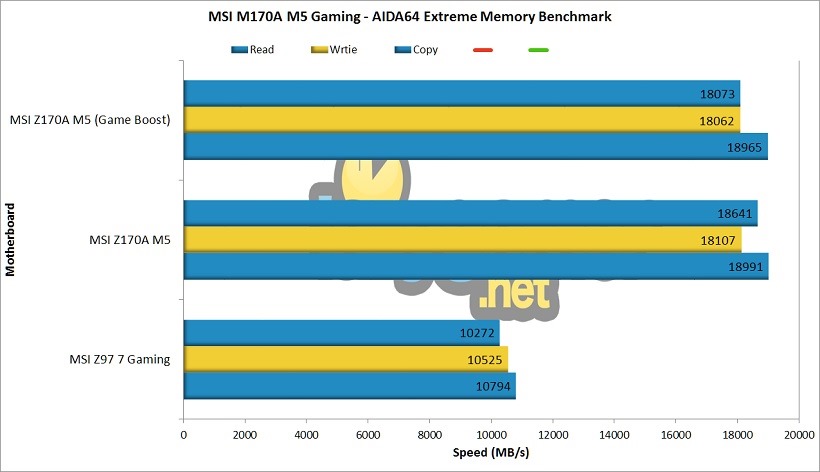 AIDA64 is all about memory speeds, and it's here where the Z170A shines. The DDR4 memory coupled with next-generation SATA connections boost Read, Write and Copy time well above anything a Z97 board could possibly dream of. Curiously, the slight overclock that Game Boost provides actually marginally slows down these speeds – again with the settings only touching the CPU clock and steering clear of memory speeds.
Futuremark FireStrike Benchmark (Higher is better)
Futuremark gives us the best environment to test actual 3D performance, and it's clear here how much faster the Skylake chip is in terms of raw processing. The small overclock that Game Boost provides also bumps up the score nicely, although it's again a bit smaller than nearly half a gigahertz should probably be getting you. Sadly, it seems Skylake integrated graphics technology is near identical to Haswell – with the scores being negligible at best.
So oddly enough, it seems that the Z170A M5 doesn't falter in providing a stable overclock at the press of a button, which is more than most gaming plastered motherboards can say. However, the actual gains vary wildly – and it's likely that Skylake architecture is at fault here. Nothing suggests this more than the wPrime test, which show a notable decrease in speed despite the faster clock speeds. The motherboard is showing there's a performance gain, but the overall standings being slower than Haswell is just poor.
Still, the memory speeds are staggeringly fast, and that's without touching any overclocking settings at all. It is a bit disappointing that the in-built overclock feature doesn't do this automatically, but the deep and varied BIOS settings will allow the more technically savvy to mess with this to their heart's content. There's a lot on offer here, and the price suggests it. The Z170A M5 Gaming rings in at R3599.00, putting it a little above mid-range motherboards and into more enthusiast territory.
It has the features to back it up, but the buy-in isn't cheap. Requiring expensive DDR4 memory and and Skylake CPU, there's a hefty investment required that could be alleviated by a more modest motherboard. However, if you're looking for moderate performance gains at the press of a button (and an even deeper toolset of benchmarking options for those comfortable with them), the Z170A M5 Gaming is a strong choice if you're in the market for an upgrade.
Last Updated: September 21, 2015
MSI Z170A M5 Gaming board

The Z170A M5 Gaming is an enthusiast motherboard with the features to match, providing the best BIOS experience on the market at the moment with some next-generation storage speeds. Still, the immense buy-in could encourage more modest motherboard choices, while some the one-click overclock could've been a far deeper optimisation than a simple CPU clock multiplication.

MSI Z170A M5 Gaming board was reviewed on PC