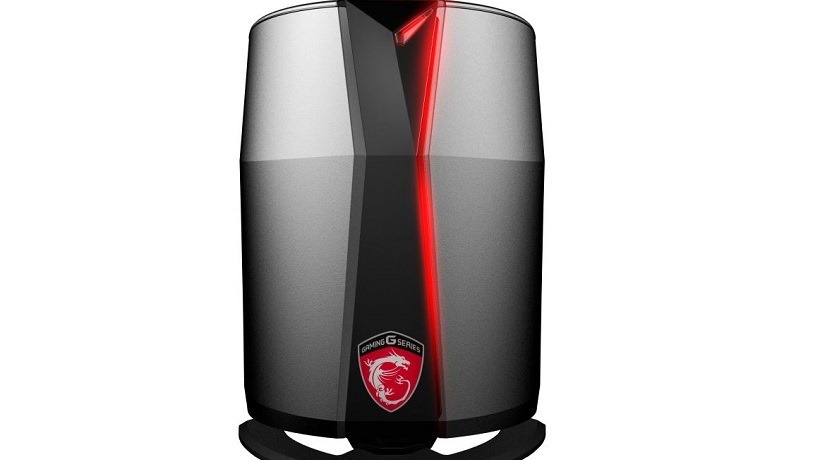 Compact desktops might have been a massive thing in 2015 with the launch of Steam Machines, and the form factor is still rife with possibilities in 2016. CES 2016 played host to a couple of these, but none were quite as impressive as MSI's showing. It's called the Vortex – and despite looking like something you'd throw rubbish into it's quite possibly the first compact desktop I'd like to own.
That's in no small part thanks to the inner workings of the thing. Despite its size, the Vortex packs some truly powerful hardware, coupling together an Intel Core i7-6700K with not one, but two GTX 980s in SLI. This are the MXM GTX 980s that Nvidia is now putting into laptops, delivering the same performance as the bulkier desktop versions (aside from the superior 8GB of GDDR5 memory). They just need a lot of cooling, something with the Vortex's own custom case provides plenty of.
Using a system that MSI dubs Silent Storm Cooling, the Vortex uses two massive fans placed both at the top and bottom of the casing. The bottom fan sucks in cool air from underneath the chassis and pumps it upwards, while the top extracts all the out air out. MSI claims that this keeps the system cool under load with only 37dB of noise, although there's no indication yet as to how well the entire system works when pushed with overclocking temperatures.
The Vortex also comes in a slightly more tame variant, with two GTX 960s replacing the 980s and a more reserved Core i5 Skylake chip replacing the i7. The beauty is that the Vortex is fully capable of being upgraded, and the MXM architecture of the Nvidia chips allows them to be switched and swapped. That's a huge selling point for the Vortex, as it steps over many other similar PCs in the same market.
It's looking to retail for close to $2000 in the USA, and you can bet that it'll be a little pricier locally. But with that type of power behind it, did you expect anything less?
Last Updated: January 12, 2016