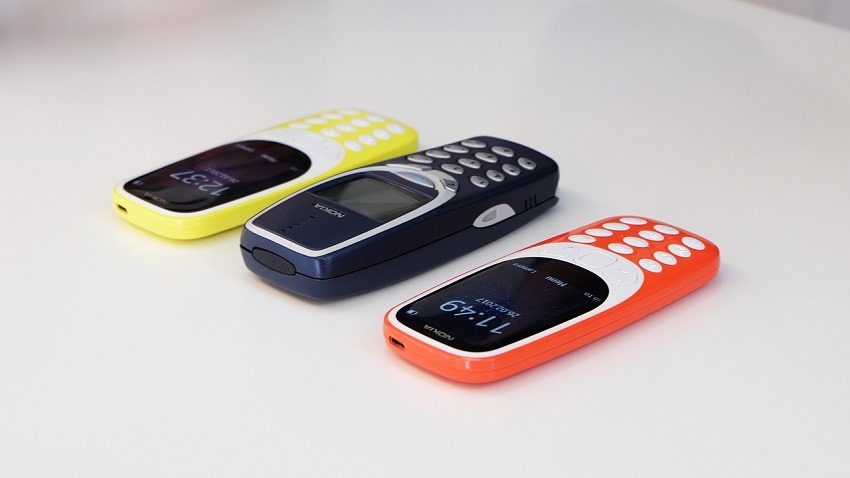 Nokia and their incredibly popular 3310 are emblematic of how good, relevant design can garner longstanding support for a brand. Ignoring the fact that Nokia fell from its perch after the introduction of smartphones, the 3310 remains a household model name. And it's why they're leveraging that love again, nearly 17 years later. With the help HMD (a Nokia branded company), the 3310 is coming back to market. And it's a phone that wouldn't be out of place in the early 2000s.
The new 3310 takes advantage of newer designs in its make up, ditching the near indestructible materials that held it together from countless drops in the past. As a result, the handset is lighter, smaller and generally thinner. It's unmistakable still the 3310 in terms of its design, but Nokia also understands how everyone wants their phone to stand out now. It's why the 3310 comes in a variety of colours, ranging from bright yellow and red to more matte black and blue.
Don't be mistaken though – this isn't a smartphone parading as a classic. The new 3310 features some specifications that its very old sibling would be jealous of, but it's still a handset that's being marketed off almost nostalgia alone. The 2.4 inch QVGA display is paired with a 2 mega-pixel camera and very limited smart functionality. It doesn't even support 3G. There's Opera for web browsing and even a MicroSD slot (for some reason), but Nokia understand that you're likely just going to be texting, making calls and playing Snake from time to time.
It's why the 3310's battery is so impressive, boasting a massive 31 days on standby and 22 hours of talk time. That's night and day to what smartphones can achieve, and indicative of just how robust older cellphones used to be. Granted they could only do a fraction of what the computers in our pockets can do now, but there's some use case somewhere where battery life like that will come in handy.
Nokia is planning to start shipping their new 3310 in the second quarter of this year. It'll retail for as low as $52 (a direct conversion of around R675 at time of writing.)
Last Updated: February 27, 2017