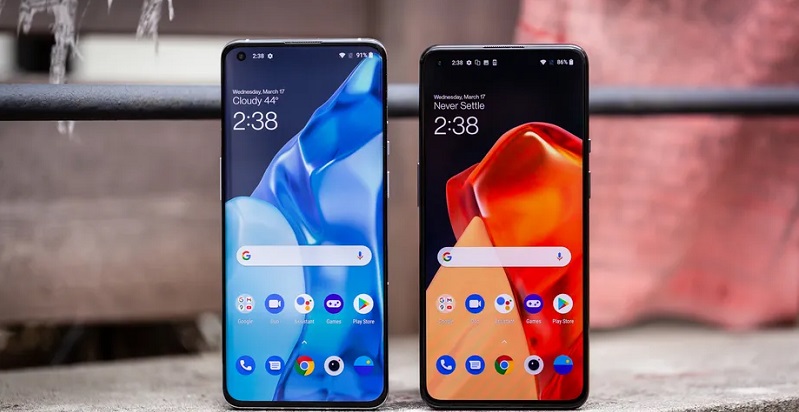 The smaller mobile phone brands might be struggling to keep up with the likes of Apple, Samsung, Huawei or Xiaomi, but that isn't stopping them from trying. OnePlus has established itself against the rest of the competition with its new OnePlus 9 and 9 Pro phones which launched yesterday, and much like previous models, it's all focused on providing value for money.
To ensure that their devices are able to compete with most top-end devices in terms of processing power, both models come with the top of the range Snapdragon 888 processors, an option of 8Gb or 12GB RAM, and storage options of 128GB and 256GB. The big difference between the two comes in the size, with the standard model offering a 6.55-inch OLED screen with a resolution of 2400 x 1080 and refresh rate of up to 120Hz. The Pro 9 model comes with a 6.7 inch OLED display that delivers a resolution of 3216 x 1400 at a refresh rate of up to 120Hz and also includes a Hyper Touch display where it polls for a finger at 360Hz, which is quite impressive.
Both devices feature a 48MP (f/1.8, all-Pixel AF, 1.12μm) wide-angle rear-lens, a 50MP (f/2.2) ultrawide lens and a 2MP monochrome front-facing camera, with the Pro also offering an additional 8MP telephoto camera in the rear, to go along with mmWave 5G. A full breakdown of the features of these two phones can be found in the table below:
| | | |
| --- | --- | --- |
| Category | OnePlus 9 | OnePlus 9 Pro |
| | | |
| OS | Oxygen OS (Based on Android 11) | Oxygen OS (Based on Android 11) |
| Display | 6.55-inch OLED | 6.7-inch OLED |
| Resolution | 2400 x 1080 | 3216 x 1400 |
| Refresh rate | up to 120Hz | up to 120Hz |
| Dimensions (mm) | NA / EU: 74.2 x 160 x 8.7 | 73.6 x 163.2 x 8.7 |
| Weight | NA / EU: 192g | 197g |
| Battery capacity | 4,500mAh | 4,500mAh |
| Processor | Snapdragon 888 | Snapdragon 888 |
| RAM | 8GB, 12GB | 8GB, 12GB |
| Storage | 128GB, 256GB | 128GB, 256GB |
| Ports | USB-C charging port | USB-C charging port |
| Rear cameras | 48MP (f/1.8, all-Pixel AF, 1.12μm) wide angle, 50MP (f/2.2) ultrawide, 2MP monochrome | 48MP (f/1.8, OIS, all-pixel AF, 1.12 μm) wide angle, 50MP (f/2.2) ultrawide, 8MP (f2.4, OIS) 3.3X telephoto, 2MP monochrome |
| Front cameras | 16MP(f/2.4) | 16MP(f/2.4) |
| Biometrics | Fingerprint, face recognition | Fingerprint, face recognition |
| Waterproof | No | IP68 |
| Wireless charging | Yes | Yes |
| 5G | sub-6GHz | mmWave and sub-6GHz |
| Starting price | $729 | $969 |
Those are impressive specs that rival those from Samsung, Huawei and Apple in terms of raw power, though with the OnePlus 9 starting at $729 (R11 500), it comes in a full $70 less than the Galaxy S21 and $100 less than the new iPhone 12. The Pro, which will retail for $969 (R15500),  is even better when valued against the top brands from either manufacturer, coming in at more than $100 cheaper on both fronts. The difference is less noticeable than Huawei, but considering OnePlus has the added benefit of Google services it shouldn't need to worry too much about those phones outside of the Asian market.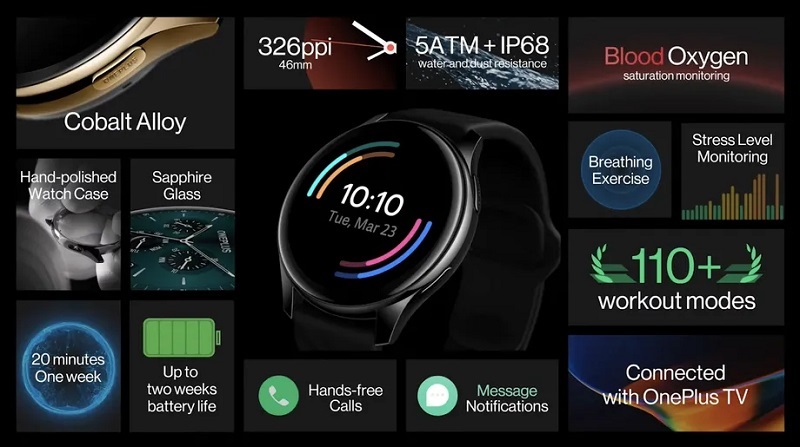 Along with trying to compete on phones, the company also launched its very first smartwatch with the OnePlus Watch. The Watch, which features a round display designed to better resemble a traditional wristwatch, features a 1.39-inch OLED panel at 326ppi, a sapphire glass display, 1GB of RAM, 4GB of internal storage, and integrated speakers. Wi-Fi, Bluetooth, and GPS are all built into the device as well, though it doesn't offer any cellular option.
At just $159 (R2500) and equipped with a range of software workout features and great battery life, it is another strong offering from the company. It lacks a lot of features compared to its competitors, but this is a good first attempt that could see them make a small dent in the space, especially if they offer deals with both their phones and smartwatch thrown in.
OnePlus is probably a long way away from getting to a point where it can compete with the big players due to a range of other software features, but it certainly has a lot to offer and if the company can keep making inroads, it should hopefully be able to make more money that can allow them to close the gap in all those other areas.
Last Updated: March 24, 2021