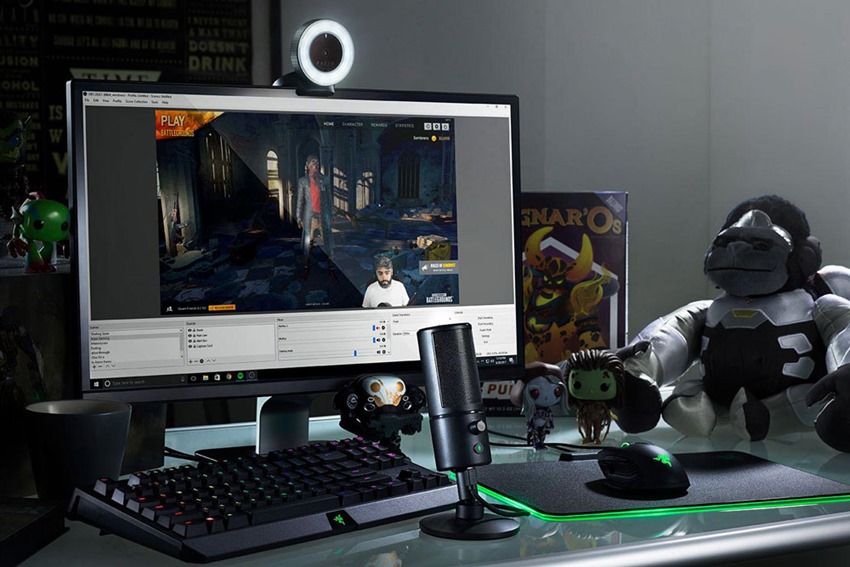 Razer is making a big play to entice streamers, as we've seen with their Razer Kiyo, which is the first webcam to have a built-in ring light for shadow removal and lighting. It's a good camera, that's capable of outputting 720p at 60fps, which is more than good enough for the little window embedded in streams. One of its best features is that it's a small, unobtrusive plug-and-play device, making it ideal for those who want to take their streams on the road.
That's the same ethos behind the Razer Seiren X, a diminutive take on the Seiren, the company's older "studio grade" microphone. The Seiren X is small, unobtrusive, and purpose built. It's meant for streamers who don't want or need great big microphones taking up desk real estate, or want to be able to pack the thing into a bag and stream on the go – from a hotel room, or a conference, or whatever it is young influential people on the internet do these days.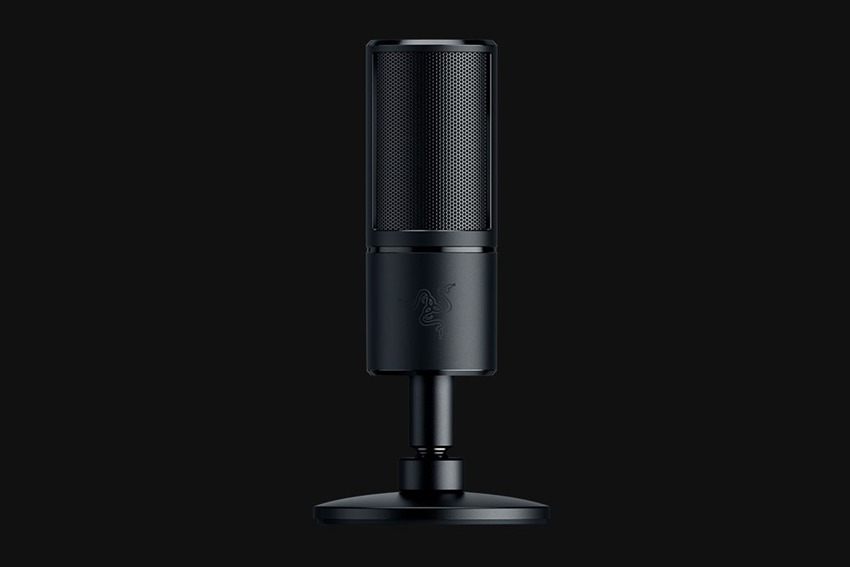 Unlike its bigger brother, the Seiren X, there's no fancy 24-bit DAC or optional pick-up patterns. You can't set the mic to record in bi-directional, omnidirectional or stereo modes. Instead, it employs a cardioid pickup pattern, which is perfect for speech and vocals, as it rejects sound that isn't from directly in front of it. It also has an internal, built-in shock mount, to cut down on mechanically transmitted noise.
Taking it out of the box, it's about the size of a can of Red Bull. The build quality seems to be entirely ok, until you screw in the base, which adds a necessary bit of heft. There's honestly not very much else to the device. It comes with a standard (thankfully removable) micro USB cable, and that's really it. There's a 3.5mm headphone jack on the underside that's used for latency-free monitoring, but it's a little on the soft side, and you'll have to fiddle with software and hardware volumes to find the right balance. It can also be a little fiddly to plug the 3.5mm and USB cables in. On the device itself, there's a single dial for volume, and a button that mutes the mic.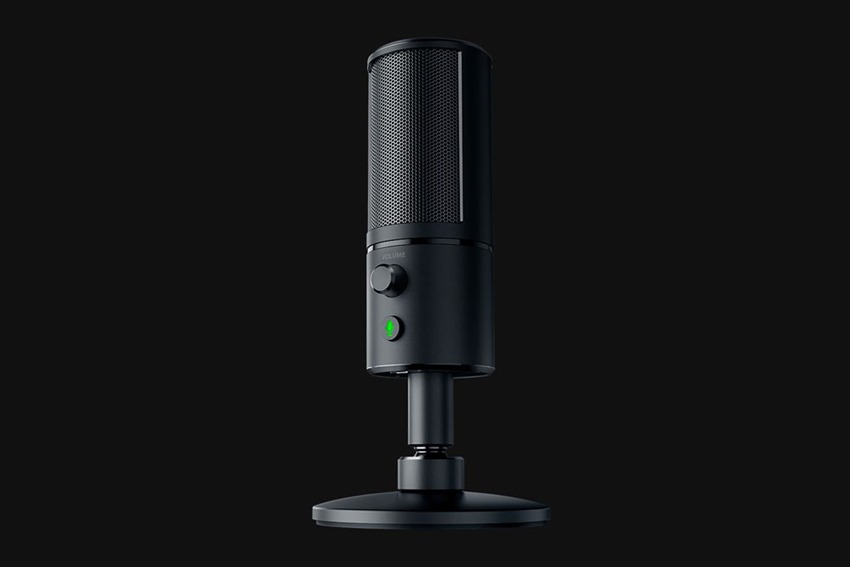 As with the Kiyo, the Seiren X doesn't interface with Razer Synapse, so any of the real fiddling and tweaking you do will have to be done within your streaming software of choice; usually XSplit or Open Broadcaster Software.
As for how it sounds? I like it a lot. Yes, it's prone to picking up the sound of your keyboard and other hums and taps from your desk, but that's what boom mounts are for. It's entirely adequate for its purpose and position as an on-the-go microphone. While there are better microphones available, they're a little harder to get locally, making the Razer Seiren a decent choice.
It's a sleek, attractive and importantly portable microphone that doesn't take up much desk space. It can be attached to a boom stand (though you may need an adapter). It is, otherwise, unremarkeable, though a decent option in its price range, especially locally. If you'd prefer something a little more robust than a Samson Go USD condenser mic, and don't want to import the better Blue Yeti, then the Razer Serien X is a good choice. Locally, it's available for prices that suitably match its $100 US price, unlike the Kiyo which seems have a premium on it.
Razer Seiren X
Product features:
Ultra-Precise Pickup Pattern – Reduces unwanted noise
Shock Resistant – Inbuilt shock mount that dampens vibrations
Compact Form – Keeps the attention
Condenser Microphone – To pick up a greater range of sound frequencies
Zero Latency Monitoring – For zero audio lag
Sized for Portability – For streamers on the go
Microphone Specifications
Power required / consumption:  5V 100mA
Sample rate:  min 44.1kHz / max 48kHz
Bit rate:  16bit
Capsules:  Ø25mm condenser capsules
Polar patterns:  Super-Cardioid
Frequency response:  20Hz–20kHz
Sensitivity:  17.8mV/Pa (at 1kHz)
Max SPL:  110dB (THD < 1% at 1kHz)
Headphone amplifier
Impedance:  ≥ 16Ω
Power output (RMS):  125mW (at 32Ω)
THD:  < 0.5% (at 1kHz)
Frequency response:  20Hz – 20kHz
Signal-to-noise ratio:  ≥ 85dB
Last Updated: February 13, 2018
Razer Seiren X

If you'd prefer something a little more robust than a Samson Go USD condenser mic, and don't want to import the better Blue Yeti, then the Razer Serien X is a good choice. It's big enough to record your voice well, but small enough to throw in a travel bag.