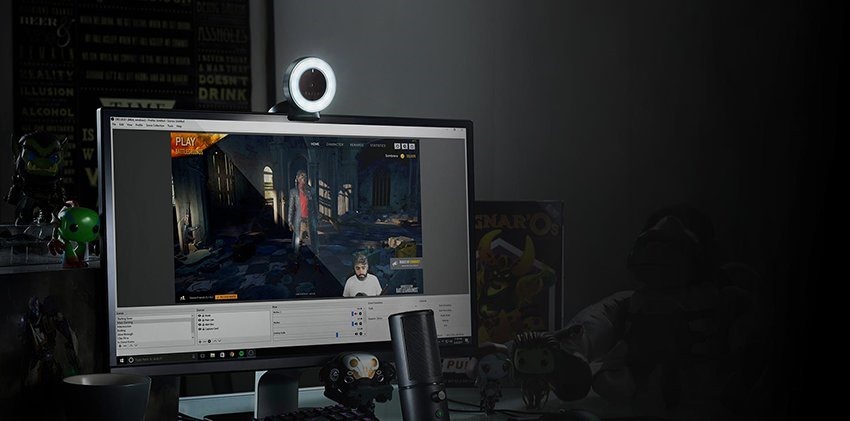 For what seems forever now, Logitech's C920 (and now, its marginally upgraded C922) have been the de facto webcams for streamers. Many streamers with the cash have since upgraded to using DSLR's or mirrorless cameras hooked up through the Elgato Camlink.
Razer tried to muscle in on that territory with an Intel RealSense-based camera, the Stargazer, but the fledgeling tech just didn't work the way that people had hoped. They're making another break into webcams with the able and affordable (more on that later) Razer Kiyo, which is the first streaming camera to have its own ring-light lighting solution built into the thing. Ring thing do your thing.
It looks like a stack of three discs which fold out, allowing the Razer Kiyo to be clipped to the top of a monitor, or attached to a tripod. The included USB cable is unfortunately not removable, but it is braided and should be more than durable enough.
It's part of a series of broadcasting accessories that Razer says are "Streamer Certified." If you're a budding streamer who is already invested in a set of lights, then the Kiyo isn't going to make much of a difference to you. Instead, it's aimed at newcomers or those who want a plug-and-play, on-the-go streaming web camera that bests the Logitech c920 at a palatable price.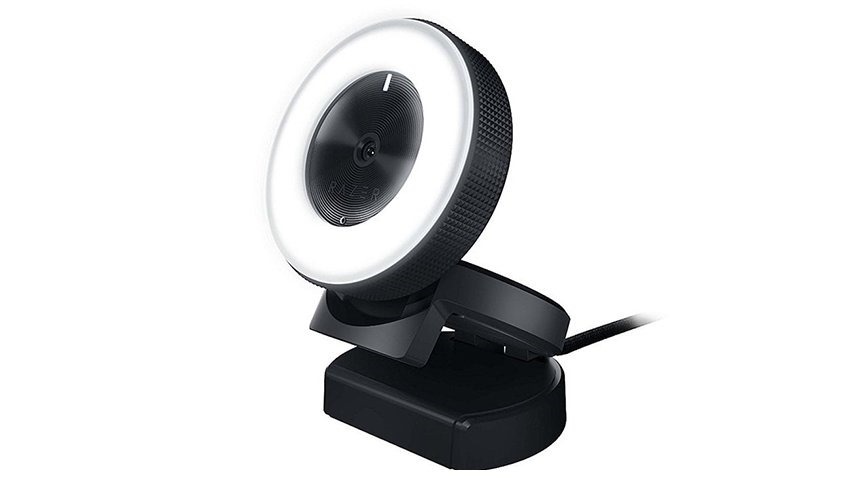 And it's definitely a better camera than the C920 in all aspects but one. For starters, unlike the C920 it's able to capture 720p footage at 60fps. While both cameras are happy to do 1080p at 30fps, Razer's Kiyo will also double the frames at half the resolution, matching the performance of the upgraded C922. Given that for most streamers, it means a little picture-in-picture overlay, the resolution hardly matters, but having the 60fps output definitely makes for smoother imaging.
And then of course, there's the ring light itself, which worked far better than I imagined it would. It's a manual dial, with each increment increasing the intensity of lighting until you have all 12 LED's illuminated. If you don't have a lighting solution, then it's a revelation. – able to adequately light up a room. While it's good for that, it's best for removing shadows from your face. It's the camera's killer feature, and one that makes it a worthy consideration.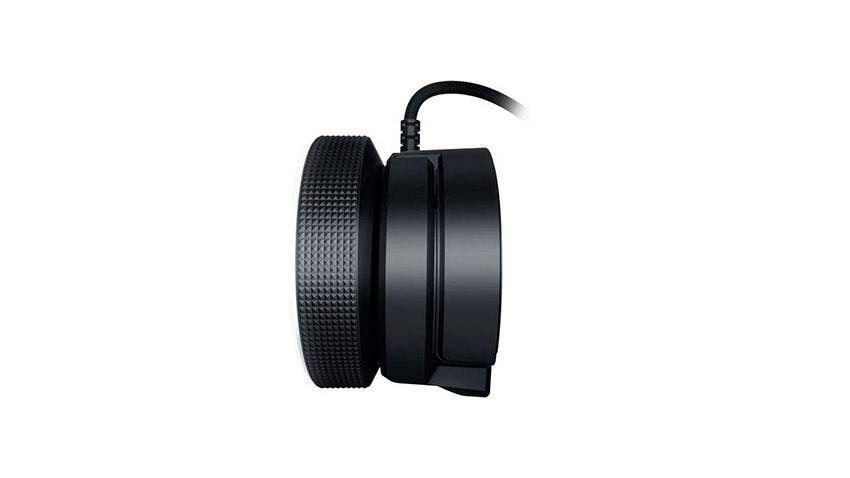 As it's meant to be a plug-and-play device, there are no real software controls for the thing. You'll have to use whatever controls are provided by the broadcasting software of your choice – likely XSplit or Open Broadcaster Software. It also means there are no software controls for the ring light, which means manually adjusting it. Minor issue, but I'd like to be able to adjust the intensity of its LEDs without having to reach for the dial. Less impressive is its autofocus, which sometimes struggles to focus properly, so it's something that's honestly best left off.
This Sea of Thieves LP was recorded with the Kiyo
It's a good camera, and one that's worth recommending for its US price of $100. Because we live at the bottom of Africa though, that $100 US retail price has translated into a local retail price that hovers around R2400 (though it can be picked up cheaper). That makes it significantly more expensive than the Logitech C922. It means that you could realistically pick up the C922 and a lighting solution for about the same amount of money, and have a more versatile set-up.
Razer Kiyo product features:
Multi-step ring light – With adjustable lighting levels
720p 60FPS HD Video (Up to 1080p 30FPS) – For high streaming quality
Compatible with Open Broadcaster Software and Xsplit – For easy live streaming
Fast & Accurate Autofocus – For seamlessly sharp footage
Compact & Portable – With a complete mobile streaming setup
Camera & Stand Hinge – Fully adjustable to suit any setup
Camera Specifications
Connection type: USB2.0
Image resolution: 4 Megapixels
Video Resolution: 1080p @ 30FPS / 720p @ 60FPS / 480p @ 30FPS / 360p @ 30FPS
Video encoding: YUY2/MJPEG or H.264
Still Image Resolution: 2688×1520
Image Quality Settings Customization: Yes
Diagonal Field of View (FOV): 81.6 °
Focus Type: Auto
Mounting Options: L-shape joint and Tripod (Not included)
Cable Length: 1.5 meters braided cable
Ring light specifications
Illumination: 12 white LEDs
Color Temperature: 5600K "daylight"
LED Diffuser: Milky White
Buttons: 12 step ring dial
Brightness: 10 Lux @ 1m
Microphone Specifications
Audio Codec: 16bit 48KHz
Polar patterns: Omnidirectional
Sensitivity: -38dB
Last Updated: February 5, 2018
Razer Kiyo

If you're looking for a webcam with an easy, built-in lighting solution and want 720p60fps 720p60fps streaming on the go, then the Kiyo is a good bet. Just remember to turn the autofocus off.