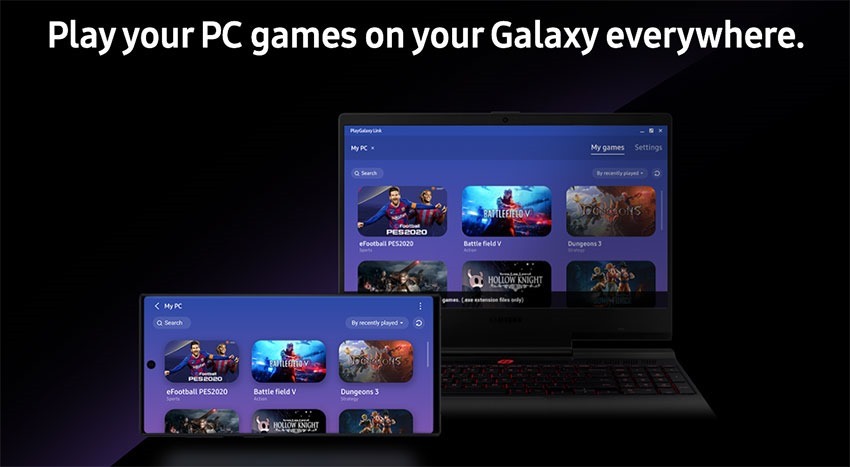 Samsung has announced its own streaming service that'll let Samsung phone owners stream their PC games to their mobile devices. Called PlayGalaxy Link, the server and client software combination will beam games running on your PC to your phone, provided you have one of Samsung's latest. Right now, that means the Galaxy S10 or the Note10. Install the app on your PC, which will discover all of your games. You'll also need to download the app from the Galaxy store – which will let you beam your games like magic. You can then use your touchscreen to control games, but Samsung recommends that you opt for a Bluetooth controller instead.
If this is something that tickles your fancy, you'll need some decent PC; Windows 10, a GTX 1060 or RX 550 or higher, an Intel Core i5, 8GB of DDR 4 memory, and a Gigabit router. Effectively, if your PC isn't capable of playing the latest games decently, it's sure as hell not going to play those games while streaming them to your phone.
While it's only available on the S10 and Note10 right now, Samsung has said it'll open up to the Galaxy Fold, Galaxy S9, Galaxy Note9, and Galaxy A90 in early December 2019. It's still in beta though, and during this period it's only available in South Korea, US, UK, Canada, Italy, the Netherlands, France, Singapore, and Russia.
Interestingly, Samsung says it uses a straight P2P connection without any servers in the middle to add to latency.
"When accuracy matters most, lag and latency will be less of a problem as PlayGalaxy Link is designed with a P2P connection which provides you with simplicity for better performance without a relay server. The service also uses Adaptive FPS to ensure better connectivity even in poor network environments. However, it should be noted that speeds are dependent on your network connection and reliability will vary depending on local network providers and regional stability. You will also find major improvements to the longevity of their gaming sessions and device performance."
Of course, those of you who use Steam as your primary Pc gaming storefront and who don't have Galaxy phones will already likely know that there's a similar service for Steam. Steam Link is available on iOS and Android and does much the same thing. With a bit of judicious alt-tabbing, you can even get it to stream non-steam games to your phone.
Last Updated: November 29, 2019