Keyboards are an often-overlooked part of the PC gaming armoury. PC gamers will spend hundreds on finding the right mouse with the right sorts of accuracy, sensitivity, and comfort. Many, who look at the prices of premier keyboards, baulk at the cost of high-end keyboards and decide that the rubber dome devices that they already have are good enough.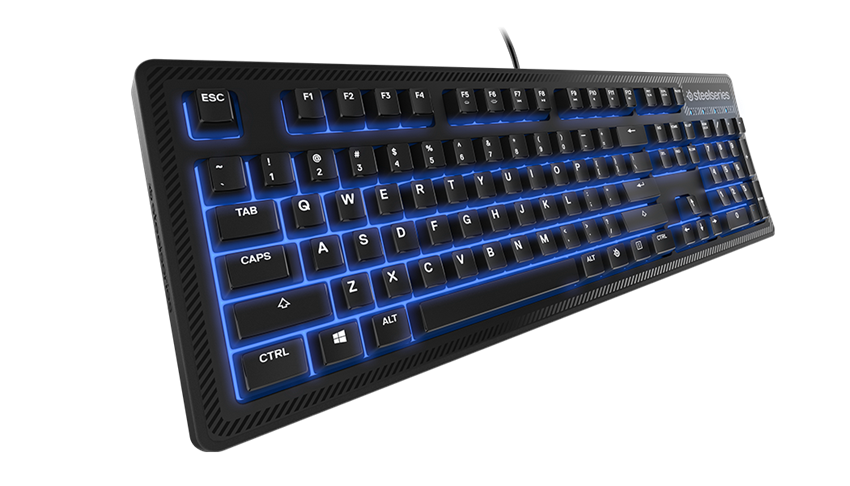 Of course, the very best keyboards for gaming are mechanical ones, and over the last few years, there has been a great shift in getting that message through. It's not just the satisfying click as the keys actuate, the tactile key travel and response or the lack of key ghosting. It's not just how sturdy and reliable they are. It's how all of these features come together to deliver the ultimate experience not just in gaming, but in general use as well.  That comes at a premium. Mechanical keyboards still cost a fortune, thanks to the use of their defining individual switches. It's prompted many designers and manufacturers to make pared down, cheaper keyboards that bring with them those features. Razer's Chroma Ornata is a great example of that, with a keyboard that looks and almost feels like a mechanical one, delivered at a palatable price.

SteelSeries has now delivered its own budget keyboard that aims to feel like a mechanical one – or at least deliver a comparable experience. The first thing you'll notice about the Apex 100, if you get the chance to use one, is how heavy it is. While it doesn't have the imposing heft of a mechanical keyboard, it is far sturdier than you'd expect from a membrane keyboard. It's another example of SteelSeries' trickle down design, as it looks similar to the company's Apex M500 mechanical keyboard. To that end, it eschews the curves and the macro keys of the Apex M800, and the comfort features like the wrist guard on the Apex 300.
It's solid and chunky, with a matte design that's accentuated with glossy angled stripes. I can't say the glossy accents excite me much, and I'd much prefer a plain matte keyboard, but I digress. The underside of the keyboard has two stands that allow you to elevate the keyboard in two positions. They've got rubber feet, which along with two more at the base of the keyboard stops the thing from sliding around during heated gaming sessions. Its also got two slits at the bottom, which are for draining liquids in case you happen to spill your drink on it. It's not waterproof to any significant degree, but a single small spillage shouldn't mean that it's destined for the bin. The Apex 100 uses a single USB port (polling at 1000hz), with no pass-through ports or even cable trenches.
Unfortunate, but excusable given its price.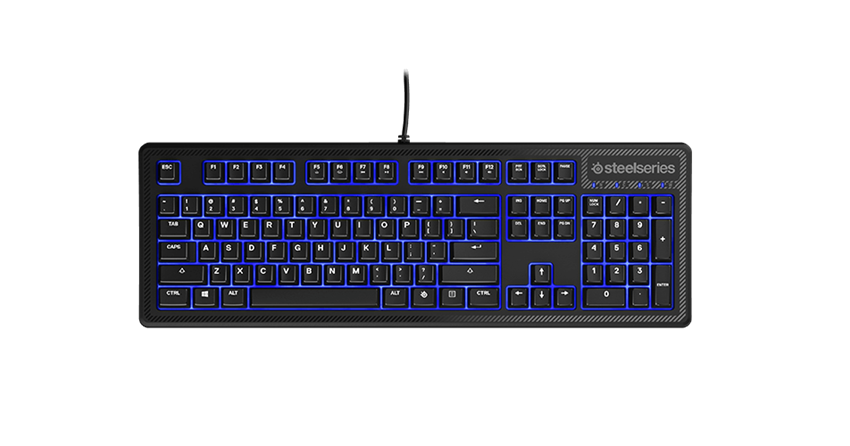 While it may not be a mechanical keyboard, it certainly feels good. That's largely down to SteelSeries' custom-made "Quick Tension Switches" that they've designed to mimic the feel and function of mechanical switches. When a key is pressed halfway, the switch kicks in, with the design of the keys effectively sucking the key into actuation. It means faster key registration and greater reaction speeds, but unfortunately without a super clicky satisfaction. It's an audible click, but not a satisfying one; a little more MX Brown than MX Blue in execution. SteelSeries suggests you'll get 20 million keypresses out of each key, with each keypress feeling the same. I've been using the keyboard for a few weeks now, and I'm inclined to believe them. It doesn't quite match up to the feel and responsiveness of a mechanical keyboard, but it does feel great. With 24 key anti-ghosting, it should be perfect for just about any gamer, unless they play by rolling their faces across the keyboard.
The lack of any sort of macros make me question how they call this a gaming keyboard though. There are precisely zero macro keys, though you can reprogram any of the inputs using SteelSeries" Steel Engine 3. It eschews one of the Windows keys in favour of a SteelSeries key that's not unlike a Function key on a laptop. It allows you to toggle the single Windows key on and off, and also gives you access to the media functions. The Apex 100 also lets you control the brightness of the Apex 100's illumination, which is one of the keyboard's weaknesses.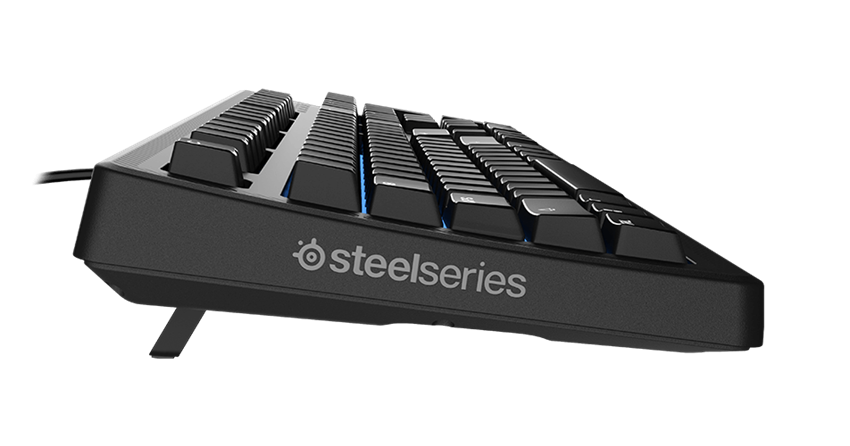 Most modern backlit keyboards allow full RGB lighting or at the very least include individual key backlighting. Neither of those is present here. Instead, there's a pervasive, Tron-esque single blue lighting – with the entire undercarriage illuminated by strategically placed LEDs. Unfortunately, the keycaps aren't translucent, so in the dark, the backlighting serves no point beyond the aesthetic. The SteelSeries Engine 3 software also allows you to set the illumination between perpetually on or pulsing, and set the polling rate – but that's it for customisation.
Its foibles are all excusable given its pricing. At a recommended retail price of R799 (which matches the European price directly from SteelSeries quite nicely, at 50 Euros), it's a great keyboard. While it's still no match for a proper mechanical one, it's a good compromise of price to performance.
Last Updated: September 19, 2017
If a bona fide mechanical keyboard is out of reach, the membrane-based Apex 100 strikes a great balance between price and performance by utilising trickled-down technology.