The SteelSeries Arctis range of headsets are, with neither doubt nor hyperbole, the most comfortable gaming headset I've ever worn. SteelSeries generally produce the most comfortable headsets to begin with, and the Arctis is the lightest and most comfortable of the lot of them.
A mid-sized over-the-ear set made from a light plastic, they feature cups that ditch the patent leather for a specially woven fabric. According to SteelSeries, its "Airweave" ear cushions are inspired by athletic wear and are made from the same material as running gear. They're immensely breathable, and one of the few sets that I've found that doesn't result in sweat pooling inside the cups after a long gaming session.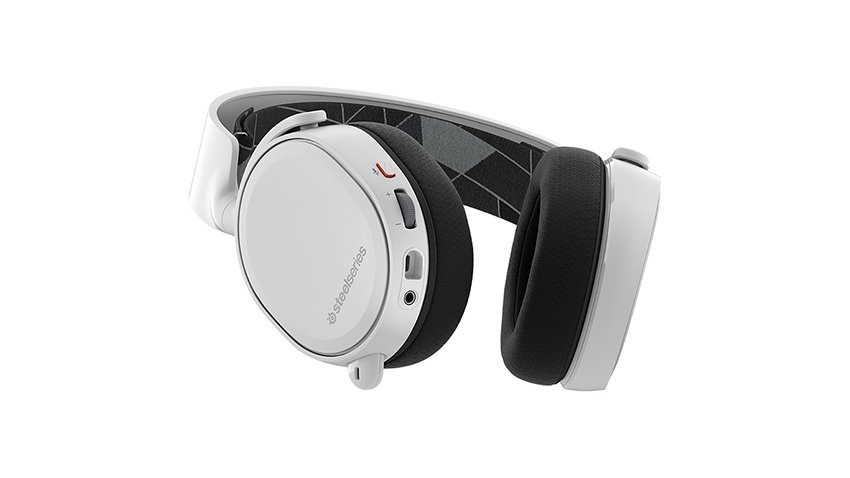 They're housed inside a light plastic frame that in itself isn't adjustable in any way. It's still capable of fitting to just about any sized head though, thanks to a removable and machine-washable ski goggle-like suspension band. The Arctis 3, the lowest end of the range and the one I'm reviewing, is actually the lightest of the bunch as it doesn't have the RGB lighting from the USB-based Arctis 5 or the wireless module from the higher end Arctis 7 housed within its cups. It means that it's light enough that after a while, it's easy to forget that you're wearing it. The cups can fold flat for easy storage, but aren't collapsible.
What you gain in its lightness, you concede in features – though not by much. The Arctis 3 is a purely analogue headset, and comes with one of those weird proprietary SteelSeries audio cables that plugs into the left earcup. From there you can choose to either terminate in a standard 4-pole 3.5mm jack, or – by using the included extension cable – terminate in a pair of disparate 3-pole ones for audio and mic use. That means that the Arctis 3 is suited not just to PC gaming, but is equally at home on consoles like the PlayStation 4 and Xbox One (either with a newer controller or a separate audio adapter), Nintendo Switch or mobile device. Because it's simultaneously sleek and stylish, you could easily walk around listening to music with a set of these on, and not draw too many wayward glances as you might with something more egregiously gamer-oriented, like a Razer set for example.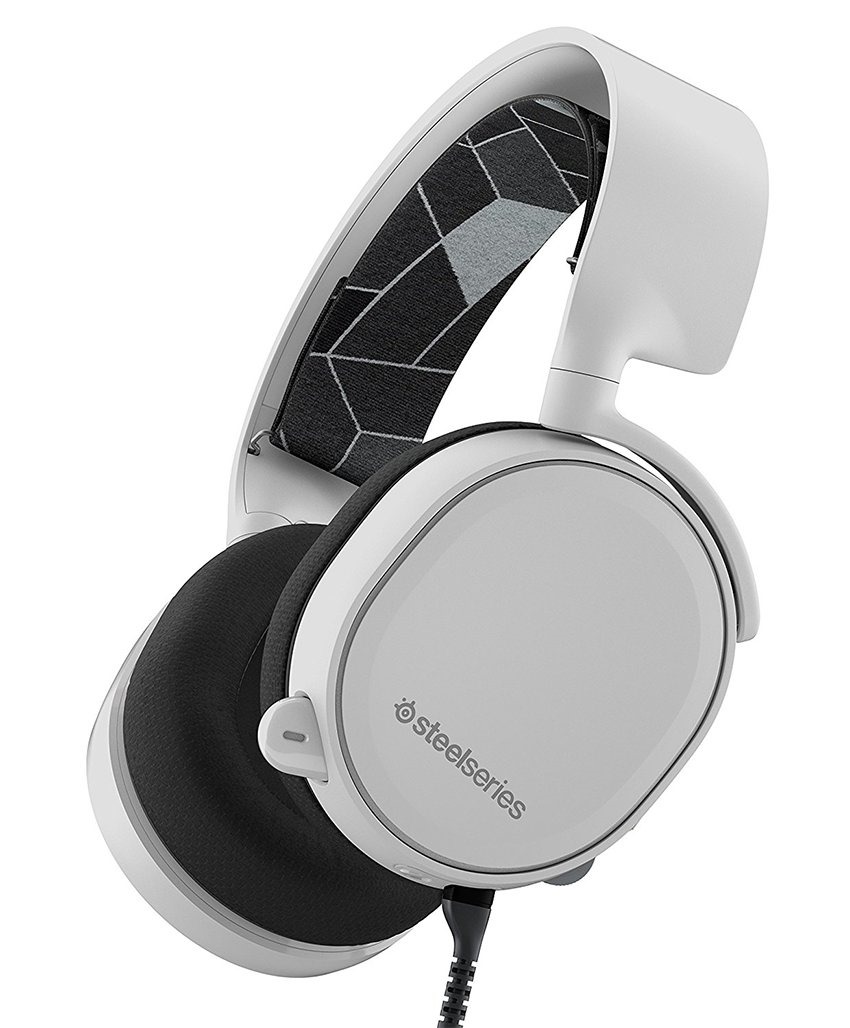 The left cup is also home to a nice, ridged volume knob, and a simple toggle mute switch for the mic. The retractable mic is also housed within the left cup – and when used on PC, it is a bi-directional microphone that can be used for active noise suppression. It results in one of the finest mics you'll find in a gaming headset, once you've done a bit of tweaking.
You may think, given that it's an analogue set, that there's very little decent software control. You'd be wrong. The Arctis 3 is to date the only analogue set that's compatible with the company's SteelSeries Engine 3 software. Admittedly, getting it to work with that software is more of a pain than it rightly should be. You need to register an account on SteelSeries site, input a code that's included in the box to download a new version of SteelSeries Engine and then log in to the app. After that the headset finally shows up, but it does offer the same customisation and EQ options you'd find in the USB Arctis 5. You've got Virtual 7.1 Surround, a full equaliser suite with a ton of presets, and more microphone options than you'd really need.
Of course, features and comfort are nothing in a gaming headset if the thing doesn't sound any good. Interestingly, the Arctis 3 uses the very same "S1″ driver that you'll find in the $300 flagship Arctis 7. While it may not have the same suite of post-processing features like DTS-X, you'll get the very same sound signature for a fraction of the price. It's a great example of top-end research and design trickling down into more budget-conscious products, and something I'd love to see more of.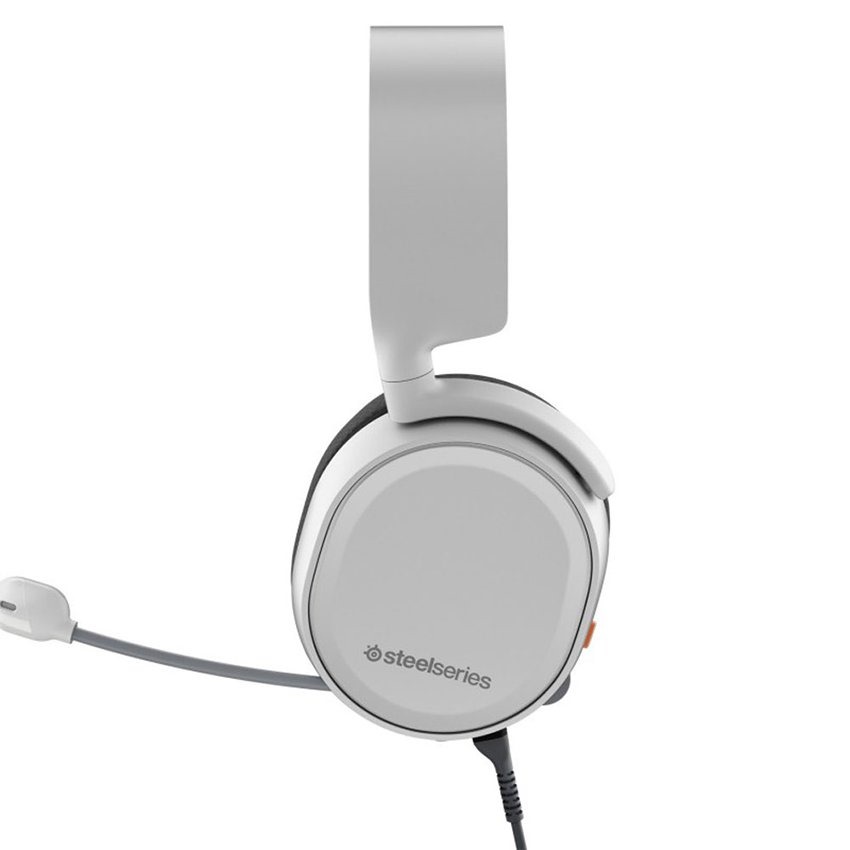 And it's a good sound signature too, that's well balanced and natural. Unlike most gaming headsets, the Arctis 3t isn't tuned for unbearable bass. While it's still capable of producing a good thump (especially with the bass boost enabled), if you favour rumbling explosions over clarity then you may end up disappointed. If you prefer a more natural sound that is perhaps leaning towards being bright, then these are perfect.
The price however, may be a bit of a point of contention. The US price of the Arctis 3, even after sales tax, comes to just over R1100. Locally, however, they retail R1599 – making them slightlier trickier to recommend. At their US price point, they're hard to beat in their class, but at their local one there's some other worthwhile competition. It's a slight blemish on what is otherwise the most comfortable headset I've used for gaming, bar none.
Last Updated: January 25, 2018
SteelSeries Arctis 3

The SteelSeries Arctis range of headsets is, with neither doubt nor hyperbole, the most comfortable gaming headset I've ever worn. The Arctis 3 provides the same driver and sound signature as the flagship Arctis 7 - at a fraction of the price.