I think I'm done with gaming laptops. Through the years I've owned a number of gaming laptops, packed with the most middling specs my budget allows. They're usually stuffed with whatever mid-range card is available for the current generation, but they're heavy, have terrible battery life and the truth of it is, no matter what specs are in my laptop, I never use the thing to play video games.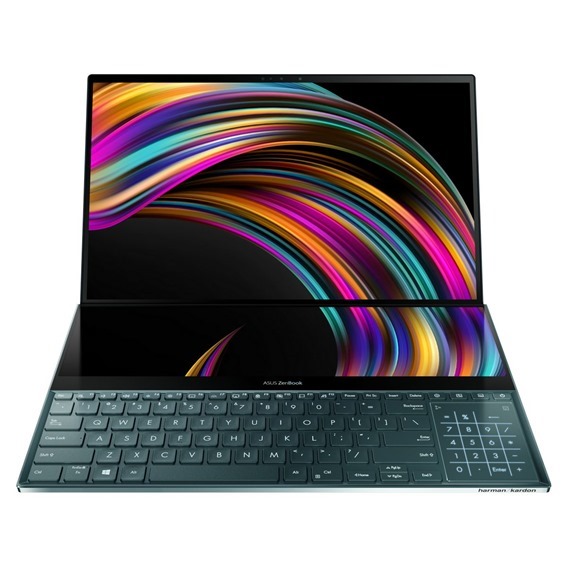 If I'm travelling, I'll play stuff on the Switch (or not at all), while laptops are used solely for content creation; writing, editing video, that sort of thing. If I were in the position to buy a new laptop, that's entirely where my focus would lie. Give me a machine that's light, portable, and tooled to make stuff, and I'd be happy. Asus' newly announced ZenBook Pro Duo is the sort of machine that would make me very happy.
The new ZenBook Pro Duo is coming in two flavours, though only the larger of the two will be available in South Africa. That machine is powered by a 9th generation Intel Core CPU (i9 or i7), coupled with a Nvidia RTX 2060 and up to 32GB of RAM. It'll have a 1TB PCIe X4 SSD. As for port connectivity, it'll feature one thunderbolt 3 USB C port, with two USB 3.1 Gen 2 Type-A ports. That's the boring inside stuff. It's really the pair of displays that make the Pro Duo so enticing.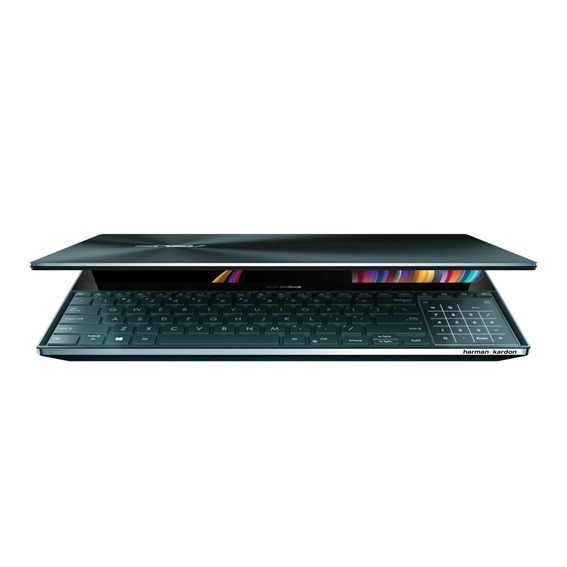 Yes, I said pair. The main display is a 15.6" 4K OLED NanoEdge display with a 100,000:1 contrast ratio, and 100% DCI-P3. That makes it fantastic for image and video editing. The second screen is a 14" 32:9 rario full-width screen above the keyboard, offering full touch controls for creative output.
"ScreenPad Plus can be used just like any standard second display in Windows to display visual content, or users can take advantage of many time-saving features and functions built into the ScreenXpert control software to simplify multiscreen window and app management. These include handy quick controls such as App Switcher, ViewMax and App Navigator that enable intuitive interactions and easy cross-screen referencing between the main display and ScreenPad Plus. Task Group lets users lock instantly into work mode by opening multiple tasks with a single touch."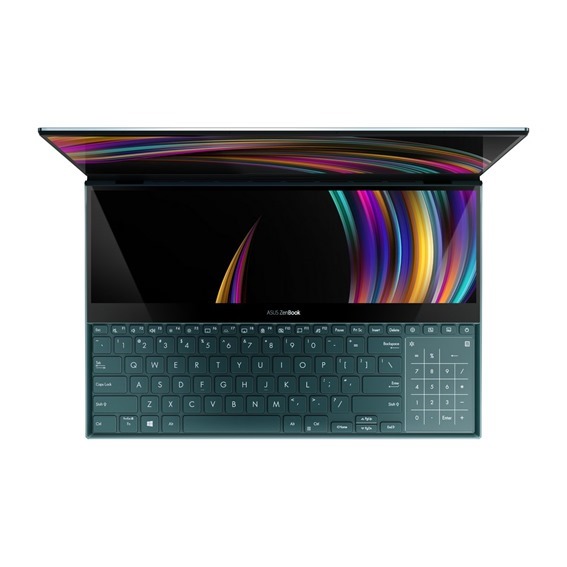 You can use it, as an example, for your timelines in popular video editing apps, or as a dock for tools. Handy! And at just 2.5Kg, it's a workhorse that's not too heavy to tote about.
The smaller 14" version is much the same, but eschews the 4K display for a more sensible 1080p one. It'll also ship with a GeForce MX250 instead of the RTX 2060, and the memory is constrained at a maximum 16GB.
As I said earlier, it'll only be the 15.6" version available here in South Africa, at a starting price of R39 999. I guess I'm not buying a new laptop soon after all. Here are the specs for the bigger one:
ASUS ZenBook Pro Duo (UX581)
Processor
Intel® Core™ i9-9980HK
Intel® Core™ i7-9750H
Display
Main Display: 15.6" OLED 4K (3840 x 2160) 16:9 touchscreen
ScreenPad Plus: 14" 4K UHD touchscreen
Operating System
Microsoft Windows 10 Home
Microsoft Windows 10 Pro
Graphics
NVIDIA® GeForce RTX™ 2060 – 6GB GDDR6 VRAM
Memory
DDR4 2666MHz, up to 32GB
Storage
1TB PCIe® x4 SSD 512GB / 256GB PCIe® x2 SSD
Connectivity
Intel® Wi-Fi 6 with Gig+ (802.11ax)
Bluetooth® 5.0
Cameras
IR webcam with Windows Hello support
Interfaces
1 x Thunderbolt™ 3 USB-C™
2 x USB 3.1 Gen 2 Type-A
1 x Standard HDMI
1 x Audio combo jack
1 x DC-in
Audio
Array microphone with Cortana and Alexa voice-recognition support
Harman Kardon-certified audio system
Battery
71Wh 4-cell lithium-polymer battery
AC Adapter
Output: 19.5V, 230W  
Input: 100V-240V AC, 50Hz/60Hz
Dimensions
359 x 246 x 24 mm
Weight
2.5kg
Last Updated: May 27, 2019