Success in today's fast-paced corporate climate inevitably depends on efficient communication. Businesses used to rely on conventional telephone systems, which often were expensive, challenging to manage, and feature-limited. With the rise of cloud technology, a fresh approach has emerged, revolutionizing business communication. The new method involves a cloud PBX provider Phonexa, which changed how companies handle communications.
Further on, we'll take an overview look at a cloud PBX, how it works, and what it can do for small businesses.
What Is a Cloud PBX?
Cloud PBX (Private Branch Exchange), also known as cloud-based PBX, virtual PBX, or hosted PBX, is a rapidly growing business communication technology that operates in the cloud rather than on physical hardware. In recent years, cloud PBX has become a popular solution for small businesses because of its cost-effective, scalable, and flexible way of managing their communication. According to estimates, the Global Hosted PBX Market would be worth USD 11.3 Bn in 2026, rising at a CAGR of 14.5% compared to 2021.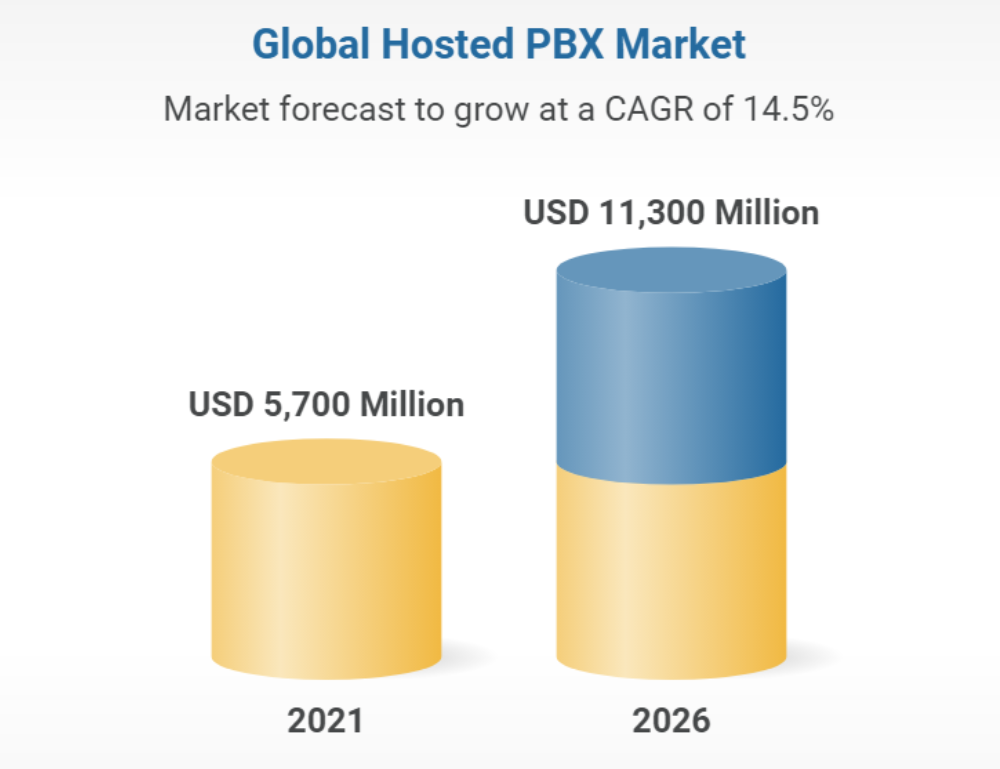 Source: Research And Markets
Businesses may control their phone system, place and receive calls, send and receive faxes, and send voicemails using a web-based interface thanks to cloud PBX, which does away with the need for on-premises hardware, software, and maintenance. Businesses may use their phone system from any location with an internet connection, given that the internet is used to supply complete PBX functions, including call routing, voicemail, and other sophisticated capabilities.
How Does a Cloud PBX Work?
At any foundation of cloud PBX solution lies VoIP (Voice over Internet Protocol – more details). Voice calls are made through an IP network, like the internet, instead of traditional telephone lines. By doing this, VoIP removes many physical restrictions associated with conventional telephony solutions, such as their constrained geographic coverage and high long-distance rates. Therefore, communication is much more affordable for small businesses, which frequently have clients spread out across the globe but lack the volume or resources to reach them daily.
Here are the basic work processes of the hosted PBX solutions:
A service provider hosts a cloud-based phone system to place and receive calls.
Since the call information is delivered online, staff members may place and receive calls from any place with an internet connection.
A web-based interface controls sophisticated cloud PBX functions, including call routing, voicemail, etc. This way, organizations can easily manage communication requirements from anywhere and modify their phone system.
Businesses can concentrate on their core business activities since the service provider maintains the PBX system's infrastructure and maintenance, says Chron.
How Does a Cloud PBX Help Small Businesses?
Cloud PBX has emerged as the top option for small organizations to boost productivity and communication based on its expanded capabilities, simple maintenance, greater dependability, and higher productivity. Some of its greatest advantages are:
Price: Compared to conventional phone systems, a cloud-based PBX solution may significantly reduce costs for small companies. There are no up-front spendings or maintenance fees as the system is hosted in the cloud, eliminating the need for an on-premises phone system.
Scalability: One of the biggest advantages of the cloud-hosted PBX is that it's simple to add more lines without purchasing additional hardware or software licenses when your business expands. Also, you don't have to worry about falling behind when the time for expansion comes, and demand increases unexpectedly because cloud PBX services let you raise call volume rapidly.
Flexibility: Cloud PBX provides remote working features that let employees access their work phones on any device from anywhere in the world if they have an Internet connection. This is an ideal solution for remote workers or small businesses with multiple locations.
Management: Small businesses can easily adjust and upgrade their phone system using hosted PBX services since they are easy to operate and maintain through a web-based interface.
Reliability: A cloud-based system offers small businesses a more dependable and effective phone system since hardware failure and downtime are less likely.
Efficiency: Cloud PBX offers several advanced capabilities, such as unified communication (UC), which enables employees from several locations to stay connected in real time via instant messaging, chat rooms, and video conferencing. This improves staff collaboration and overall productivity. Additionally, UC unifies several programs into a single platform, providing staff members with all the necessary resources to execute work swiftly and effectively.
To Sum Up
With the modern workplace becoming more mobile-friendly, it is essential to have a solid communications platform to improve customer service while being able to cut the company's expenses. Such optimization processes would be challenging without implementing strong cloud technologies like those provided by cloud PBX systems.
With a cloud PBX, small businesses can have a professional phone system with advanced features without upfront costs. It allows them to focus on their core operations while improving their communication capabilities and customer service.
Last Updated: March 6, 2023