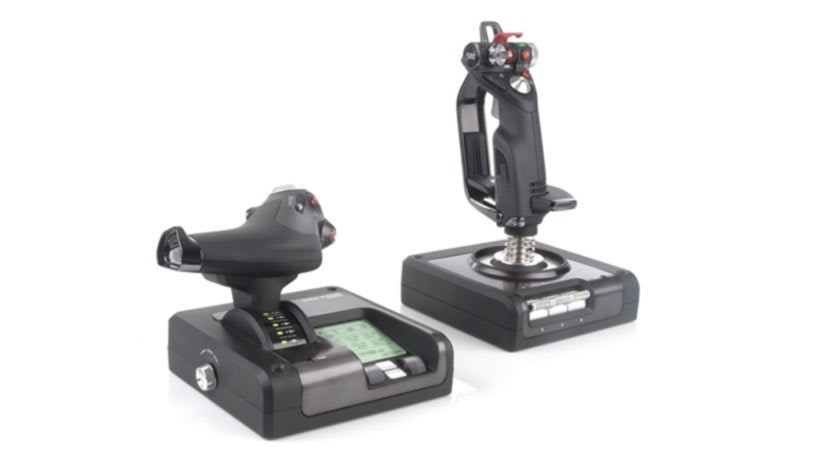 Virtual Reality is going to be expensive. There's no denying that – especially given that Oculus has revealed its eye-watering retail price for the Rift. Couple that with the price of the PC  you'd need to power the thing, and you're looking at enough to buy a second-hand car.
While the Rift comes with an Xbox One controller, and is compatible with keyboard and mouse inputs too, it seems that the already expensive technology is driving sales of other expensive peripherals that'll complement it.
That's according to Mad Catz, owners of the Saitek brand, and the people who make many of those fancy joysticks and throttles for would-be space adventurers.
"Last year, through most of last year? The HOTAS [Hands-on throttle and stick] system was the best selling product of the company," Alex Verrey, Global PR director for Mad Catz told Polygon. "That's because of Elite Dangerous and Star Citizen and the whole VR thing. We literally couldn't make them fast enough."
One of the games that's being shown off a lot, with huge focus on VR at trade shows and the like is Elite Dangerous – which features the company's X-52. It's the sort of thing that just drives immersion.
"We have the X-52 coded into the game so when you look down you have the full graphical representation [of the controller]," Verrey said. "They've coded it into the game. You can see the controls.
Star Citizen will be getting the same treatment.
"We have an exclusive range of Star Citizen hardware hitting later this year, and that's looking super cool. It's taking our HOTAS products and adapting them specifically for Star Citizen."
If you're in to space sims, there really is no better way to play than with a HOTAS system – and if you're in to both VR and space sims, then this is all a bit of a no brainer. As long as you can afford it, that is.
Last Updated: January 8, 2016