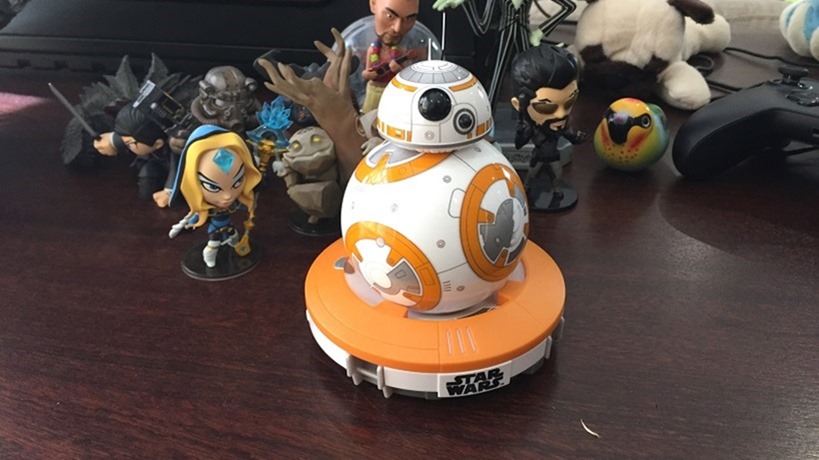 It's officially just 100 days until Disney kicks off that Star Wars fever yet again with The Force Awakens, and in truth it began nearly a year ago already. Star Wars has completely taken over my daily dreams again, leading to exciting conversations between Darryn and I almost daily (much to the anguish of Geoff). That excitement, however, kicked into overdrive with Force Friday last week – a massive spectacle of Star Wars toys that made their way to shelves globally last week.
Of all the LEGO, custom lightsabers and gorgeous figurines, one small toy stood out though. Just like his appearance during the debut trailer, Poe's little astromech BB-8 stole Force Friday with a small, Sphero-powered droid that basically melted hearts. Quite honestly, it's the cutest darn droid I've ever laid my eyes upon.
So it wasn't really a question when it came to choosing him over basically every other Star Wars toy out there (and, you know, eating for a few months). I got my very own BB-8 yesterday, and managed not to drop him while opening his rather small housing up for you to see.
BB-8 is controlled via an app you can download for iOS or Android, and it truly is a wonder watching the little gizmo roll around a room at sometimes dangerously high speeds. The app does a fine job of teaching you how to orientate BB-8, as well as bringing with it a kick to the nostalgic jawbone with sound effects, art and a truly Star Wars aesthetic. BB-8 can also be put into Patrol Mode – which basically turns him into a smaller, more curious version of a cat. If cats were round and stuff.
BB-8 is pricey (the one I purchased at the iStore locally goes from R2800.00) but quite honestly I can't say that it's been a waste. This is the perfect type of toy for the older Star Wars fans; an amalgamation of just enough gadgetry and Star Wars geekery that fans of old with both appreciate and adore.
Beside, just looked at how cute he is. BB-8 is available locally at various retailers already. Go get one if you can.
Last Updated: September 9, 2015