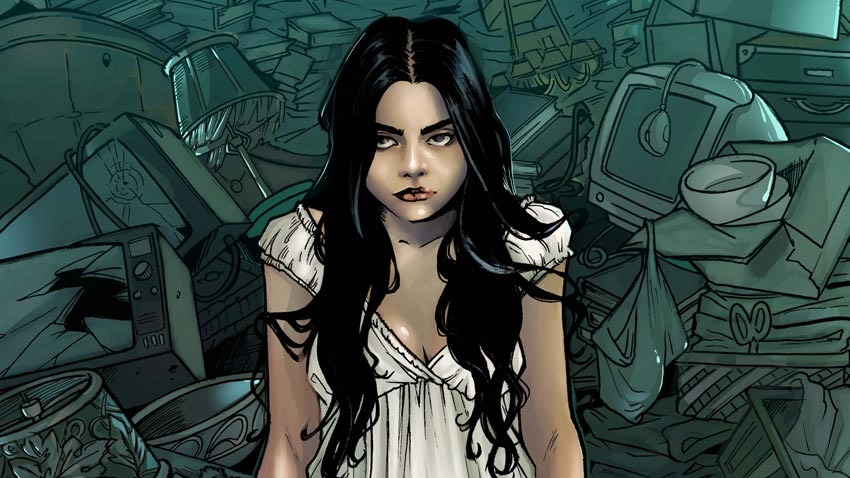 You ever find yourself thinking that you have too much stuff? Trinkets, obsessions and assorted doodads that you can't remember why you bought them or what you'll even do with them? There's a movement on right now thanks to interior influencers such as Marie Kondo, to declutter lives and focus less on having said stuff. If it doesn't make you happy then throw it away is the gist of this idea to create a more soothing space for yourself to live in, but for some people that's easier said than done.
For passionate collectors, the desire to hoard anything and everything is something that can easily become a mental illness. People have a fascination with collecting that can quickly spiral out of control and create a personal demon if left unchecked. In Aftershock's upcoming original graphic novel Horde, that's exactly what happens when Ruby Ando tries to reconnect with a mother who was always more interested in her collection than she was her own daughter. Here's a preview of the story that is being brought to life by Marguerite "Animosity" Bennett and Leila "Alters" Leiz:
After the death of her father, Ruby Ando tries to reconnect with her estranged and isolated mother, whose hoarder house is a nightmare labyrinth of secrets and dangers. All the love Ruby was never shown she sees her mother lavish on her treasures and trinkets, the possessions that possess her. But when Ruby desperately tries to free her mother, the house wages war, ensnaring both women within its maze. Brought to hideous and twisted life by a mother's love, the "Horde" is determined to purge Ruby from the collection—or see her join it forever.

Brought to life by Marguerite Bennett (ANIMOSITY, DC's Bombshells, Batwoman) and Leila Leiz (ALTERS, Nvrlnd), HORDE is a haunting, housebound horror story about the things we let control us.
I think the great evils of the world have always begun with the treatment of people as things," writer Marguerite Bennett explained of the influencers of Horde.
Even in this raw nerve of a familial melodrama, this is the crux – all the suffering, all the frenzy and madness and emotional climax all stem from this. Separate from the tragedy of mental illness is the deliberate dehumanization of human beings.
Ruby fears that her mother, Mia, values possessions over everything, including her own child. She feels like an object, a souvenir of her mother's great love affair with Ruby's father. She feels like a trinket, exoticized and objectified by a woman who used possessions to feel powerful, special, superior, and important — uses objects as armor, as proof of her success and lifelines to memory.

Anyone who has felt "collected," dehumanized, disposable, tokenized may relate. The struggle to define and then seize your own self-worth, to prove yourself to others but especially to the ones who ought to love you above all things is a vicious battle. Ruby is the fear of every overachieving child desperate for love and recognition, filled with anger and grief and still that longing for one last chance.
As for the art side on Horde? According to Bennett, Leiz was the perfect choice for an artist who could capture the story of emotion and horror:
Leila is BRILLIANT. The script was so monstrously demanding in its density and emotion and madness, and she absolutely killed it. All the detail, all the loveliness with which she renders even the most grotesque things is what makes the book something special, without question. I crammed in so many reference photos, everything from how fashion informed character to the obscene taxidermies scuttling around Mia's basement, and Leila made them more elegant and terrifying than I could have ever imagined. SHE is the reason this book exists.
Horde will be out on sale on October 16, and also features Guy Major handling colour duties and Marshall Dillon whipping up some spooky lettering.
Last Updated: August 1, 2019