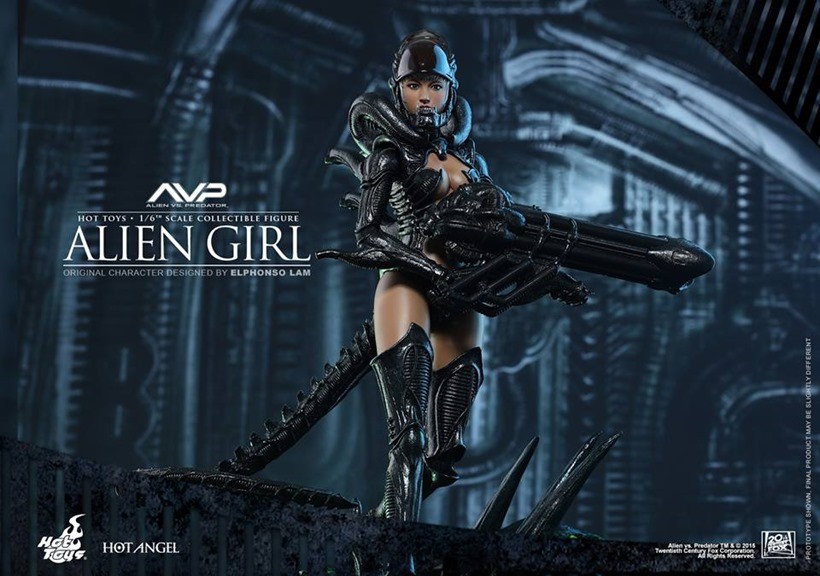 Anyway you slice it, the Xenomorph is a phallic nightmare taken an extreme level. And that's a design choice, that was done so on purpose by legendary artist HR Geiger. If you've got a fear of sausages or penis fly traps, the entire life cycle of the Xenomorph will leave you horrified and scarred. But conquer your fears, you must embrace them.
That's what Batman taught me. So naturally, this version of the Xenomorph is the perfect way to get over my dread of the deathly double-French kiss that Xenomorphs use to kill their prey.
Which kind of looks like very cool cosplay to me. Hot Toys latest figure is the titular Alien Girl, which features a lass dressed in the flesh of a vanquished Xenomorph. Must have been a nightmare scrubbing all that acid blood out.
The AVP- inspired Alien Girl is an original character designed by Hong Kong multimedia artist Mr. Elphonso Lam*. Her appearance is a unique combination of the stylistic Xenomorph and a sensuous human girl!

The Alien Girl collectible figure stands approximate 29 cm tall. She features a head sculpt with translucent carapace and two styles of interchangeable face sculpts, finely sculpted and realistically painted Alien skin texture throughout the newly developed body, a cannon blaster, and a sophisticatedly crafted Alien Queen diorama figure base!
Specifications
Height: Approximately 29cm tall
Points of Articulations: 30
Special Features: Original character designed by Alphonso Lam which combines Xenomorph with human girl. Features 2 interchangeable faces, highly detailed Alien skin texture, & specially sculpted diorama base
Artists: Head Sculpted by Viva Lai. Figure & Base sculpted by Joseph Tsang
Head Painted by JC. Hong.
Head Art Directed by Viva Lai.
The 1/6th scale Alien Girl Collectible Figure specially features:
Original character creation designed by Hong Kong multimedia artist Elphonso Lam
Unique combination of Alien and human character design
Head sculpt with translucent carapace and two styles (realistic and caricature) of interchangeable face sculpts
Newly developed body with over 28 points of articulations
Finely sculpted and realistically painted Alien skin texture throughout the body
Approximately 29 cm tall
One (1) articulated Alien tail
Four (4) pieces of interchangeable hands including:
One (1) pair of relaxed hands
One (1) pair of hands for holding weapon
Each piece of head sculpt is specially hand-painted
Weapon:
One (1) finely crafted cannon blaster
Accessory:
Specially-sculpted Alien Queen diorama figure stand
Sideshow Collectibles has the Alien Girl up, for the price of one therapy session. Which works out to $265, and happens to actually be effective at doing something.
Last Updated: November 24, 2015