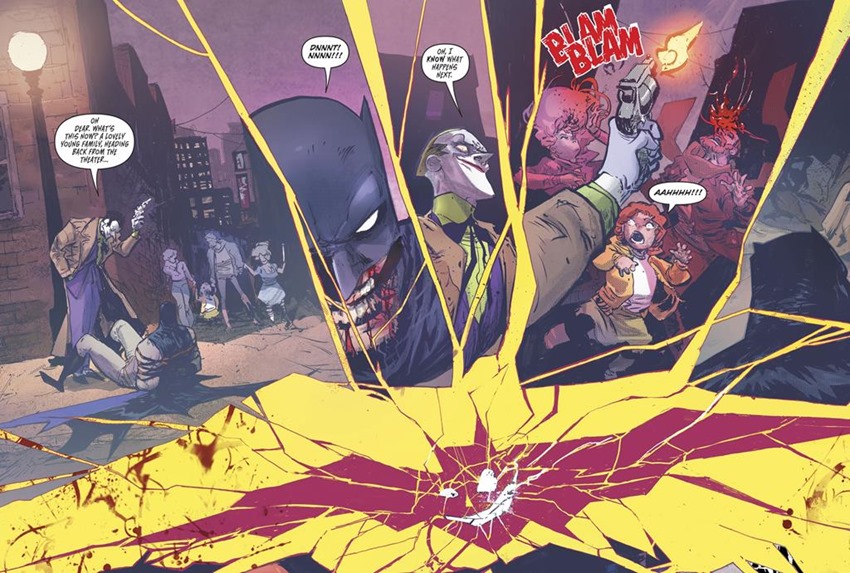 It's hard to imagine that in a multiverse below ours, where every wrong decision and choice takes a turbulent shape that has given birth to nightmares, there exists a Batman who has fallen. In Dark Nights Metal, there isn't just one Batman who has strayed from his path, but rather several. A Batman hellbent on fighting a neverending war, a Batwoman whose distrust for others saw her reality drowned in chaos and a Batman whose hate overcame his ability to feel compassion.
A selection of Batmen, who became dark mirror of not only their source multiverse material, but also the Justice League. The Batman Who Laughs, written by James Tynion IV and illustrated by Riley Rossmo, may be the darkest of those knights. A caped crusader who was born from an age-old question: Why doesn't Batman just kill the Joker? Spoilers below.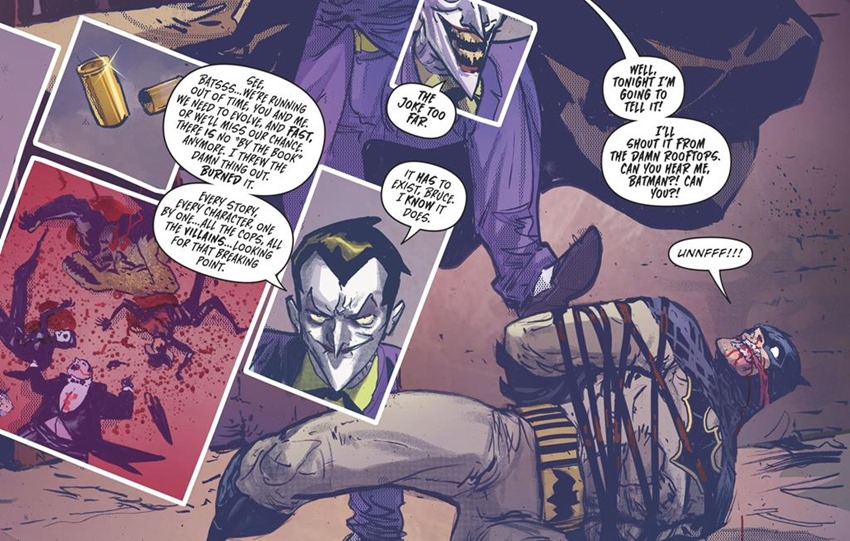 The Bataman Who Laughs finally answers that question. Pushed too far by a Joker who decides to evolve their relationship, the Batman of Earth-22 finally kills the ace of knaves as Gotham burns. The Joker has the last laugh of course, as a dormant toxin within him is unleashed upon his death, transforming the hero into something…worse.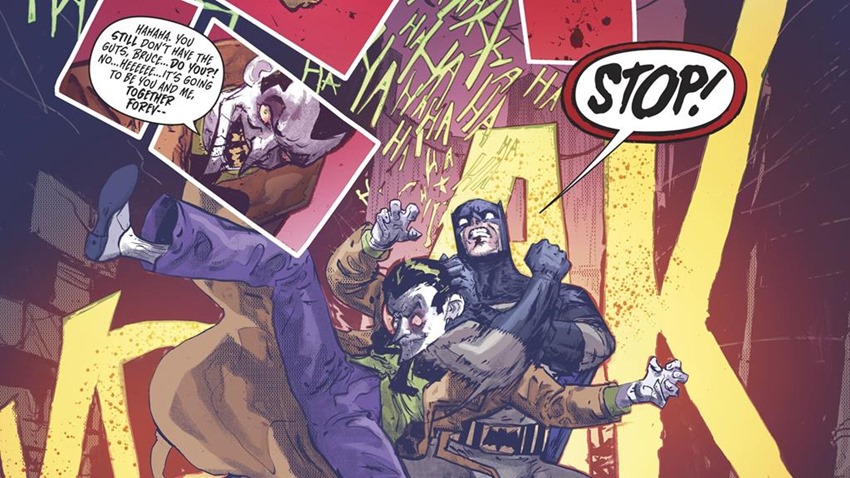 It's all part of a grand scheme by the clown prince of crime. Having infected dozens of Gotham children with his new toxin, the Gothamites find themselves transformed into giggling homicidal maniacs once they witness their parents being murdered in front of them. A reflection then, of Batman and the Joker's trauma, coming together in an unholy union.
It's the line that the Joker finally crosses, a joke that goes too far as he finally succeeds in getting the Batman to break his one rule. In the aftermath, Batman finds his mind slowly being rewritten to emulate not the Joker's madness, but rather his lack of a moral compass. Still, that's a problem that should be no match for the world's greatest detective and his extended Bat-family, right?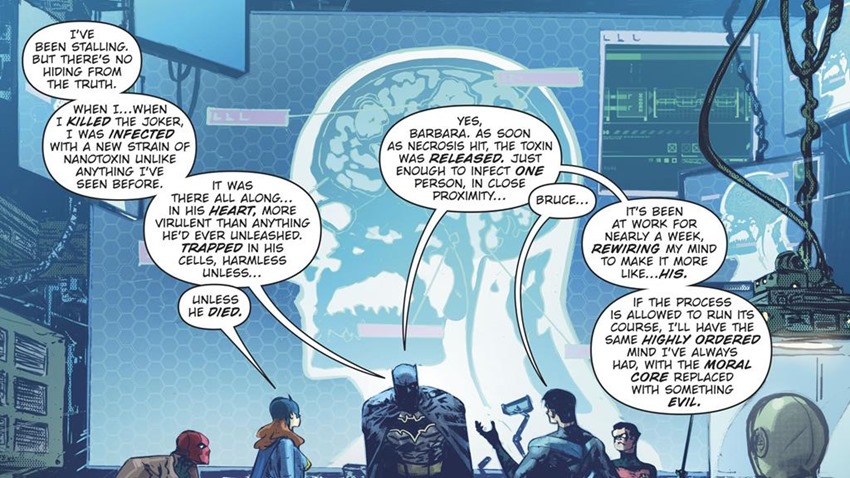 Only one problem: Batman likes what he's becoming. In a brutal scene, Bruce Wayne's ultimate punchline is revealed as he kills his entire family of vigilantes. Nightwing, Batgirl, Red Robin and the Red Hood all die in a hail of gunfire, while Damien Wayne's fate is far more sadistic. This is a Batman without any control, a Batman who doesn't have a moral code and relishes in his newfound freedom.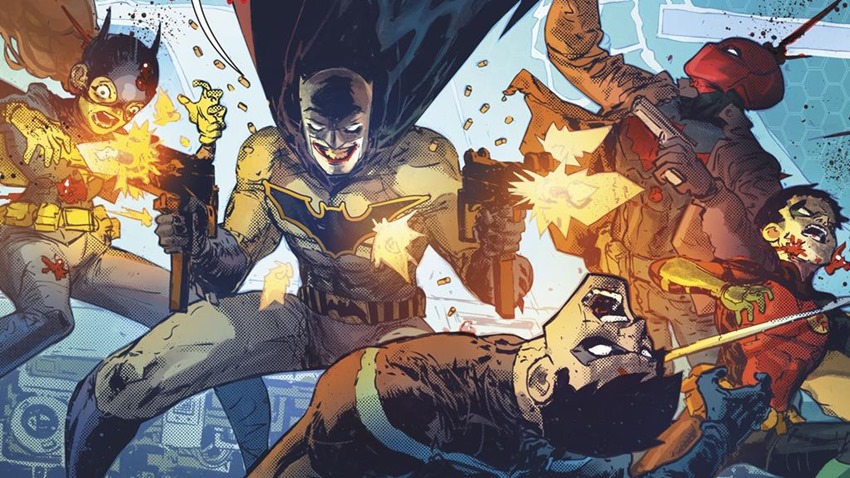 It's not long before he systematically dismantles and murders the Justice League, saving Superman for last and grinning as he watches the man of steel join his son in time for them to rip mother and wife Lois Lane apart thanks to the effects of black Kryptonite. The entire issue is filled with this darkness, finally creating the ideal reflection of Bruce Wayne.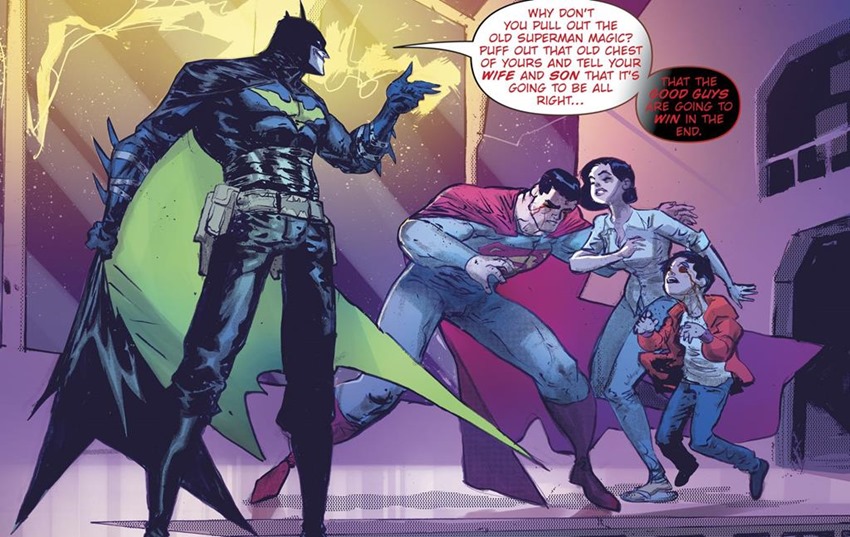 It reveals why his particular line must never be crossed, why recent years of stories have focused on providing Batman with a family that he can share his life with. The Batman Who Laughs is the antithesis of that, creating a villain who has given in to his demons and come out smiling. It's a sick joke, and only this Batman is laughing in the grimmest issue of the Dark Nights: Metal saga.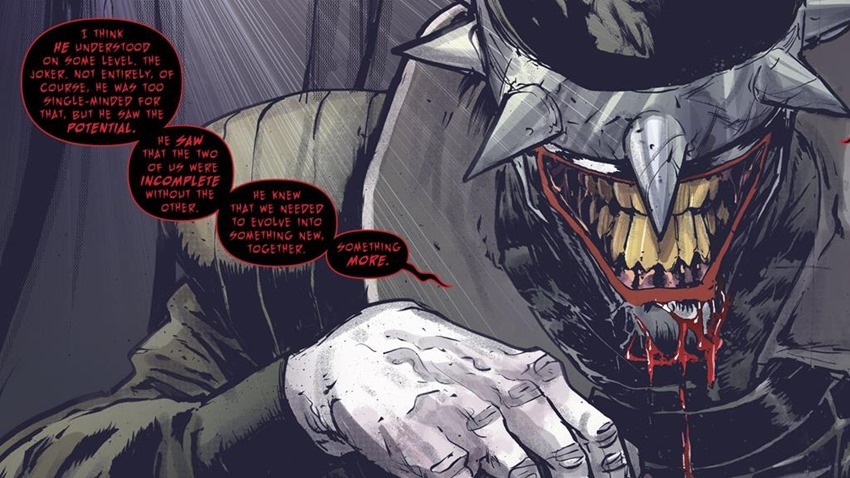 Last Updated: November 16, 2017