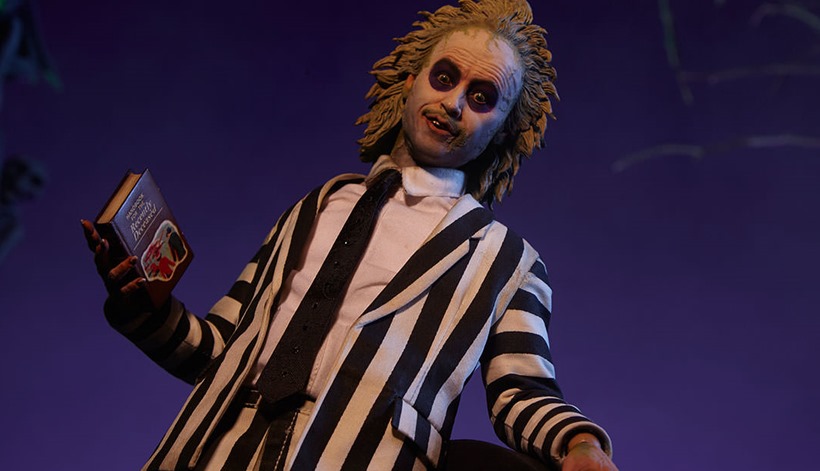 If I say the name "Michael Keaton", you immediately think of the best Batman actor of all time. But Keaton was more than just my favourite dark knight. He was also an iconic menace in Tim Burton's Beetlejuice movie. Pretty much a version of the genie from Aladdin, although clearly buzzed on some kind of supernatural alcohol and methamphetamines, this was an undead spirit who specialised in human exorcisms.
The ghost with the most, a poltergeist prankster with lethal gags. And now a kickass action figure as well, who has clearly managed to recover his normal head-size since the first flick ended:
Presenting Michael Keaton as the self-proclaimed ghost with the most, Beetlejuice is dressed to impress in his black and white striped suit, with wide eyes and wild hair. Crafted on a fully-articulated poseable body, the fast-talking ghoul comes with a variety of swap-out hands and accessories to liven things up when pitching his qualifications as a bio-exorcist.
It's your usual sixth-scale figure, which Sideshow says will retail for $239.99 when pre-orders open this week. Want that tombstone environment? Prepare to fork out another $124.99. Just don't say the name of Beetlejuice thrice when you're looking at a hastily-drawn door on your wall. You'll summon absolutely nothing and you'll feel proper stupid for ruining a perfectly good wall. Trust me, I speak from experience.
Last Updated: January 21, 2016