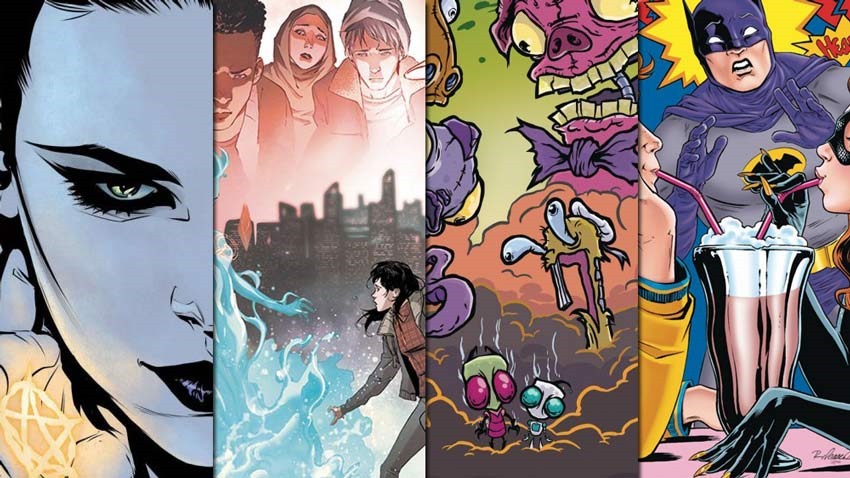 I don't give 2000AD enough love on this site. A weekly British comic book magazine, 2000AD has been running in print for years and years now. Many of you might know it as the home of Judge Dredd, but 2000AD is so much more than just that flagship title. It's also the comic book that gave birth to Strontium Dog, The Ballad of Halo Jones and many other quintessentially British ideas.
It's a product of its time, thanks to stories that were bonkers in the swinging seventies and downright depressing in the Margaret Thatcher era of the UK. These days, 2000AD is a powerhouse of constant ideas and sublime art, resulting in a weekly treat that you owe it to yourself to read. Perfectly digestible stories and adventures, legacy characters and wild concepts a'plenty are what defines the series in its current incarnation under its parent company Rebellion.
2000AD is also the gateway comic for not only readers, but for talent in the industry to shine. Indeed, many of the biggest names in comic books got their start here, and 2000AD continues to provide the perfect platform for the next generation to make their name. Me, I'll just keep on enjoying the series, that offers something new every week and never feels stale at all.
Not too many comic books, can boast a pedigree of that nature. With that being said, let's take a look at the best comic book covers of the week!
Heroes in Crisis #2 by Ryan Sook

Tony Stark: Iron Man #5 by Alexander Lozano

Doom Patrol #12 by Nick Derington

Multiple Man #5 by Marcos Martin

Wayward #30 by Steven Cummings

The Realm #10 by Meghan Hetrick

What If? Magik #1 by Jeff Dekal

Invader Zim #36 by Jeff Sornig

Stranger Things #2 by Steve Morris

Avengers Halloween Special #1 by Gerardo Zaffino

Hex Wives #1 by Joelle Jones

The Wild Storm #18 by Jon Davis-Hunt

Star Wars Adventures: Tales from Vader's Castle #5 by Francesco Francavilla

Nancy Drew #5 by Jenn St.Onge

Deathstroke/Yogi Bear Special #1 by Tyler Kirkham

Britannia: Lost Eagles of Rome #4 by David Mack

Archie Meets Batman '66 #4 by Rebekah Isaacs

Lost City Explorers #5 by Alvaro Sarraseca

Kim Reaper: Vampire Island #3 by Katy Farina

Sex Death Revolution #1 by Kiki Jenkins

Last Updated: October 29, 2018