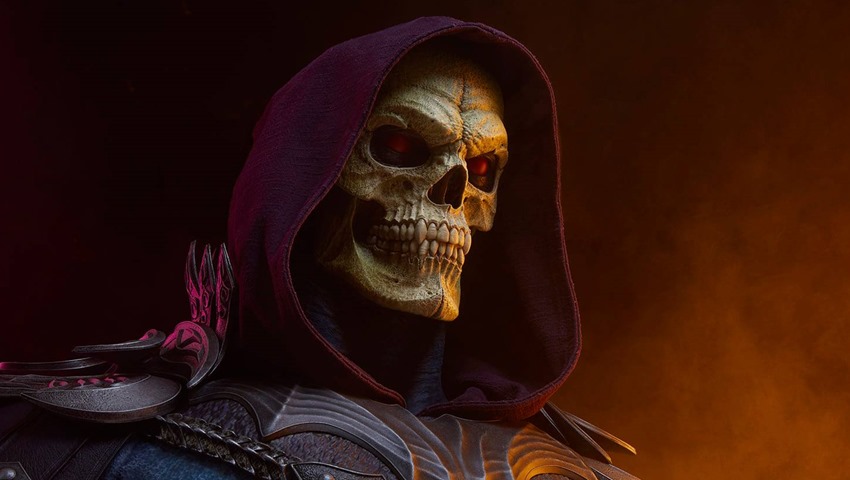 There are villains, and then there is Skeletor. The foil to He-Man, a Smurf on steroids with no face and whose diabolical nipples can barely be contained by the leather chest harness that he wears into battle. Plus he once smashed a teleportation mirror without losing his arm and how does that even work? Cartoon science, that's how! SKELETOR!
More than that, Eternia's greatest nemesis just looks brilliant. His is the design of nightmares, a terror on two legs with a face that only a graveyard could love. Times change, trends come and go, but seeing an asphyxiated bodybuilder who looks like he had his face ripped off in a tragic dog-training exercise gone wrong will always be cool.
That doesn't mean that the design couldn't do with a few tweaks though! If you need an idea of how great a more modern twist on Skeletor could look, then check out Tweeterhead's upcoming life-size bust of the cackling wizard. It's the original look, but with more detail than ever before, eyes that can peer into the depths of your very soul, and nipples so realistic that you'll have to stop yourself from twisting them.
By the power of Grayskull, this looks fantastic:
Of course, it ain't going to be cheap to get your hands on this bust. Not counting the shipping, you can expect to pay a cool $1000 for a piece of art that clocks in at about 28.5″ tall, 30.5″ wide, and is 17″ deep. The details are brilliant though, and he also happens to have a posable hood and removable cape. Evil cackles, not included.
Last Updated: March 4, 2021