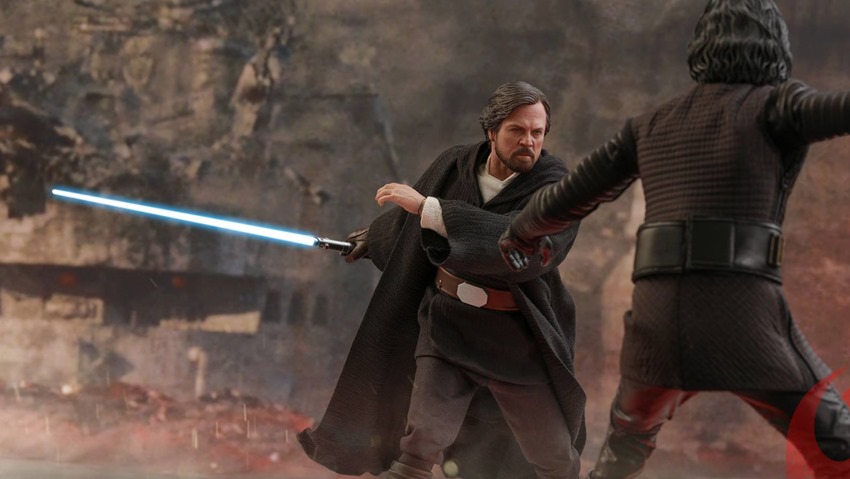 I'm going to tell you something, and you're not going to believe it: I'm not a fan of Star Wars: The Last Jedi. It's not that I have an issue with how the film breaks down the very concept of Star Wars and rebuilds it with an eye on the future of the franchise. I don't have any problem with Daisy Ridley's fantastic protagonist or how Poe Dameron gets rightly p-klapped for being a suicidal hotshot who dragged an entire squadron of pilots to their deaths and then threw a mutiny fit when he wasn't roped into a plan that his superior officer had devised.
Heck, I don't even mind that Luke Skywalker's last stand against Kylo Ren was a brilliant use of the Force to perform some heckin' bamboozling. Those are great aspects of the film that makes it stand apart, together with the most gorgeous cinematography I've ever seen on the silver screen. If the film did have flaws though, it was a nonsensical story that had a mid-act adventure shoehorned into it so that John Boyega would have something to do, and a final fight against a legion of First Order red acolytes that was clumsier than a Jerry Lewis slapstick comedy gag.
Here's what I love about the film though: Luke Skywalker's battle against Kylo Ren. It's only a few minutes long, but it's a perfect crystallisation of who Luke Skywalker should be. A wise and seasoned master, who learned from his own mistakes and found redemption. Not only that, but it's the very image of Skywalker here that I like. It's his idea of how he sees himself at his very best.
No longer dishevelled and broken from his past failures, but rather a confident Jedi Master who acknowledges his flaws and stands tall as a symbol of rebellion. That's the Luke Skywalker I remember, and one that Hot Toys is giving the ol' sixth-scale replica figure treatment to. Have a look below, because this is one Crait looking replica:
WHAT'S IN THE BOX?
The Luke Skywalker (Crait) Sixth Scale Collectible Figure specially features:
An authentic and detailed likeness of Mark Hamill as Luke Skywalker in Star Wars: The Last Jedi
Movie-accurate facial expression with detailed hair, beard and skin texture
Body with over 30 points of articulation
Approximately 29 cm tall
Three (3) pieces of interchangeable gloved right hands including:
– One (1) relaxed right hand
– One (1) right hand for holding lightsaber
– One (1) open right hand
Four (4) pieces of interchangeable left hands including:
– One (1) relaxed left hand
– One (1) left hand for holding lightsaber
– Two (2) gesturing left hands
Each piece of head sculpt is specially hand-painted
Costume:
One (1) black colored poncho
One (1) black colored hooded tunic with belt
One (1) beige colored under tunic
One (1) brown colored leather-like belt
One (1) pair of black pants
One (1) pair of brown colored boots with weathering effect
Weapons:
One (1) LED-light blue-colored lightsaber (white light, battery operated)
One (1) blue lightsaber blade in motion (attachable to the hilt)
One (1) lightsaber hilt
Accessories:
One (1) pair of metallic gold-colored lucky dice
One (1) Specially designed figure stand with Luke Skywalker's nameplate and Star Wars logo
Nice. Now throw in a Luke "I'm-going-to-murder-this-kid-in-his-sleep-because-reasons" Skywalker figure that shows off the Jedi master as a homicidal madman complete with his crazy face, and I'll have a full collection for my shelf. Sideshow has the figure listed at $235, with a shipping date of between October and December 2019.
Last Updated: October 9, 2018