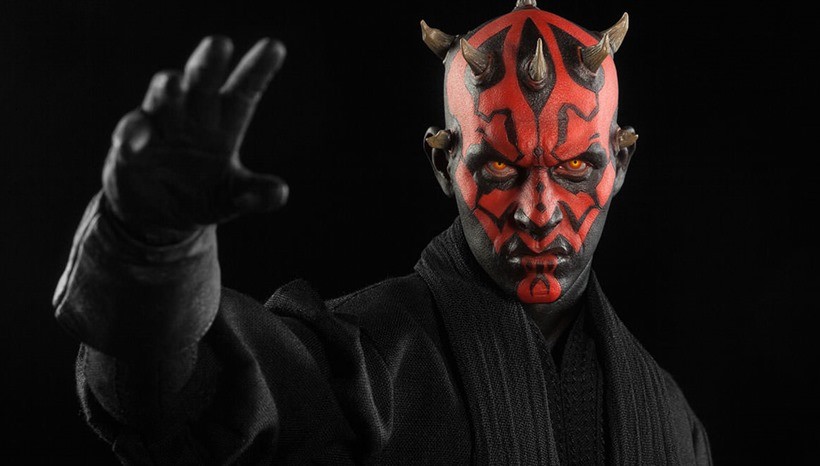 Let's be honest here: Star Wars Episode 1 the Phantom Menace is a terrible, terrible movie. Even by Star Wars' lack of standards, it's easily the worst movie out of the lot. But it did have one thing going for it: Darth Maul.
A Sith apprentice with agility of a tiger and even more fierce when cornered, Darth Maul was a villain who deserved better and instead found himself getting his role slashed in the final cut. Heh, slashed.
Even though he was on screen for only a few minutes, he was still a fantastic visual idea. This black-robed demon with a double-bladed lightsaber that could cut down Liam Neeson in his prime, sparing the Jedi master the misery of having to reprise his role in future Star Wars movies.
And that's the Darth Maul that I want on my shelf, staring holes into my Barbie dolls. I mean Todd MacFarlane collection. Yes, that.
From the moment fans first set eyes on Darth Maul in Star Wars Episode I: The Phantom Menace he became an instant favorite, as his powerful presence and raw intensity left a lasting impression across the galaxy. Starting with a remarkable portrait likeness, Sideshow Collectibles' Darth Maul 'Duel on Naboo' Sixth Scale Figure captures every detail of the unforgettable villain as portrayed by Ray Park, from his red and black tattooed flesh, to his sinister yellow eyes and crown of horns.

Trained as Darth Sidious' first apprentice, the vicious warrior wields his distinctive double-bladed lightsaber with removable blades, ready to seek revenge on the Jedi in an epic duel on Naboo. Crafted on a fully articulated body, and decked out in his multi-layered all-black Sith garb, the Darth Maul 'Duel on Naboo' Sixth Scale Figure will make a magnificent addition to any Star Wars collection!
Darth Maul is priced at $239.99. Although maybe I'll wait for a 50% sale first. Ha.
Last Updated: November 2, 2015