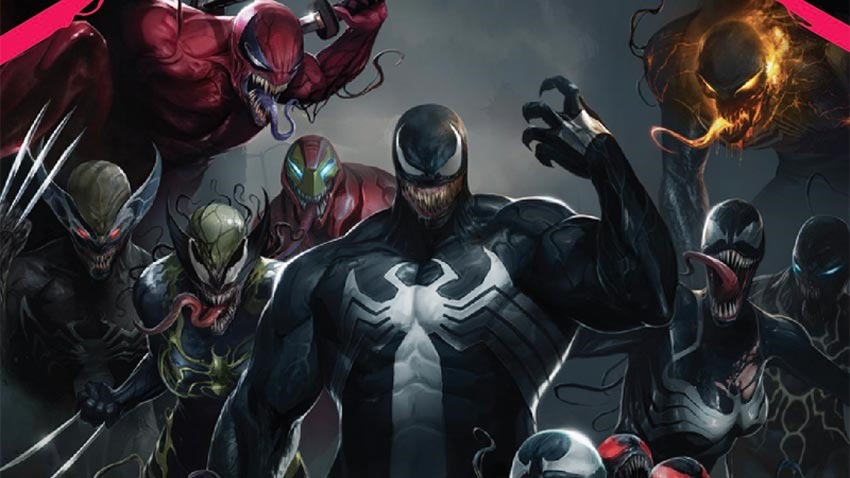 Guys. GUYS…You're never going to believe this, but Marvel is finally doing a big event series of comics. That'll show DC Comics, amirite? Ha, just kidding. Marvel is a bit obsessed lately with event comics for some reason, as the post Secret Wars era of projects coming from the House of the Same Idea so far has included Inhumans Vs X-Men, The Clone Conspiracy and Civil War II just to name a few.
And I haven't even begun mentioning the Monsters Unleashed series that is currently running, the mysterious Marvels projects or even Captain America's Secret Empire. Slow down Marvel, we get it. You like big events. So what's next on the checklist? A new symbiote-centric series starring the iconic Venom organism, which Marvel is calling Edge of Venomverse. Well alright then. Here's the synopsis from Marvel via Newsarama:
The symbiote's tentacles ensnare the entire Marvel Universe this June! The madness begins in EDGE OF VENOMVERSE – a bombastic new 5-issue series featuring your favourite characters and creators! Spinning out of events in the hit Venom series and the blockbuster Venomized Variant Program beginning this month – Eddie Brock won't be the only one who is back in black!

Kicking off this June, EDGE OF VENOMVERSE unleashes sinister symbiotes across the Marvel Universe, wreaking untold havoc and wanton destruction! Featuring some of the most popular characters from March's Venomized Variant Program, this in-continuity series brings you deadly new Venom combinations, giving fans dream matchups from some of comics' hottest creators! The Marvel Universe is about to play host to an army of Venomized heroes…but whose side will they be on?!

Look for more information, including characters and creators to be revealed soon! EDGE OF VENOMVERSE #1 explodes into comic shops everywhere this June!
Originally inspired by a series of covers that depicted Venomised versions of Marvel heroes, Edge of Venomverse sees numerous alternate reality Venoms invade the regular 616 Marvel universe, all attached to different host bodies such as Wolverine, Ghost Rider or Iron Man. Sure, why not. Look, the idea is kind of cool but the fatigue is real at this point.
Slow down Marvel. Just slow down already.
Last Updated: March 3, 2017