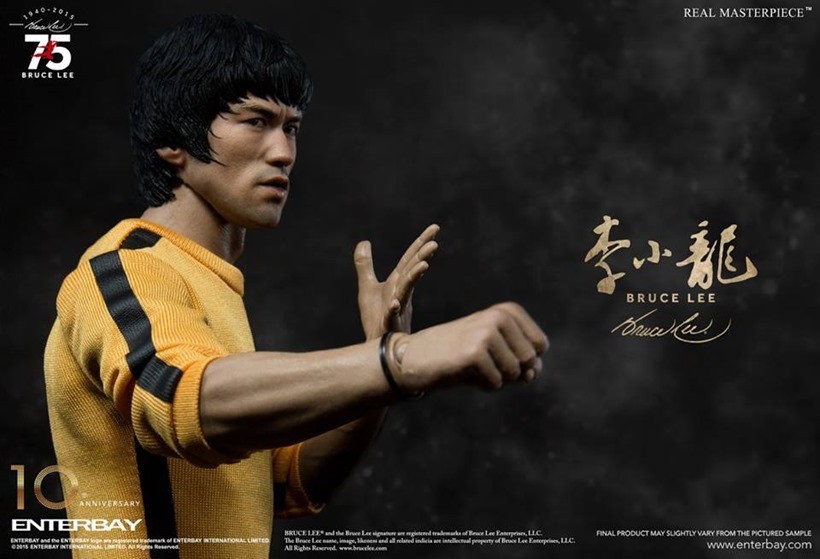 Bruce Lee, master of the nunchucks and the only person to survive a Chuck Norris chest hair confrontation unscathed, would have been 75 this year. And I'd like to believe that he would still be in prime ass-kicking shape at that age, most likely coming up with a new martial arts system for pensioners.
Bruce Lee's early death created a legend, a mythical aura around him that transcended his actual abilities.  A tale of a man who would study poetry and philosophy,and then apply those lessons to punching people in the face for kicks. And really, what better way is there to be remembered, than as a person who was bigger than life itself?
Or a sixth scale representation of said life. For many people, Bruce Lee's greatest film will always be Enter The Dragon. They aren't wrong, but personally, Game of Death is my pick for the best use of his educated feet. It's also an eerily prophetic film, with a plot that mirrored the death of his son Brandon Lee on the set of the Crow many years later. Way, way too creepy. Just like the likeness on this replica of the Jeet Kune Do master from ENTERBAY:
Mr. Bruce Lee was influencing the world with his Jeet Kune Do and his complex personal philosophy. His influence transcends race and time. Nowadays, he remains the greatest icon of martial artist and movie star.

This year is not only the 75th Anniversary of Bruce Lee's birthday, it is also the 10th Anniversary of ENTERBAY. We are proud to announce a worldwide limited 3,500 pcs of 1/6 Bruce Lee 75th Anniversary Figurine will be released on coming Nov 27, to memorise the legend of Mr. Bruce Lee and celebrate the 10th Anniversary of ENTERBAY.
ENTERBAY says that they're only making 3500 of these figures, which will retail for $250 each. Beyond a tiny Lee, each package comes with a stand, set, weapons and a "I can't even" pose.
Last Updated: November 25, 2015