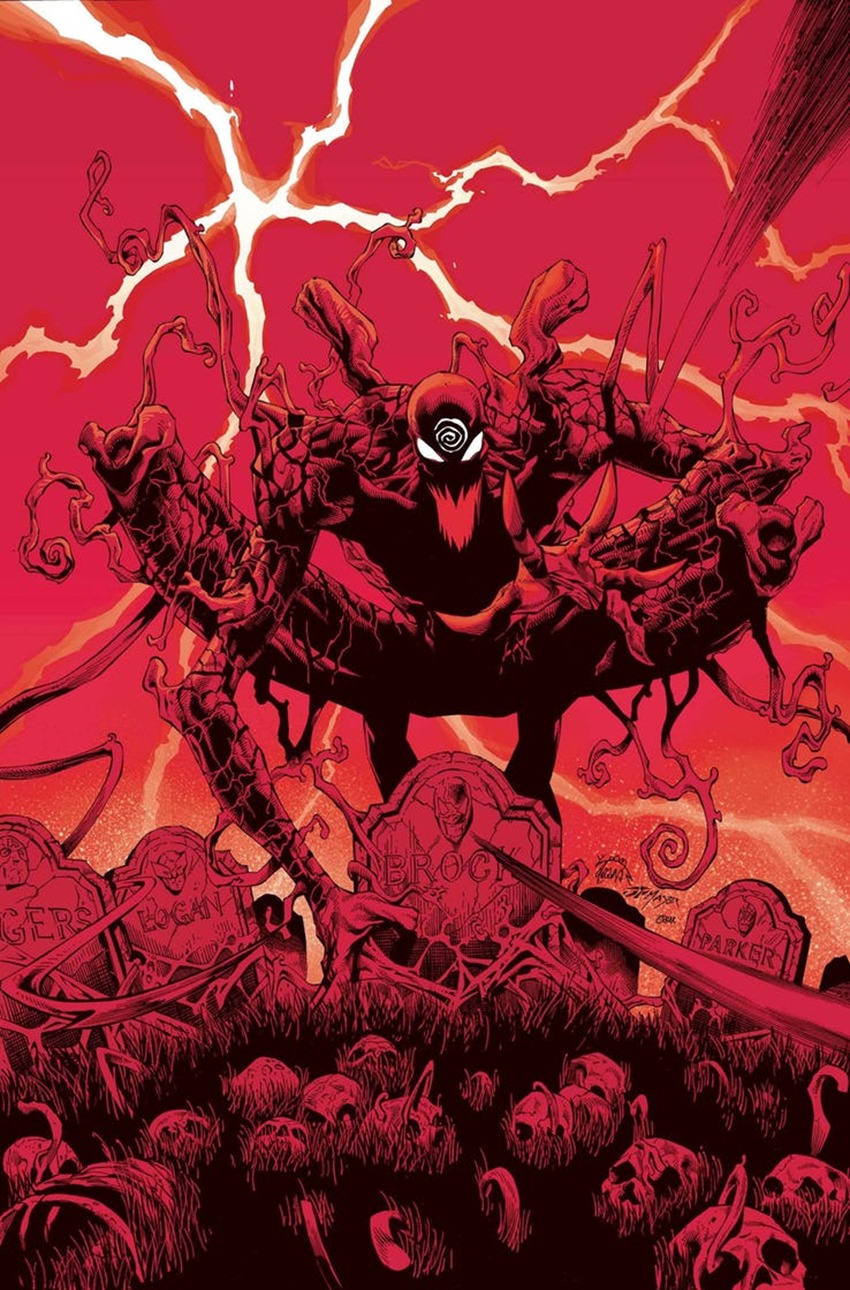 You thought Venom was a scary collection of tendrils and impossibly massive teeth? Then buddy, allow me to introduce you to Cletus Kasaday, the host of the Carnage symbiote. While Eddie Brock and the Venom symbiote may have walked a very fine line between hero and villain over the years, Carnage has always been chaos personified.
A mass murderer given all of the power of Venom without any of his twisted sense of responsibility, Carnage has been down a weird road as of late. There's a whole bunc of weirdness attached to the character, ever since he was ripped in half by the Sentry during Avengers Disassembled, found his immoral core reversed during the Axis event and was used as the ultimate weapon against the symbiote-devouring Poisons. Comic books!
Later this year, the real Carnage is back and he won't be satisfied with just a mere Maximum extension of his brand of anarchy. This time, Carnage is going for an absolute victory:
"Cletus Kasady is back, and he is deadlier than he's ever been," writer Donny Cates said in the video above.
Absolute Carnage encompasses every single character who has ever worn a symbiote and every symbiote that has ever been, going all the way back to when Peter found the black suit. Going from there to Maximum Carnage to Venomized to everything…everyone is a target.
Never one to pass up an opportunity, Marvel will have a whole bunch of Carnage covers ready for the event when it kicks off in August.
Looking good! Absolute Carnage will also feature Ryan Stegman and Frank Martin on art duties, so you know that visually, this mini-series is going to be a visual tour de force of maximum mayhem. Heck, Cates and Stegman even jokingly believe that Absolute Carnage will be able to take down the greatest-selling comic book of all time, Jim Lee's X-Men #1. They only need to shift eight million and one sales, to stick it to the legend.
Make mine Carnage I say!
Last Updated: March 27, 2019