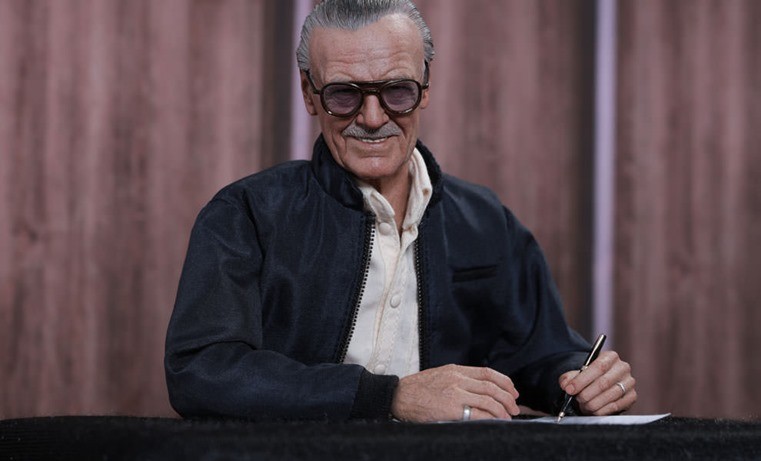 Face front true believer, because when it comes to comic books, you don't get any bigger than Marvel. The House of Ideas helped shaped the industry in the golden age of those funny books, and they re-ignited the medium in the 1960s thanks to some top-notch talent.
And double-thanks to the pairing of comic book legend Stan Lee with the likes of creative forces such as Jack Kirby and Steve Ditko, we got comic book heroes such as Spider-Man, the Fantastic Four, the Incredible Hulk and the X-Men.
Stan Lee is pretty much the go-to legend, and beyond his contributions as a writer, he's been a powerhouse of an ambassador for Marvel comics. Hell, the guy is a 92 year old World War Two veteran who still has time to hit the convention scene, talk shop and pop up in comic book movies. That's amazing, and worthy of praise.
I'd sell Geoff's organs to one day meet the legend, but who knows if that'll ever happen. The next best thing however? A mini-Stan Lee to kidnap acquire and tell my figures: 'Nuff said.
He has brought joy and excitement to comic book readers all around the world. In various superhero movies over the years, his cameos have lightened up the scenes and sometimes surprises movie-goers. Sideshow Collectibles and Hot Toys are thrilled to officially present the sixth scale collectible figure of this living legend – Stan Lee!

The highly-accurate collectible figure is specially crafted based on the image of Stan Lee. It features a newly developed head sculpt, meticulously sculpted hands and arms, finely tailored outfit, a director's chair, detailed accessories, and figure stand.
WHAT'S IN THE BOX?
The  Stan Lee Sixth Scale Collectible Figure specially features:
Authentic and detailed likeness of the legendary Stan Lee
Highly accurate facial expression with detailed wrinkles, moustache, and  skin texture
Body with over 30 points of articulation
Approximately 30 cm tall
Newly sculpted arms and hands
Seven (7) pieces of interchangeable hands including:
– One (1) pair of relaxed hands
– One (1) pair of gesturing hands
– One (1) pair of hands for holding accessories
– One (1) pointing right hand
Each head sculpt is specially hand-painted
Costume:
One (1) off-white colored shirt
One (1) navy jacket
One (1) pair of brown-colored pants
One (1) black belt
One (1) pair of white running shoes
Accessories:
One (1) pen
One (1) silver colored watch
One (1) pair of glasses
One (1) pair of sunglasses
One (1) director chair printed with Stan Lee's signature
Figure base printed with Stan Lee's signature and Stan Lee nameplate
That is scarily accurate. Stan "The Man" Lee will cost about $199 when he goes on sale next year in July.
Last Updated: November 4, 2015