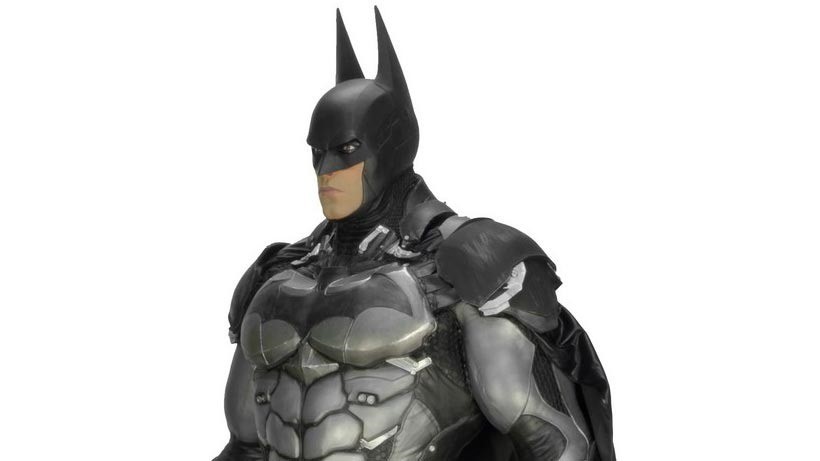 Criminals are a cowardly and superstitious lot. As are dinner guests, what with their inane chatter about early enrolment in schools and cooking classes for couples. But I digress. At some point in your life, you're going to have to decorate your home. You could use stuff like paintings, coffee table books and a shelf full of African curios.
OR, and hear me out here, you could be cool. So cool, that you won't ever have to bother with a monthly armed response subscription, because you'll have the freakin' Batman guarding your home. That's what NECA is teasing, as they've got a caped crusader that they'll be rolling out next year March.
There's no pricing details yet on this replica of the Arkham Knight version of the Batman, but I'd guesstimate that it'll cost a LOT. And that's not even including postage and handling. NECA says that their dark knight is life-size, measuring in at a height of 188.9cm. That's clearly not true, because we all know that the one true Batman (ME DAMMIT) is actually 171cm tall.
…None of you believe me, I know it. Anyway, item details and photos below:
Strike fear into the hearts of evildoers in any room with an impressive life-size replica of the Dark Knight himself!

This actual size foam Batman replica figure is based on Batman: Arkham Knight, the final chapter in the acclaimed video game series. Standing a full 6' 2" tall, Batman was created directly from the digital files used in the making of the game. The figure is made of foam rubber and latex that's carefully hand-painted for incredible detail, and the finishing touch is the Dark Knight's swirling fabric cape, tailored from mixed materials for game accuracy.

Ships in two boxes; very simple assembly required.
Foam rubber is a pretty decent material. It's lightweight, can have some pretty convincing details sculpted into it and surprisingly durable in certain conditions. It's the kind of material that was used for the batsuits back in Batman & Robin actually. Although I really wouldn't advise you to buy one of those Batman statues, hollow it out on the inside and wear it like a grotesque fleshy foam puppet.
Trust me, that'll only end in tragedy. I speak from experience.
Last Updated: November 19, 2015