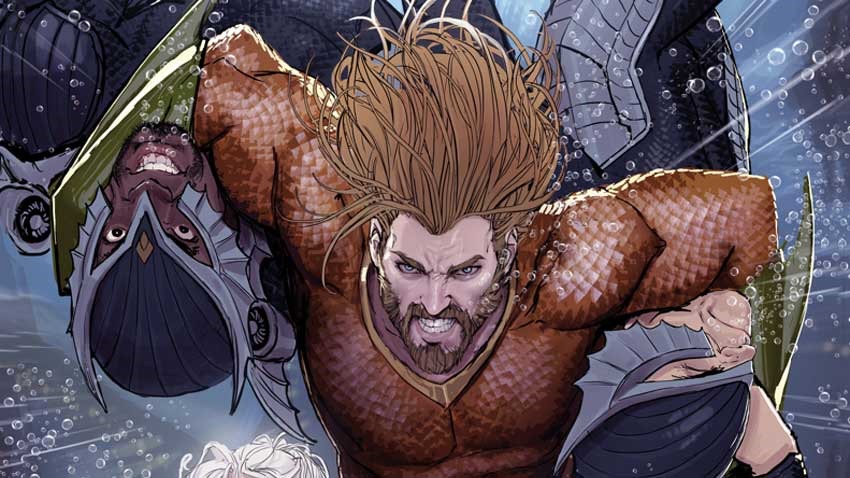 I still don't get why Aquaman doesn't get the respect that he deserves. He rules the seven seas, happens to be a former king of Atlantis and down where it's wetter he's better than Superman. You mention his name however, and people ask you if you're talking about that fella who chats to fish. DC have been trying for decades to convince people that Aquaman is a badass. The extreme era of the 90s saw the return of the king sans a hand, whereas more recent attempts have tried to balance his life between the worlds of the surface and Atlantis against a backdrop of unrelenting foes.
I've got a different theory towards making Aquaman popular again: Try making him likable first. There's nothing wrong with making Aquaman the baddest mother-lover under the water, but I think that tends to result in the character being watered down (heh) and cheapened. Arthur Curry doesn't need that. He needs a solid adventure that results in a hero that people can relate to.
Part of the work towards establishing comes from the script, but a lot more of that responsibility is going to be riding on the shoulders of the artist tasked with bringing those words to life. Something that new Aquaman artist Stjepan Sejic appears to have a frim grasp of. Seriously, look at this gorgeous art and tell me that you don't want to see more of this guy in action. That beard alone deserves to rule the oceans:
So which storyline kicks off soon for Aquaman? Here's the official synopsis from DC Comics for the Dan Abnett written "Underworld" saga:
UNDERWORLD" part one! In this extra-sized anniversary issue, former terrorists have replaced the Atlantean police. Crime lords control huge swaths of the kingdom. And a deadly undersea arsenal is trained on the surface-dwellers. All is as King Rath commands—and yet whispers persist of a rebel in the slums of Atlantis: A hero with the potential to change the world. A whole new era of AQUAMAN begins as master storyteller Stjepan Sejic (Sunstone, Death Vigil) joins series writer Dan Abnett for Arthur's boldest and most harrowing adventure yet! 
If you like what you see above, check out Sejic's work on Sunstone. It's pretty much the best tale of geeky romance ever.
Last Updated: May 26, 2017