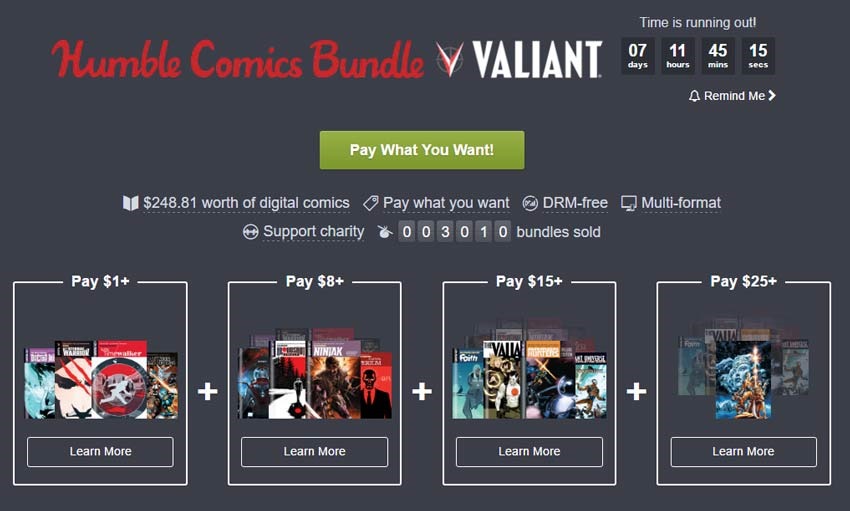 I've said it before, and I'll say it again: Valiant Comics right now are amazing. No small feat when you consider that DC's Young Animals and Vertigo imprints are currently earning critical acclaim alongside the likes of Dark Horse and Image Comics. But we're in a new golden age for comic books right now, one where the industry isn't defined as much by the capes and cowls crew as it used to be.
There's also been an emphasis on quality over quantity, something I truly believe that Valiant is nailing perfectly right now. All their books may be connected, but crossovers are sparse and each character is generally left to their own devices. And the results so far have been magnificent. Want in on this? Well here's your chance, as the Humble Valiant Comics Bundle is live for the next week. Here's what a mere dollar gets you:
Death-Defying Dr. Mirage Vol 1
Wrath of the Eternal Warrior Vol 1
Ivar, Timewalker Vol 1
Valiant Zeroes & Origins Vol 1
Comicstorian Exclusive Valiant Video: X-O Manowar
X-O Manowar Vol 4
Comicstorian Exclusive Valiant Video: Harbinger
Harbinger Vol 4
A mere dollar for Wrath of The Eternal Warrior and Ivar Timewalker alone is worth it in my book. But pony up $8 and you'll get:
Divinity Deluxe Edition
Bloodshot Reborn Vol 1
Ninjak Vol 1
Imperium Vol 1
Archer & Armstrong Vol 4
Faith #3: Keep-A-Breast #checkyourselfie Variant
Valiant Universe: The Role Playing Game
Rai Vol 2
And more to be revealed
Chipping in $16 gets you all that and:
Faith Vol 1
The Valiant Deluxe Edition
Armor Hunters Deluxe
Valiant Universe: The Role Playing Game Supplement
Comicstorian Exclusive Valiant Video: Unity
Comicstorian Exclusive Valiant Video: Bloodshot
While the $25 tier earns you "X-O Manowar 2017 #1 – Humble Bundle Exclusive Virgin Art Variant signed by cover artist Lewis LaRosa". That's a hell of a deal and if you're still not convinced then here's me waxing lyrical about these comics in a guide that I wrote last year. Seriously good stuff, and well worth the price of a cup of coffee. A price that supports charity as well. Everyone wins.
Last Updated: February 15, 2017