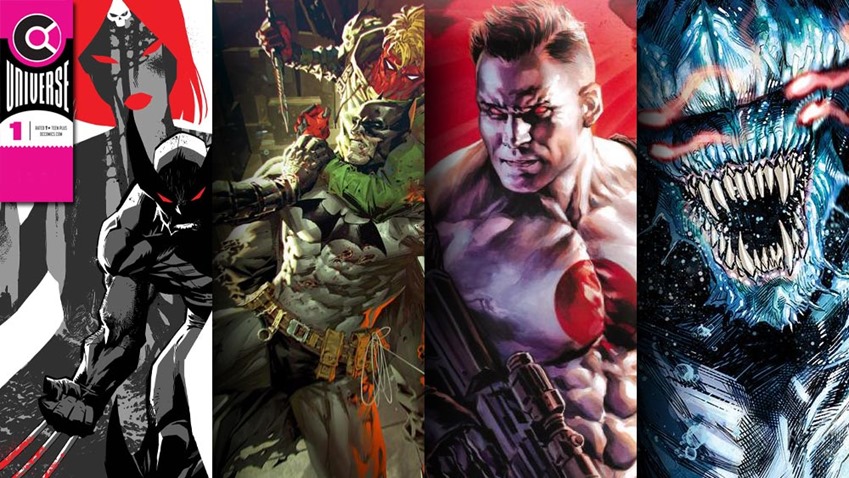 It only took twenty years, but Battle Chasers is finally getting a new issue! You might remember Joe Madureira's series as being a hugely successful swords 'n sorcery series in its heyday, where the only thing that could stop its momentum was its publishing schedule. Starting off strong, publication of Battle Chasers comic books slowed to a crawl and pretty much ended with issue #9.
Two decades later, French artist Ludo Lullabi is picking up the slack and bringing the printed page fantasy RPG back to life. "Here's a peek at Battle Chasers #10 art by Ludo Lullabi!" Madureira wrote on Instagram.
Every page blows me away! It will be oversized with 32 full pages of story! Battle Chasers: Nightwar backers will of course get theirs, and it'll be available in shops later this year. Thank you for the love.
The lovechild of every classic JRPG from the 1990s, Madureira's Battle Chasers told the tale of a young girl named Gully in an attempt to find her missing father, meeting other warriors along the way and forming her own adventure party. There was the taciturn swordsman Garrison, the friendly giant robot Calibretto, veteran wizard Knolan, and the physics-defying Red Monika who must have had a spine made out of Vibranium to be able to exist in that world with her…assets.
While Battle Chasers basically died in 2001 when Madureira put his pencils down, he'd return to the series in 2015 when he announced a crowdfunded video game called Battle Chasers: Nightwar. It was pretty great when it came out! Part of the Kickstarter pledge was that Madureira would return to work on the Battle Chasers comic, but he later said that he would need to enlist other artists to continue the series "any time soon."
"Unfortunately, it's proven difficult to work on them alongside my responsibilities at the studio," Madureira said in 2019. "Issues #10-12 will pick up exactly where the last issue left off, and focus on Garrison, his past, and his complicated relationship with the fugitive Red Monika."
Finally! Until those new comics arrive, here's a look at the best comic book covers of the week.
Best comic book covers of the week credits
Children Of The Atom #1 by Jim Lee
Non-Stop Spider-Man #1 by David Finch
Taskmaster #4 by Cory Smith
The Amazing Spider-Man #61 by Julian Totino Tedesco
The Immortal Hulk #44 by Alex Ross
Thor & Loki: Double Trouble #1 by Erica Henderson
Wolverine: Black, White & Blood #4 by Khary Randolph
Vampirella #18 by Marco Mastrazzo
Mighty Morphin' #5 by In-Hyuk Lee
Proctor Valley Road #1 by Christian Ward
Specter Inspectors #2 by Erica Henderson
Batman: Urban Legends #1 by Kael Ngu
Green Lantern, Season 2 #12 by Liam Sharp
Rorschach #6 by Jorge Fornes
Superman Vol. 3: The Truth Revealed by Ivan Reis and Joe Prado
The Joker #1 by Frank Quitely
Wonder Woman #770 by Travis Moore
Black Hammer: Visions #2 by Scott Kolins
God Of War: Fallen God #1 by Dave Rapoza
The True Lives Of The Fabulous Killjoys: National Anthem #6 by Becky Cloonan
Deep Beyond #2 by Marco Checchetto
Home Sick Pilots #4 by Caspar Wijngaard
Karmen #1 by Guillem March
Low Vol. 5: Light Brings Light by Greg Tocchini and Dave McCaig
Sea Of Stars #9 by Rico Renzi and Stephen Green
Blade Runner: Origins #1 by Robert Hack
Death By Life #1 by Claudio Sepulveda
Maniac Of New York #2 by Andrea Mutti
Nottingham #1 by Shane Connery Volk and Luca Romano
Bloodshot: Rising Spirit by Felipe Massafera
Teenage Mutant Ninja Turtles: Jennika II #5 by Adam Gorham
Last Updated: March 8, 2021