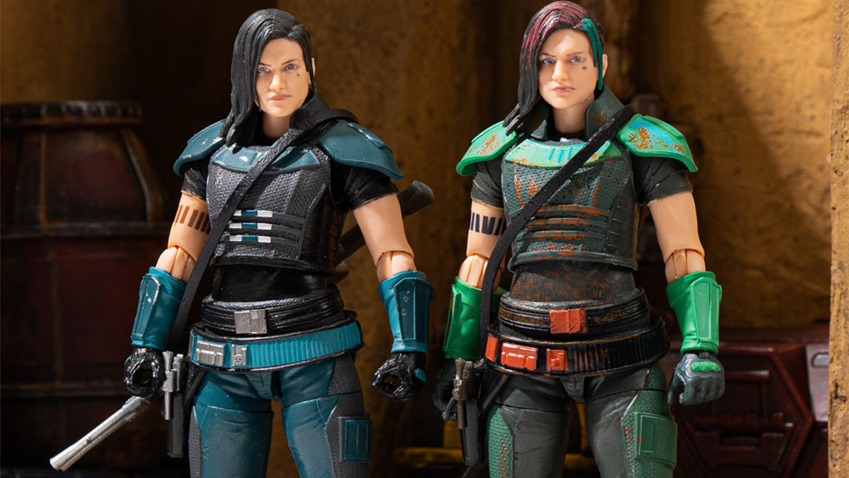 When season 3 of The Mandalorian kicks off eventually, it'll be coming back without one of its cast members. Gina Carano was given the boot after she proved to be too much of a liability for Disney and its bottom line thanks to her regular posting of inflammatory content through her public social media accounts. The last straw for Disney came when Carano shared an Instagram post that suggested that the public challenges faced by conservative Republicans in a post-Trump America are similar to how Jewish citizens were treated in Germany during the rise of Nazism.
With Carano out of the Star Wars spotlight and Cara Dune relegated to the Sarlacc pit of history, word came that Star Wars toy manufacturer Hasbro was scrapping plans to make more action figures of her character in The Mandalorian according to THR. Dune only got one proper toy in the original line-up of Mandalorian toys (and a smaller inaction replica), a six-inch action figure equipped with a blaster in the Star Wars Black series produced by Hasbro.
At retail, the figure had a price tag of $20. Right now though? Toy sellers are smelling the opportunity to make some cash, and have begun listing the now soon-to-be-rare toy for a premium price. Currently being hyped as this generation's Boba Fett with a missile jetpack, Dune's toy is being listed from a quick cash-in sale of $100 and upwards to an astonishing $500 in some listings. Whether anyone is actually willing to pay those prices is another question, but sellers clearly feel that this specific toy has the potential to be a hot commodity.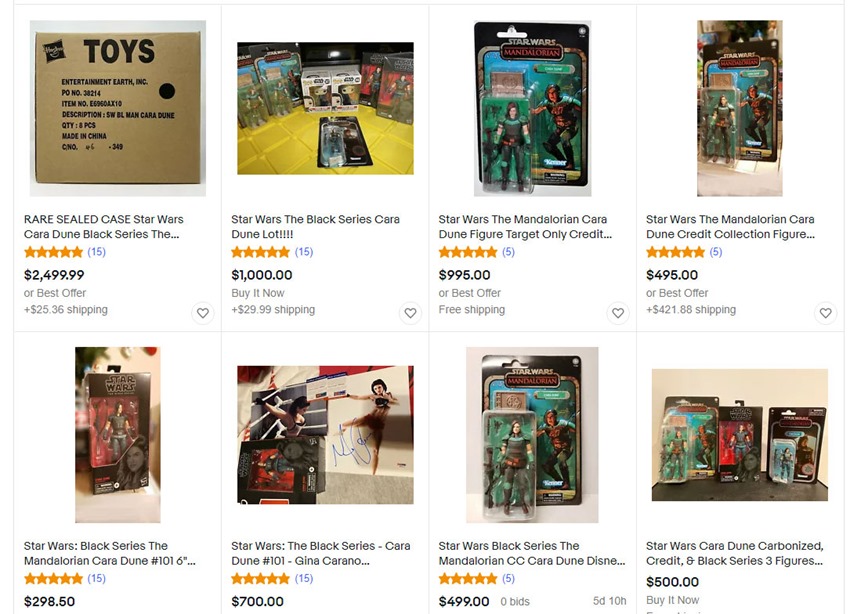 Heck, if you feel that the figure will be worth its weight in gold one day, you can even take a gamble on an entire box of Cara Dune action figures, fresh from the Hasbro factory and still sealed inside the box it was shipped in. I don't recommend doing that though. My retirement plan to bet big on Star Wars Episode 1: The Phantom Menace kind of fell apart, and now I have a box full of Jar Jar Binks inaction figures that I can't even give away.
As for Carano, she has predictably spun the loss of the biggest role in her career into a new movie deal that will be produced in collaboration with master of the self-own Ben Shapiro and his conservative website The Daily Wire. On the plus side, The Mandalorian still has plenty of other great characters left to fill Carano's boots, such as Rosario Dawson's Ahsoka Tano or Katee Sackhoff's Bo-Katan.
Last Updated: February 16, 2021