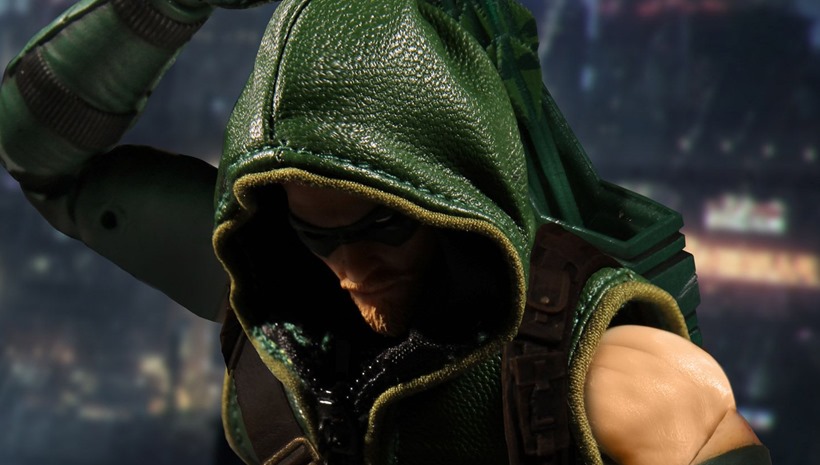 Even though the last two seasons have been sort of…shite, I still dig watching Arrow. Mostly because the character is finally getting the due justice that he deserves, after years of languishing in the DC Comics universe as an underappreciated badass with facial hair that Tony Stark would be jealous of. Ever since Arrow hit it big, the character has skyrocketed in popularity in the monthly comic book sales, with his actual issues being particularly damn good.
Seriously, check it out. Urban vigilantism in a manner that firmly distinguishes the character away from being just Batman with a bow and arrow. The thing is, the popularity of Green Arrow has been directly linked to his facial hair as of late. The more his profile rises, the more his beard begins to vanish into morning wake-up shadow status.
And while I'm not the biggest fan of having keratin cover my face, I just can't imagine the Emerald Archer without his Robin Hood follicles. Fortunately, Mezco can and has done so with their next One:12 Collective Green Arrow figure:
The One:12 Collective Green Arrow features:
1:12 scaled, highly realistic fabric clothing
Hyper-realistic portraits
Super articulated body with over 32 points of articulation
Hood with integrated wire for posing and draping
What's in the box:
Standard masked portrait
"OTV" protective tunic
Armored boots and gloves
Harness
Bow and quiver
Standard arrow, grappling hook arrow, PETN explosive arrow,
Kryptonite arrow, three-arrow bundle, and bundle of arrows for quiver
Knife and sheath
Posing hands (L&R)
Fists (L&R)
Bow holding hand (L)
Multi-arrow holding hand (R)
Single arrow holding hand (L&R)
Knife holding hand (R)
Quiver-arrow pulling hand (R)
Display base with posing post
Green Arrow is packaged in a deluxe, fifth panel window box with character-specific slipcover. Designed for collector convenience, the packaging allows for both maximum protection as well as ease of removal for display.
Freakin' rad. I've got a massive love for Mego figures, which sported all manner of realistic clothing back in the heyday of the late 1960s and 1970s. These Mezco figures are rekindling that dream, with this Green Arrow replica priced at $75. Now if you'll excuse me, I'm going to go pin Al with arrows and shout that he has failed his city.
Last Updated: May 3, 2016