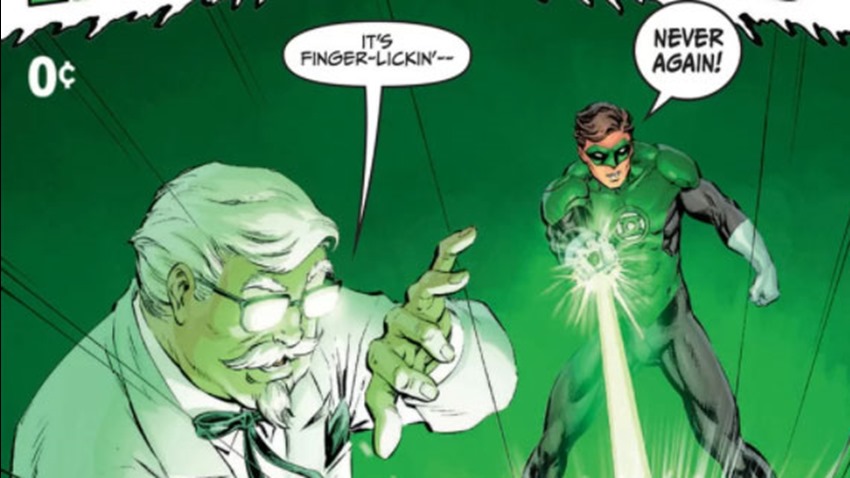 Team ups are the bread and butter of comic books. Imagine how boring those graphical collections of sound effects and spandex would be without Power Girl and Harley Quinn tag-teaming or Spider-Man realising that he'd break his no-kill promise to be rid of Deadpool. Such titanic partnerships aren't limited to just super heroes of course, with many an icon from pop culture joining forces in the past with heroes of the printed media to save the day.
Easily the most bizarre team-up of them all however, has to be DC's partnership with Kentucky Fried Chicken, a finger-lickin' alliance that has seen Colonel Sanders join forces with the Justice League in the past to save the multiverse from extinction. By the breezy robes of Ganthet on Oa's hottest day of the year, it was brilliant.
The third time is the charm, as the Colonel will be lending eleven secret herbs and spices in the kickass department to Green Lantern in KFC #3 Across the Universe. Yes, this is actually happening and now I finally know what the Brightest Day of the Lantern Corps truly is. "It's been an honour, a privilege, and just plain FUN working on the last two KFC comics," writer Tony Bedard said in a press release.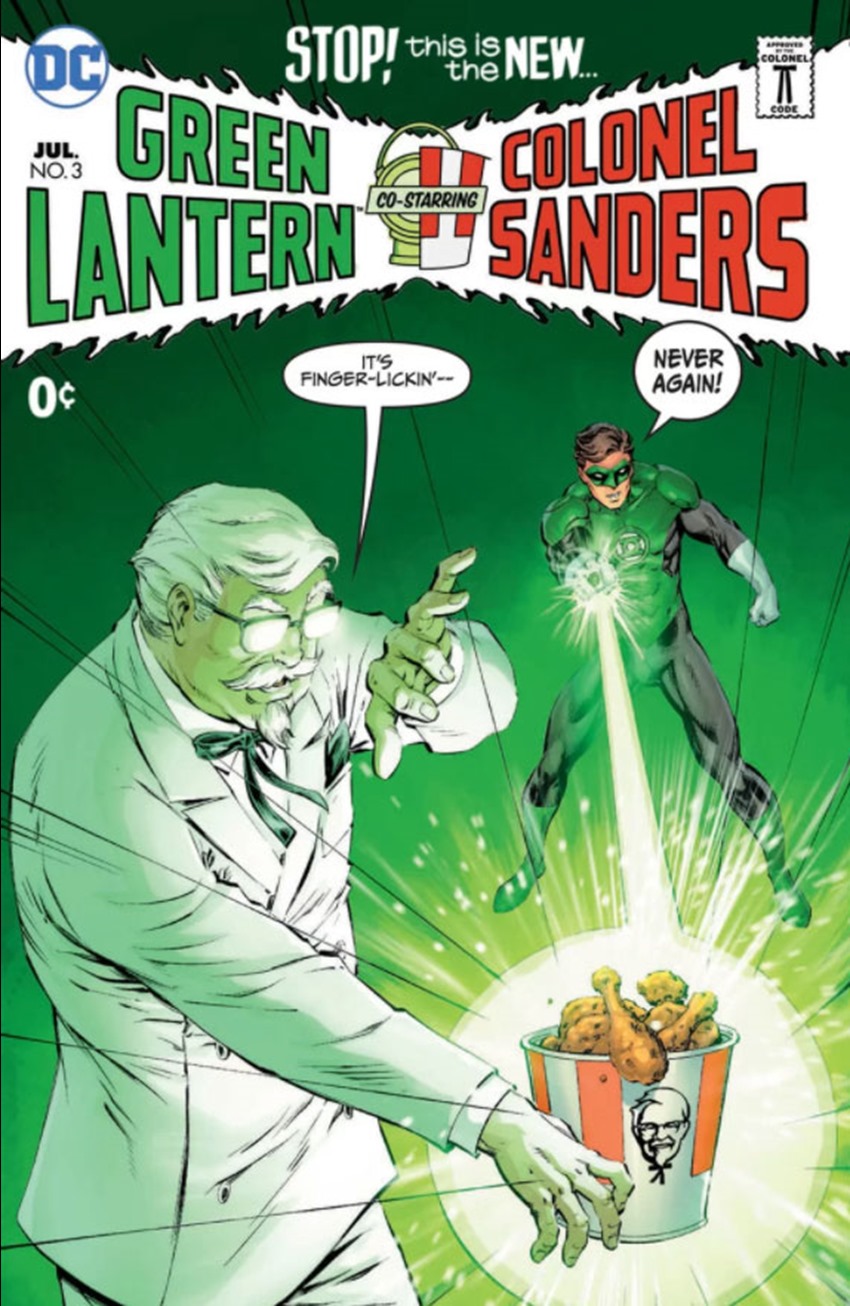 I'm super-excited the story is a trilogy now, with the Colonel planet-hopping across the DC Universe. As a former GREEN LANTERN writer, it's great to revisit Hal Jordan and the Green Lantern Corps. I've written many comics over the years, but the response to teaming up the Colonel with DC Super Heroes has been a phenomenon all its own.
If you're scratching your head right now, then you've already missed out on two one-shot comics so bonkers that they're stunning in their mind-altering brilliance. KFC #1: The Colonel of Two Worlds kicked off the partnership, but it was the Colonel Corps of the second series that took a wacky idea and just ran with it as Sanders gathered KFC figureheads from across the multiverse to help him save the day.
Honestly, why bother with a Justice League movie when this zinger wing of a property exists, I wonder. KFC #3 Across the Universe will debut at the San Diego Comic Con this weekend, and features penciler Tom Derenick, inkers Trevor Scott and Sean Parsons on art duties.
Last Updated: July 20, 2017