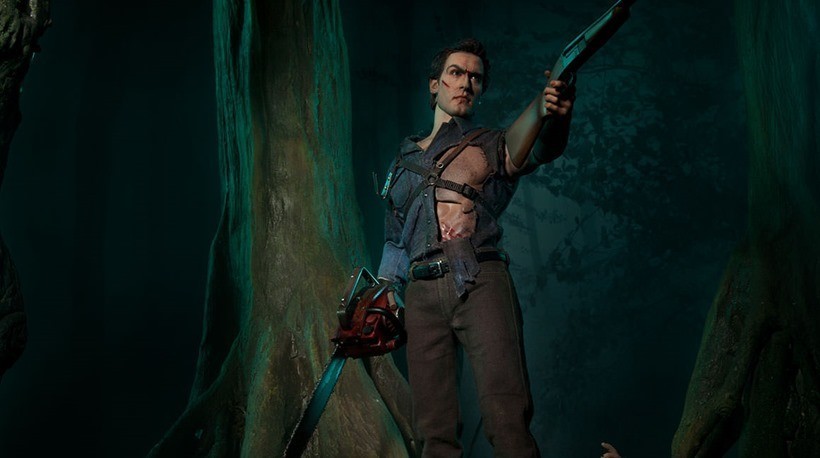 Alright you Primitive Screwheads, listen up! You see this? This… is my boomstick! The twelve-gauge double-barreled Remington. S-Mart's top of the line. You can find this in the sporting goods department. That's right, this sweet baby was made in Grand Rapids, Michigan. Retails for about a hundred and nine, ninety five. It's got a walnut stock, cobalt blue steel, and a hair trigger. That's right. Shop smart. Shop S-Mart. You got that?
If there's any movie character who has made for a an unlikely yet great hero, then Ashley Williams is the unlikeliest and sort-of heroicest of them all. I have no idea where I'm going with this, but the dude is cool and pretty much the inspiration behind Duke Nukem. He's also cursed with the kind of luck that is usually reserved for serial leprechaun stranglers, having found himself caught up in all manner of Deadite business. Which isn't groovy, comprende?
Right now though, Bruce Campbell's iconic ass-kicker is facing his greatest challenge to date on TV's Ash vs Evil Dead: Old age. Slower, chubbier and greyer, this is not the Ashley Williams that you remember from your childhood. And that makes the current show absolutely fantastic in a horrendously gory and unhinged way.
I'll always remember Ash as a slimmer slayer of the undead however. And this replica should help keep those memories alive. At least until the next heat-wave melts into age-appropriate shape:
The Ash Williams Sixth Scale Figure specially features:
Unique male body with double-jointed chainsaw arm
Detailed likeness of Bruce Campbell as Ash from Evil Dead II

Tailored and weathered costume with shotgun rig, as seen at the end of the film
Chainsaw
Shotgun
Four (4) interchangeable hands including:
Shotgun grip
Relaxed hand
C-grip
Fist
One (1) pair of boots
Henrietta head
Necronomicon
Exclusive possessed severed right hand
Groovy. Expect to shell out $239.99 when Ash hits S-Mart with his favourite boomstick.
Last Updated: January 8, 2016