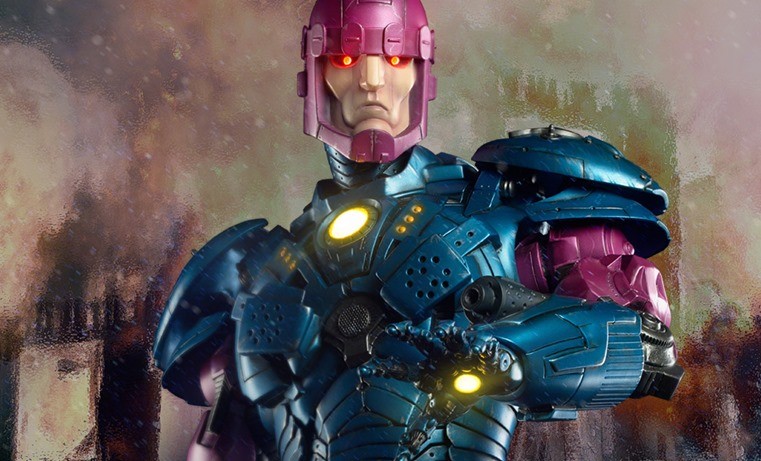 When it comes to the X-Men, the children of tomorrow have several high-ranking enemies. From Apocalypse and Mr Sinister, to Cassandra Nova and the department in Disney that is really pissed off that they can't get a slice of the profitable movie pie over at FOX, it ain't easy being a mutant.
But beyond genetic discrimination, there's one other big problem with being a mutant: Giant robots. Or more specifically, giant Sentinel robots which can lock on to a mutant power signature and introduce  Homo Superior to Machina Hand Laser. Still think being a mutie is cool?
A symbol of mankind's fear and hatred of mutants, Sentinels have remained a persistent threat for the X-men since the 1960s. Programmed to hunt and destroy, the immense robot is powered up with technologically advanced weapons, boasting his iconic blue and purple color scheme and brilliant light-up features.

Swap-out head sculpts represent the villain's classic and modern appearances and the Sentinel's head can be repositioned to search for targets in every direction, allowing collectors to create the optimal mutant-hunting display. Standing a staggering 32? tall, the Sentinel Maquette is a stunning addition for any Marvel or X-men collection.
That's a bloody tall collectible. I'd recommend not having it anywhere near your Kung-Fu Snikt! edition Wolverine. Put it near the Blob and Toad inaction figures that grandma got you though. Nobody likes Captain Cankles and his bouncy sidekick. Sideshow says that this bad boy will cost $899 when it is unleashed from the Mastermold to hunt the inferior Sentinel robots from X-Men: Days of Future Past next month.
Last Updated: November 9, 2015