Following this post, here's another recommended comic read for people with superhero burnout. Today we're looking at the latest from The Goon creator Eric Powell – namely gritty supernatural adventure Hillbilly.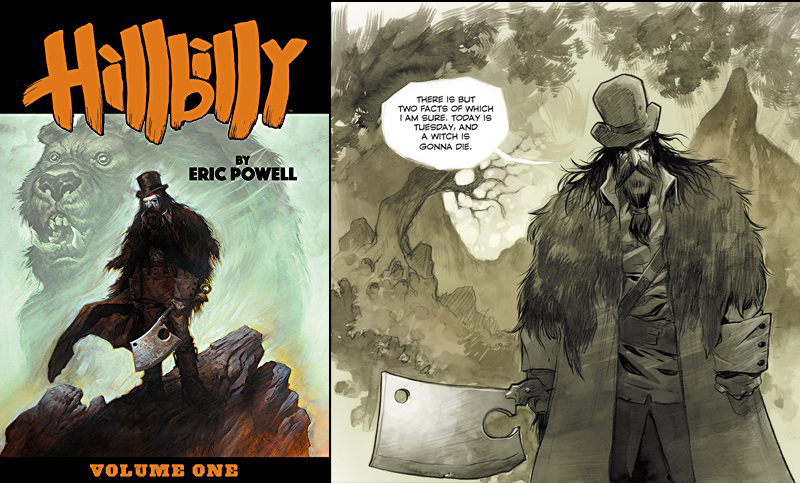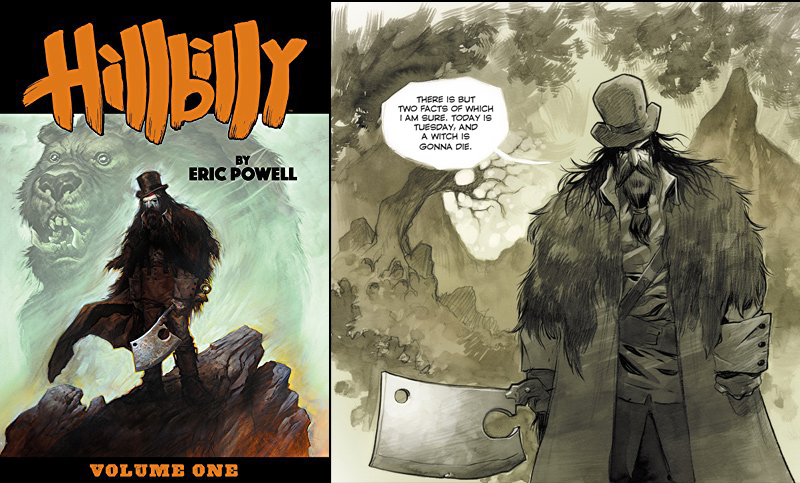 From the outset, Hillbilly feels more all-round sophisticated than The Goon, Powell's often raucous, irreverent comic about a burly mob enforcer who takes his fists to an assortment of zombies, monsters, aliens and mad scientists. Possibly set in the same universe, given the presence of a fan-favourite Goon character, Hillbilly nonetheless leaves behind its predecessor's pulpy urban horror and Depression Era backdrop.
Instead, the reader finds themselves plonked in an unusual world that blends together Brothers Grimm fairy tale and sword-and-sorcery convention in a distinct Appalachian setting. Hillbilly centres on Rondel, a hulking Rob Zombie-lookalike who roams the dense forests and mountains of the American South, dispatching witches, trolls and other supernatural menaces with the Devil's Cleaver.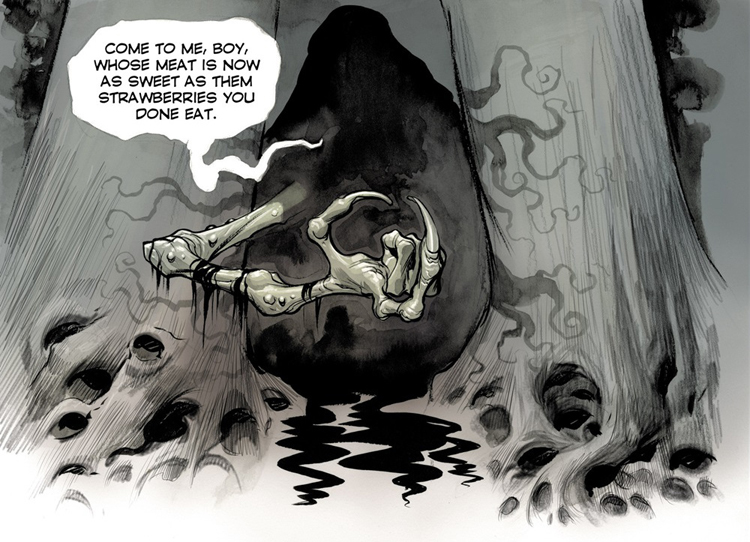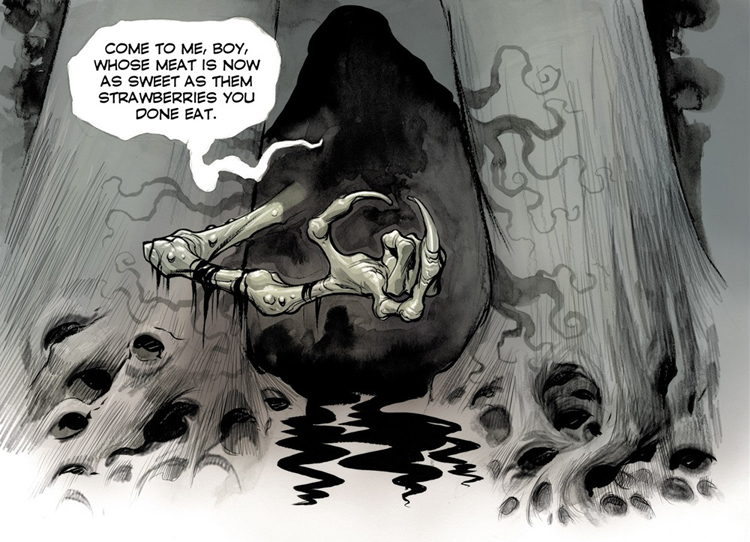 If we're talking "weird fiction" influences – and Robert E. Howard in particular – Hillbilly is less Conan and more Solomon Kane.
What's particularly refreshing about Hillbilly as a series is that once you've read Issue 1, which provides Rondel's origin tale up-front, the stories become standalone. In an age of endless crossovers, and multi-issue story arcs that string comic fans along for months, this simple pick-up-and-read approach is appreciated.
Every issue of Hillbilly focuses on a different one of Rondel's adventures, free from the restrictions of a standard linear timeline. Sometimes our hero is his loner self, afraid to suck others into his dark, violent world. Sometimes he's united with allies like Esther, a tomboyish childhood friend; or standout character Lucille, a crotchety talking grizzly bear. In the rustic world of Hillbilly, telling stories – or "sewing a good yarn" – is a common time-filler, and Powell plays with the tension between tale and truth in Hillbilly's narrative structuring.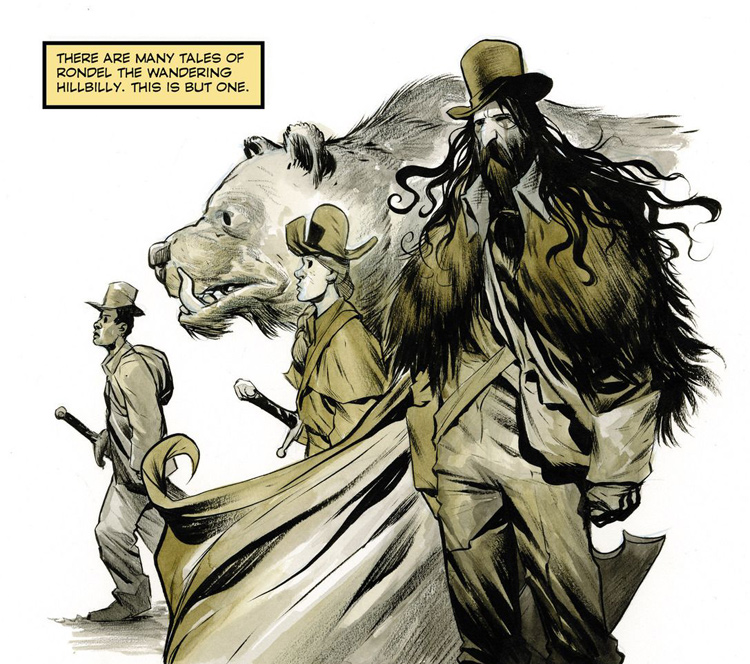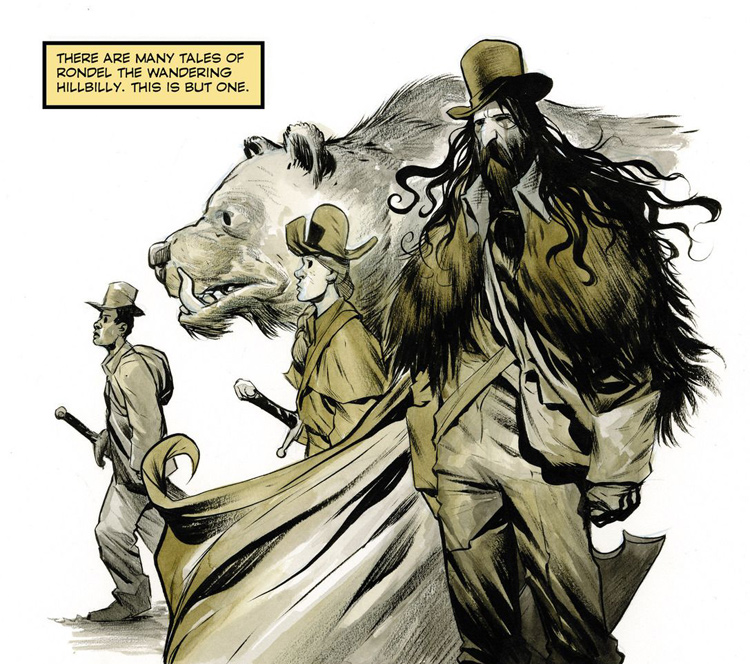 Although not especially gory, Hillbilly definitely feels like a series for mature readers. Some well-timed humour sweeps in like Rondel's cleaver to undercut the tension in Issue 1, and the free ComiXology short that introduced the series. Outside of those two stories though, the laughs seem to evaporate. Hillbilly is a grim, contemplative affair for the most part. Beneath his menacing exterior, Rondel is a good-hearted, but weary figure shadowed by tragedy. So don't expect the manic energy of early days The Goon. Hillbilly Volume 1, which collects issues 1-4 of the comic, the ComiXology short, and a requisite sketch gallery, can be extremely poignant as it touches on subjects like the loneliness of old age, and parental grief.
There's also noticeable weight to the dialogue, which is simultaneously rich in regional flavour without ever feeling contrived. ("Ignert" is my new favourite word). Then, of course, there's Powell's signature art style, which reinforces the book's sense of solemnity. A restricted colour palette, and use of ink washes over pencil-heavy line work and shading, contributes to the sombre "grey" mood. At the same time though, the art retains an oddly elegant and organic beauty despite the amount of grotesquery on pretty much every page. The world of Hillbilly may be visually dark but it's never harsh to the eye.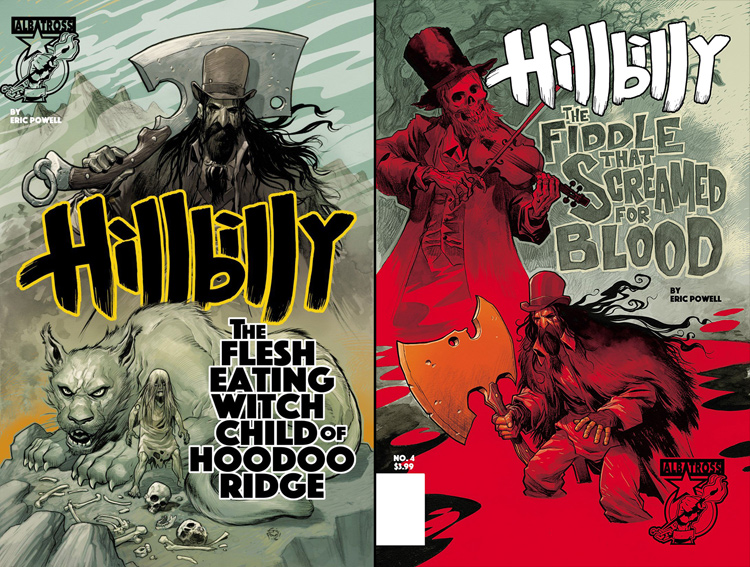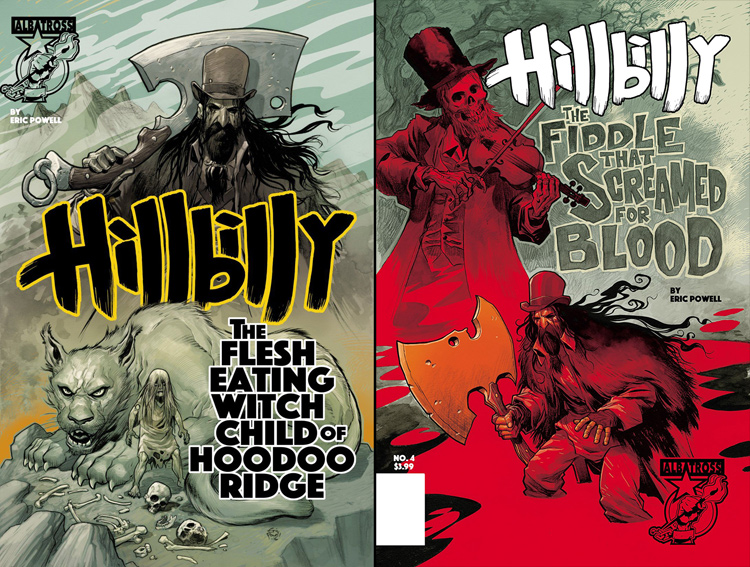 Now at this point I fear I've made Hillbilly sound like relentless doom and gloom. However, while it's clearly not a book for people who like their comic entertainment cheery, slick and sassy, Hillbilly: Volume One establishes the ongoing series as a nourishing fairy tale for adults. It's juicy dark meat that's just the right amount of bloody to give it an extra shot of flavour.
As for getting hold of Hillbilly, that's where your challenge lies… at least if you want a physical copy in South Africa. Unlike The Goon, which fell under Dark Horse, Hillbilly is an indie comic published by Powell's own resurrected Albatross Funnybooks. I picked up my Volume 1 in April at Cape Town's FanCon, where Powell was one of the international guests, so some copies may be available through Readers Den. Alternatively, there's always Amazon.com.
In terms of digital distribution, that's a far easier way to acquire Hillbilly. You can buy all six issues (so far) of the ongoing series on ComiXology, although the Volume 1 collection is as yet unavailable through the site.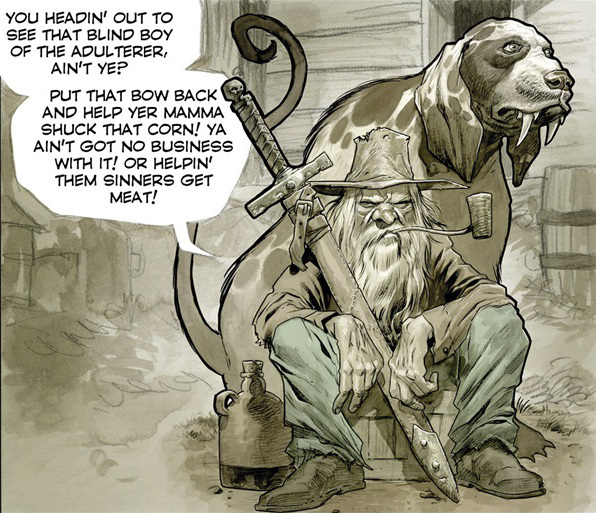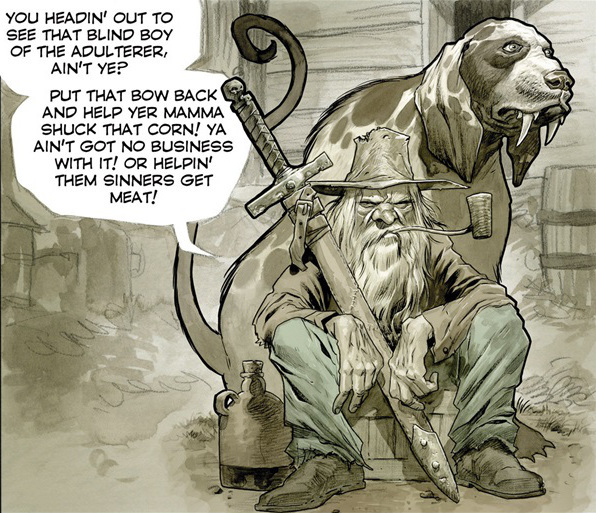 Hillbilly is worth it though, whatever purchase route you take. It's a perfect option for readers who still crave the escapism of grand heroic action in a unique fantasy setting, but are suffering from capes-and-tights fatigue.
Last Updated: June 26, 2017