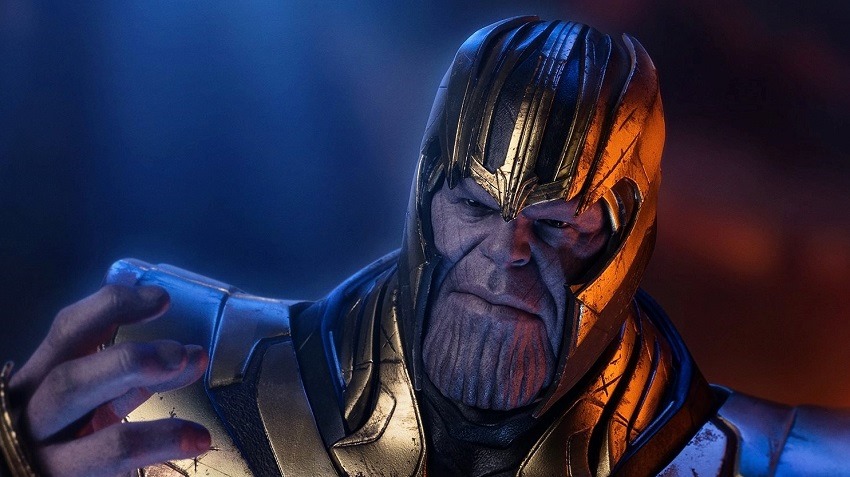 Listen, I don't mean to sound weird…but hot damn is the Marvel Cinematic Universe version of Thanos an absolute unit. Here is a character who is meant to be the biggest bad possible, and he does so tremendously thanks to his acquisition of the Infinity Stones. It's actually a monumental scene in the beginning of Avengers: Infinity War when Thanos first appears.
Thor has been spanked like a red-headed stepchild, Loki's got a hell of a sore neck and when have you ever seen the Hulk smacked back inside of Bruce Banner? With another Infinity Stone added to his gauntlet, the sheer power that Thanos receives is enough to make him shed his armour as if it were a layer of skin that he no longer needed.
Still, I loved that look. It was perfect comic book translation, combined with the overall over-engineered look of the MCU. That dad bod version of Thanos already got a fantastic Hot Toys figure, which is currently doing the rounds and receiving some rave reviews. But if one Thanos isn't enough for you and you want to add yet another version to the pile, then the latest Hot Toys replica might be just up your alley:
And here's what's in the box! The Thanos Sixth Scale Figure specially features:
One (1) newly painted head sculpt with authentic and detailed likeness of Thanos in Avengers: Endgame
One (1) newly painted interchangeable head sculpt capturing Thano's angry expression
Movie-accurate facial expression with detailed wrinkles and skin texture
Approximately 41.5 cm tall
Newly sculpted purple-skinned muscular body featuring detailed skin texture with over 20 points of articulations, built-in joints in neck and arms with seamless elbow joints
Four (4) pairs of interchangeable armoured hands including:
– One (1) pair of fists
– One (1) pair of relaxed hands
– One (1) pair of gesturing hands
– One (1) pair of hands for holding double-bladed sword
Each head sculpt is specially hand-painted
Costume:
One (1) newly tailored purplish blue and metallic gold-coloured armor with trim details and battle damages
One (1) pair of gold-coloured armoured boots with weathering effects
Weapons:
One (1) heavy double-bladed sword
Accessories:
One (1) metallic gold-coloured Infinity Gauntlet with two (2) pieces of interchangeable hands including fist and hand with articulated fingers, mounted with six Infinity Stones (6 LED light-up points, battery operated)
One (1) helmet(wearable on head sculpt)
A specially designed character themed figure base with movie logo
As usual, this big boy will command a big price: A whopping $415 or just under R5900 when he arrives in March 2020 to snap your entire life savings away.
Last Updated: April 2, 2019