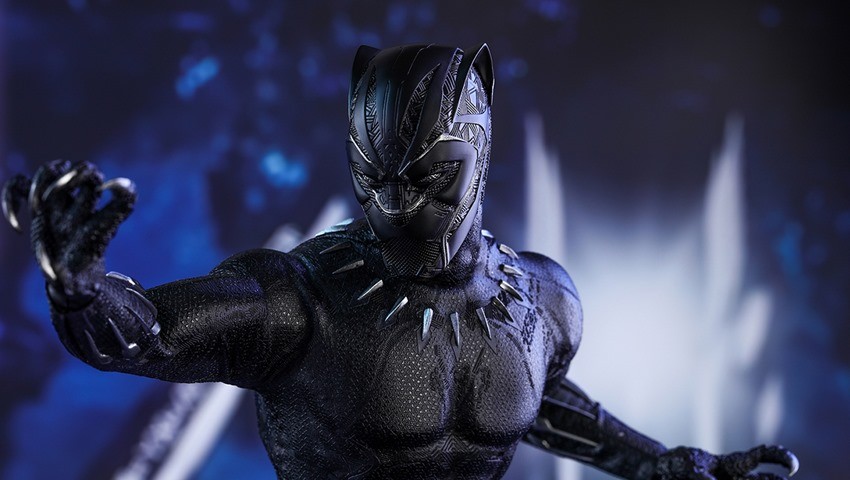 If you ever needed a quick description of Marvel's Black Panther character, "Nelson Mandela in a Vibranium costume" would be a most apt breakdown of the character. Marvel's greatest king may be a man of action, but there's so much more to the character than a bitchin' awesome costume and a proudly African aesthetic.
He's a man who knows that hatred is foolish, a monarch who shoulders the burden of leading a nation that wants to be an example to the rest of the world of what humanity can achieve if it puts its collective problems behind it and works together. Those are all aspects of the comic book hero that'll soon be seen on the big screen as buzz builds around Black Panther.
After the end credits have rolled however? It's actually easy to own a piece of Wakanda without having to worry about being sliced to ribbons by a man who wields the power of a panther deity. Hot Toys are taking a second crack at the Wakandan king, with a figure that has a neat twist to it when compared to the version that showed up in Captain America: Civil War.
Namely, an outfit that pulses with a cool glow if it happens to be under a certain type of LED light. Which is kind of like my bedroom when a black light is shone inside of it, only it looks like a flash grenade has been set off and frozen in time. Anyway, when you're done vomiting, come back and have a look at this magnificent figure:
WHAT'S IN THE BOX?
The Black Panther Sixth Scale Collectible Figure specially features:
One (1) newly developed interchangeable head sculpt with authentic and detailed likeness of Chadwick Boseman as T'Challa/Black Panther in Black Panther
One (1) newly developed interchangeable Black Panther masked head with two (2) interchangeable eyepieces (masked and unmasked)
Approximately 31.5 cm tall
Newly developed muscular body with over 32 points of articulation
Seven (7) pieces of interchangeable hands including:
– One (1) pair of fists
– One (1) pair of clenching hands
– One (1) pair of clenching hands with claws
– One (1) right hand for holding spear
Each head sculpt is specially hand-painted
Costume:
One (1) meticulously tailored black and silver coloured Panther Habit suit with luminous reflective patterns appearing under specialized LED light unit
Weapon:
Accessories:
Two (2) specialized LED light units (battery operated)
Specially designed Black Panther themed hexagonal figure stand with character nameplate, movie logo and character backdrop
You might need to sell a few grams of Vibranium to afford a sixth-scale T'Challa, as he'll set you back $259/R3100 when he drops next year between January and March. But hey! At least he'll never freeze.
Last Updated: February 13, 2018