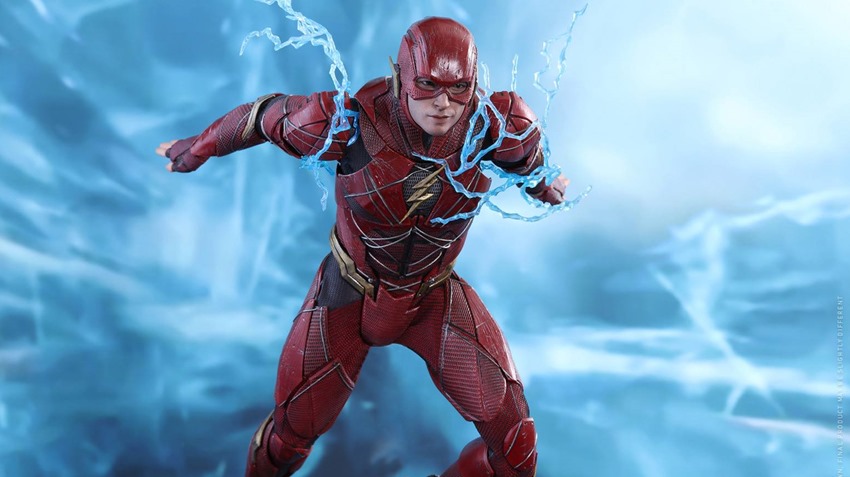 Super-speed, would be an awesome power that would bankrupt you very quickly. If there is one consequence of being able to run faster than light, it's that your body consumes more calories than an entire table at a hotdog eating competition. Can you imagine the monthly bill alone? You'd have to get used to the taste of the most heinous of foods, Roman's Pizza, just so that you could stop a bank robbery.
Still, it would be a fantastic power to have. You could ditch the car, put some extra rubber on your shoes and never ever have to worry about fuel costs again. Never mind the fact that you could catch batarangs mid-air, leaving a certain billionaire vigilante breathing easy that the third time is the charm. Hey, just ignore those two dead Barry Allens behind the couch with batarangs lodged in their heads.
Thing is about this incarnation of the Flash, is that I find his costume utterly weird. I don't dislike it and in the context of the film, I'd imagine that it makes sense. After all, Allen only has so much cash to spend, and his outfit is cobbled together from bits and pieces of aerodynamic materials that can help protect him during his more heroic pursuits.
I'd bet easy money that Wayne Enterprises gifts him with a more faithful and sleeker suit come the end of Justice League, but until then? This will have to do. At sixth-scale size that is:
Looking sharp! I especially like that he comes packaged with Speed Force lightning, and I'm hoping that this Flash has plenty of articulation for those dynamic poses. Hot Toys say that he'll be out next year, just in time for anyone to grab that recently revealed Aquaman figure as they seek to form their own mini league of Justice.
Run little Barry, run!
Last Updated: November 1, 2017