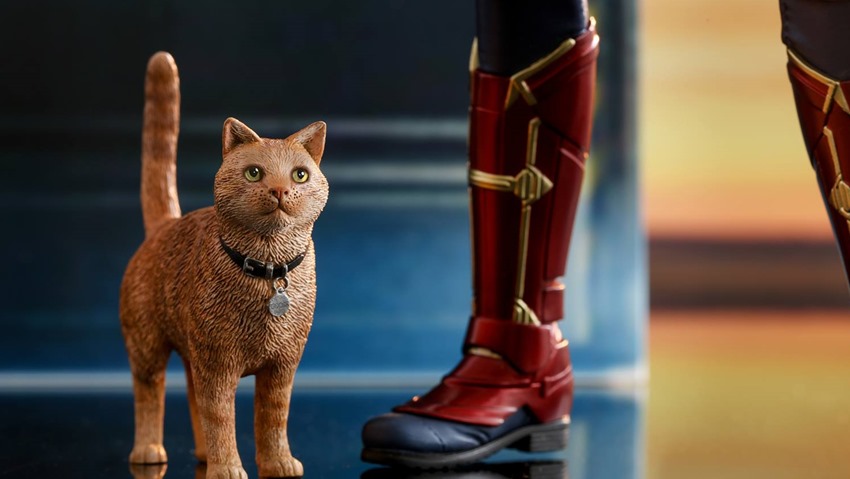 This summer, the most important movie in Marvel Cinematic Universe history finally arrives: Goose the Cat. Plus, there's some other ass-kicking alien warrior woman by the name of Captain Marvel in it as well, but I'm more interested to see what shenanigans Goose gets up to. Will this be the best usage of $150 million to create a two hour spectacle of Goose casually batting a toy mouse around drinking some milk and then spending the rest of the runtime asleep?
I certainly hope so! On the other hand, seeing one of the more powerful ass-kickers in the Marvel universe finally get a chance to shine, might not be too bad of a film either. As usual, sixth-scale toy company and part-time kidnapper of celebrities for evil cloning experiments that results in tiny immobile replicas of said thespian Hot Toys have their own take on the character.
Here's what their version of Captain Marvel looks like:
Expertly crafted based on the appearance of Brie Larson as Carol Danvers/Captain Marvel in the movie, the highly-detailed collectible figure features two interchangeable head sculpts including a newly develop unmasked head sculpt with amazing likeness and a newly developed helmeted head sculpt with LED light-up function that accentuates Captain Marvel's superpower, two pieces of classic Mohawk hair sculptures, a newly developed body equipped with LED light-up function on both sides of the forearms, a skilfully tailored costume in metallic red and blue with a gold star emblem on chest, multiple energy-blasting effect accessories that are wearable on arms, and a movie-themed dynamic figure stand for aerial poses!

The Deluxe Version will exclusively include Goose the Cat, a delicate Flight Bomber jacket and an extra pair of firing effect accessories to complete the style.
On a more serious note: Hot Toys, stop using neutral facial expressions for the love of Mike. There's something off about this figure and its take on Brie Larson, and I'm thinking that the dead-eyed stock standard expression that has become the trademark of the Marvel figures, is to blame here. C'mon, give us a smirk! Give us a raised eyebrow or an angry face. Give us anything that let's this figure feel alive at least.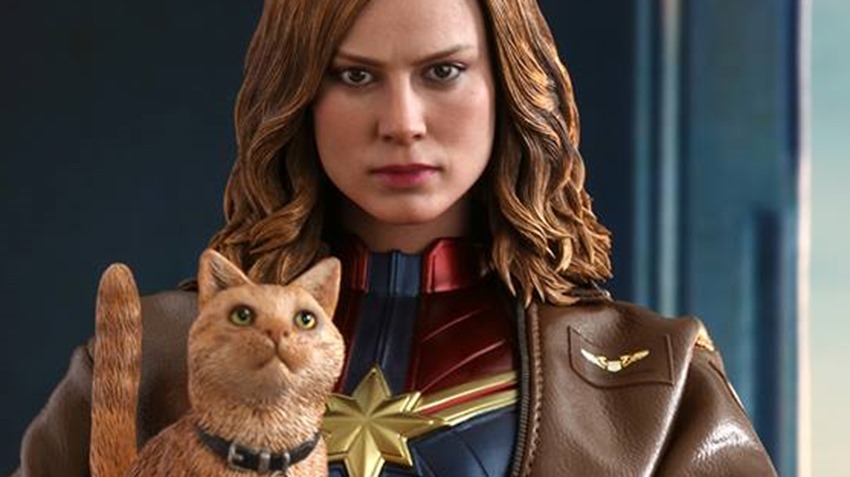 Beyond that criticism, I like what I see. The uniform looks sparkly, the accessories look fun and that mohawk helmet looks super cool. There's no price or release date avilable yet for this figure, although don't be too surprised to see it command a princely sum of over $240 when it comes out eventually. Not bad, for the coolest cat in the MCU.
Last Updated: February 8, 2019