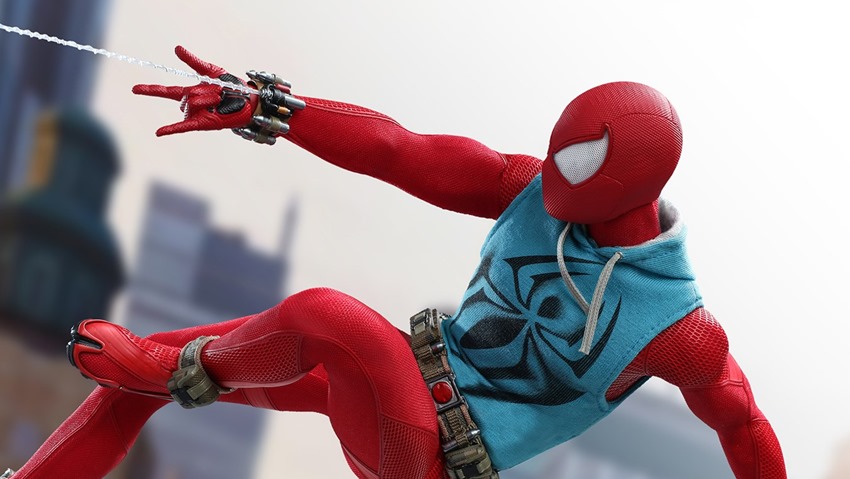 Spider-Man, arachnid-themed hero with a dozen powers and costumes. While the webhead always finds himself reverting back to his familiar threads after a two-year stint wherein he wears something fancier and shinier, there's a certain charm to be found in those costumes which managed to breathe new life into the web-spinner on a visual level.
I'm a huge fan of the Iron Spider outfit from the Civil War era of comics, Spidey-s symbiote costume is still minimalism at its finest and back when Doc Ock was piloting his body was an outfit that was simply superior to everything else that had come before it. One costume that I never quite dug? The Scarlet Spider costume.
Basically a red onesie with a hoodie on top of it, the Scarlet Spider was budget Spider-Man at its worst during the Clone Saga that everyone wishes that they could forget about. It just didn't work on the printed page but fast forward a few years later and the costume kind of worked in video game form. Insomniac took the classic edgy idea, added some sweet new textures to it and there you had it: A Scarlet Spider costume which didn't look like it made out of donated clothing.
Hot Toys has taken that idea and run even wilder with it. I never thought I'd ever say it, but this costume right here? I'd happily display that in my toy shelf:
WHAT'S IN THE BOX?
The Spider-Man (Scarlet Spider Suit) Sixth Scale Collectible Figure specially features:
Authentic and detailed likeness of Scarlet Spider in Marvel's Spider-Man game
A newly developed masked head sculpt
Approximately 30 cm tall
Newly developed specialized body with over 30 points of articulations
Ten (10) pieces of interchangeable hands with web pattern including:
One (1) pair of web shooting hands
One (1) pair of fists
One (1) pair of open hands
One (1) pair of relaxed hands
One (1) left gesturing hand
One (1) right hand for holding spider web
Costume:
One (1) newly developed red coloured Scarlet Spider suit
One (1) blue coloured hooded vest with graphic black Spider-print on chest and back
One (1) pair of web shooters
One (1) pair of ankle pouches
One (1) camouflage utility belt
One (1) pair of red coloured shoes
Accessories:
One (1) camera with camera belt
One (1) coffee cup
One (1) donut
One (1) smart phone
One (1) pizza with a piece of removable slice and one (1) pizza box
Six (6) strings of spider web in different shapes and lengths, attachable to the web-shooters
One (1) open spider web effect accessory
A specially designed Spider-Man figure stand with Marvel's Spider-Man game logo, character name and character backdrop
$251 gets you the figure when it releases between July and September this year. At the rate that Hot Toys is unleashing these Spidey figures, anyone with deep pockets will have a whole Spiderverse assembled in no time.
Last Updated: June 19, 2019